Posts: 14,993 +190
Staff member
In brief: Amazon has introduced its largest and most powerful tablet to date. The new Fire Max 11 features an 11-inch display (2,000 x 1,200 resolution, 213 PPI) framed by slim bezels and covered in alumino-silicate strengthened glass that is said to be three times as durable as what Apple uses on its 10.9-inch (10th gen) iPad.
It is powered by a 2.2 GHz octa-core processor (MediaTek's MTK8188J – two Arm Cortex A78 cores and six Arm Cortex A55 cores) alongside 4 GB of memory. According to Amazon, it is nearly 50 percent faster than the company's next fastest tablet.
Other notable specs include up to 128GB of integrated storage that is expandable via microSD card slot, Wi-Fi 6 and Bluetooth 5.3 wireless support, eight megapixel front and rear cameras, support for Dolby Atmos, and up to 14 hours of battery life on a single charge. It is also Amazon's first tablet with fingerprint recognition technology as an added layer of security – simply touch your finger to the power button to unlock the tablet.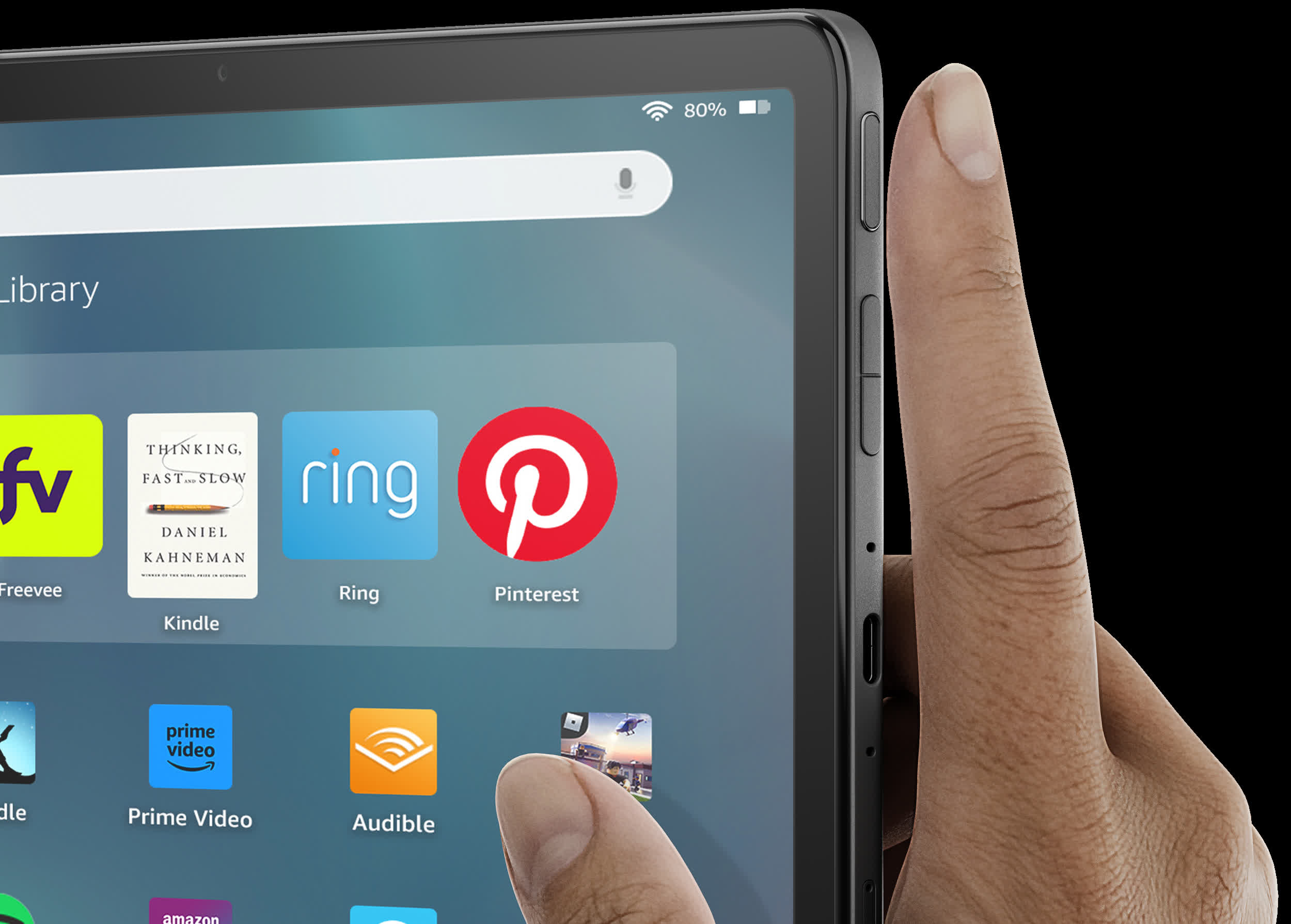 Amazon's new slate measures 259.1 mm x 163.7 mm x 7.50 mm (10.2 in x 6.4 in x 0.3 in) and weighs 490 grams, or 17.28 ounces. Alexa compatibility is built in, as is support for optional accessories including a detachable keyboard case and a stylus. The device dashboard on the home screen, meanwhile, makes it easy to use Alexa to control smart home devices.
The new Fire 11 Max is available to pre-order now starting at $229.99, which gets you 64 GB of local storage and lockscreen ads. For an extra $15, you can do away with the lockscreen ads and if you want to double the storage, it'll cost you $50 more. A bundle including the tablet, keyboard case, and stylus starts at $329.99. For comparison, a 10th-gen iPad with a comparable 10.9-inch screen starts at $449.
Look for the new Fire 11 Max to ship in June backed by a one year limited warranty.
https://www.techspot.com/news/98796-amazon-new-fire-max-11-biggest-tablet-ever.html