Posts: 14,988 +190
Staff member
Something to look forward to: It's nearly put up or shut up time for Frore Systems. The thermal tech startup, which last year teased a potentially revolutionary cooling technology that could eventually replace fans in compact computers and handheld gadgets, plans to showcase its invention at Computex 2023 later this month in a consumer device that'll go on sale by the end of the year.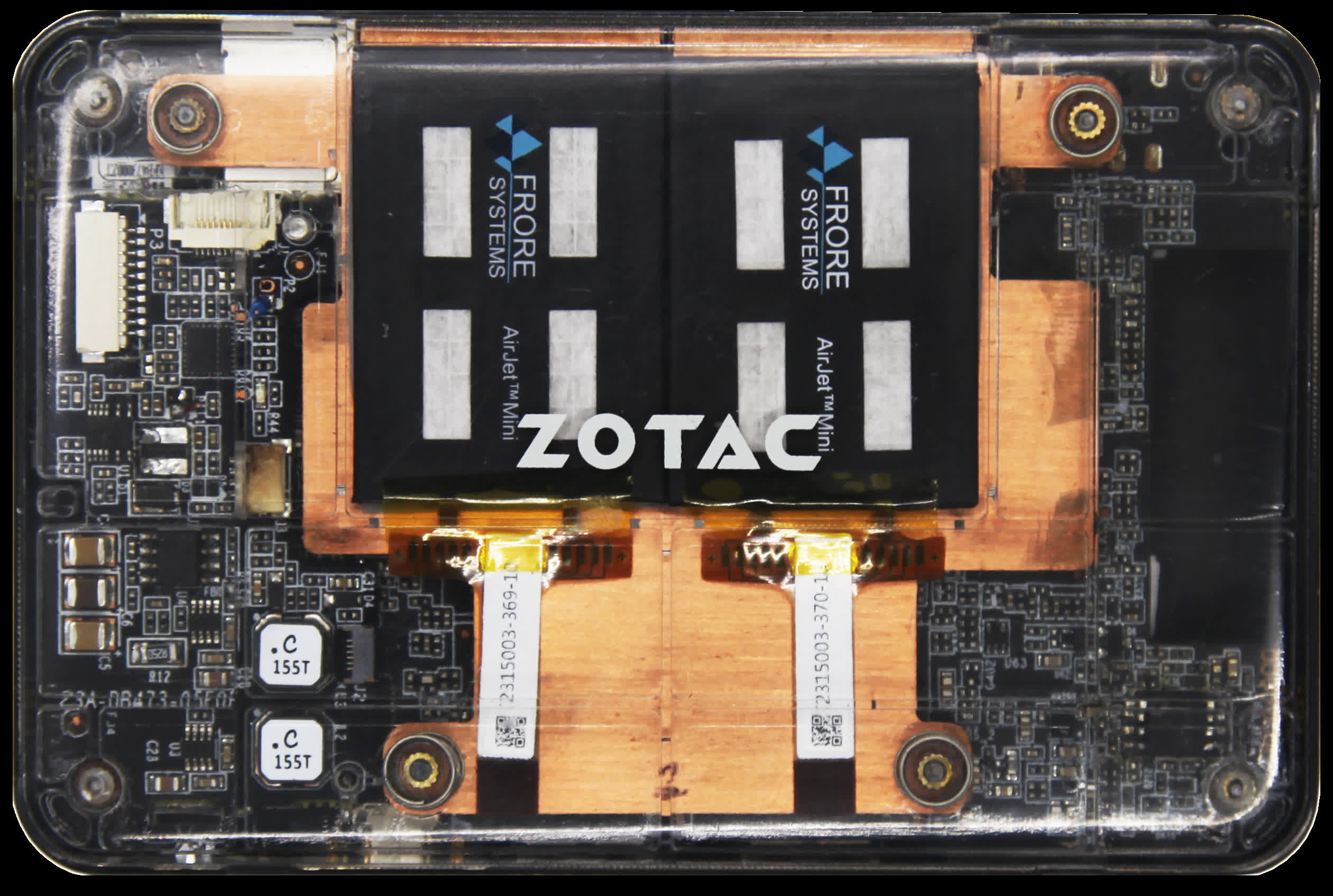 The Verge recently stopped by Frore's headquarters to check out the Zotac Zbox PI430AJ Pico with AirJet. The mini barebones system packs a modest Intel Core i3-N300 processor clocked at 800MHz alongside 8GB of LPDDR5 memory, and is cooled by a pair of AirJet Minis. Each is capable of dissipating about 4.25W.
Frore's AirJet is a solid-state solution that uses vibrating membranes to create suction, pulling air in and across a copper heat spreader. Heated air is then forced out the side of the unit. We don't yet know exactly how it works as Frore wouldn't let The Verge have a look inside the AirJet, but the company claims it can create 1750 Pascals of back pressure.
Sean Hollister with The Verge said the demo models weren't completely silent, but were much quieter than most conventional fans. Another benefit to using AirJets is their thin profile, allowing them to be used in applications where traditional fans simply wouldn't fit. What's more, they could also free up space inside a cramped machine to make room for other hardware like a higher capacity battery.
Production is already under way on the AirJet Mini, and Frore said it is working on a larger Pro model that'll be roughly equivalent to the cooling fan inside a 13-inch MacBook Pro. Zotac is the only company we know of thus far that has signed on to use the cooling tech, although Frore claims additional customers are planning to announce products utilizing AirJets later this year.
No word yet on how much Zotac plans to charge for its Zbox PI430AJ Pico with AirJet, but we should learn more at Computex next week.
https://www.techspot.com/news/98795-zotac-latest-mini-pc-gets-pair-fanless-airjet.html