Microsoft to deliver a smoother setup experience in Windows 8
By Shawn Knight
TechSpot is celebrating its 25th anniversary. TechSpot means tech analysis and advice
you can trust
.
A new post on Microsoft's Building Windows 8 blog outlines several steps the company has taken to improve the setup experience in Windows 8. The team learned a great deal about the setup process in Windows 7 and is using that knowledge to continue to improve reliability and decrease the amount of time it takes to install the new OS.
The Windows 8 development team focused on two distinct customer groups in the setup user experience: those who wanted a quick and easy way to upgrade to the new release and users who wanted to do a clean install with more control over setup options, disk layout and partition configuration. 
As such, there will continue to be two different setup experiences. The first will be the streamlined setup for upgrade users that can be run from the .exe on an installation disc or via web delivery. That's right, upgrade users will have the option to start the setup process online and have one integrated experience from start to finish. Microsoft is also pre-keying these installations so you won't have to manually enter in the 25-digit product key during install.
The second method will allow you to boot off the DVD or a USB thumb drive - not much different than the current method. Advanced users will feel right at home with many familiar options for installation.

For Windows 7 upgraders, the typical process looks something like this: download and install Windows 7 Upgrade Advisor, run Upgrade Advisor, run Windows Easy Transfer to save files and settings, run Windows 7 setup and finally run Easy Transfer again to restore files and settings. The whole process consists of four different web and client applications and 60 screens to navigate through.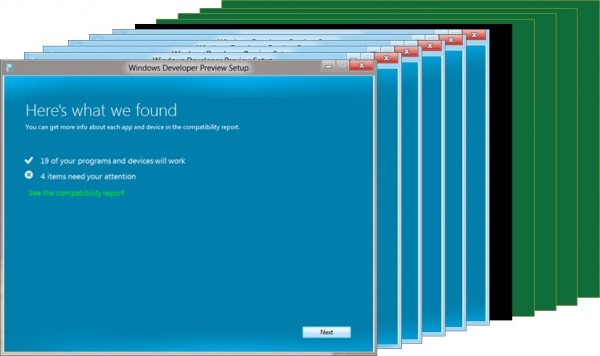 Windows 8 will integrate Upgrade Advisor, Setup and Easy Transfer into one application. This results in an improvement of 82 percent fewer clicks - only 11 clicks to complete the entire process.
In addition to reducing the number of clicks needed, the whole process of backing up and restoring files is much faster as well. In Windows 7, the upgrade process moved each file to a transport location one by one then restores it after installation. Users with several thousand photos or MP3s found that this could take a very long time to complete.
In Windows 8, the backup and restore process now moves entire folders at a time, drastically reducing the number of file operations required. The team also simplified the transport process by consolidating the storage location of old and new files into one folder which speeds up the whole process by eliminating the need to transfer files between two different folders.