Leaked slide reveals 10W and 13W Ivy Bridge variants
By Rick Burgess
It appears a recent rumor indicating the imminent launch of low-power Ivy Bridge processors just got upgraded from "vaguely possible" to "pretty darn likely". According to this leaked PowerPoint slide from VR-Zone (Chinese), 10W and 13W Ivy Bridge "Y" variants are set to debut in Q1 next year.
It's worth noting the 10W figure is particularly interesting. 10W is the same target power consumption expected for Intel's upcoming Haswell chips. Additionally, much like Haswell, these new Ivy Bridge offerings will be aimed at the mobile space -- and most likely ultra-portables, at that.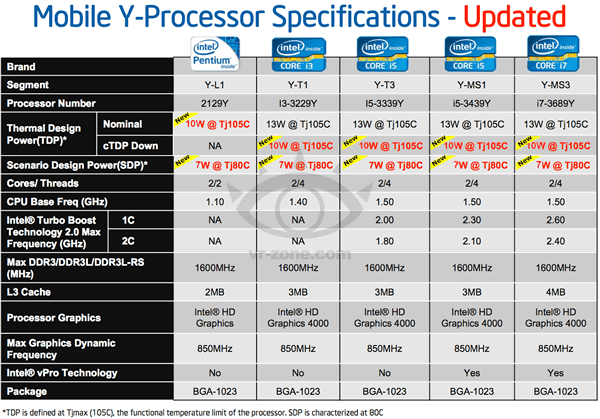 The highest-end model for Intel's low-power line-up additions will be the Core i7-3689Y -- a 1.5GHz CPU which sports only two cores but sips just 13W of power. The i7-3689Y will feature four threads total (thanks to HyperThreading), 4MB of L3 cache and a top Turbo Boost speed of 2.6GHz.
Also being introduced are Pentium, Core i3 and i5 models. The P-2129Y (1GHz Pentium) will feature two cores with integrated graphics and a TDP of 10w but that's about it -- no HyperThreading, no Turbo Boost and no configurable TDP. 
The next step up -- the i3-3229Y -- will sport two cores clocked at 1.4GHz for a total of four threads and Intel HD 4000 graphics, but still maintain a TDP of just 13W. As usual, Turbo Boost will be absent with the i3, but the CPU does include a 7w cTDP.
The two remaining models, the i5-3229Y and i5-3439Y, also feature the same TDP and cTDP values of 13w and 7w, respectively. The i5-3439Y, however, boasts an improved Turbo Boost speed (2.30GHz vs. 2.0GHz) and the inclusion of vPro technology.