Microsoft must pay $1.8 million for Motorola's patents, well short of $4 billion request
By Jose Vilches
TechSpot is celebrating its 25th anniversary. TechSpot means tech analysis and advice
you can trust
.
Microsoft scored a victory against Google-owned Motorola Mobility on Thursday after a federal judge shot down the latter's request of $4 billion yearly payments for the use of a number of its patents on Windows and the Xbox console. Instead, U.S. District Judge James Robart ruled that Microsoft should pay about $1.8 million a year, or 0.045 percent of Motorola's claim and just 0.6 million more than Redmond's own calculation.
The patents in question relate to the H.264 video and 802.11 wireless standards. As such, they're considered standards-essential patents, and must be licensed to other parties at a reasonable and non-discriminatory (RAND) rate. But Microsoft argued Motorola was asking far too much in return, initially setting the fee at 2.25 percent of the price of each product using the patents and later bringing it down to around 1.15 - 1.73 percent.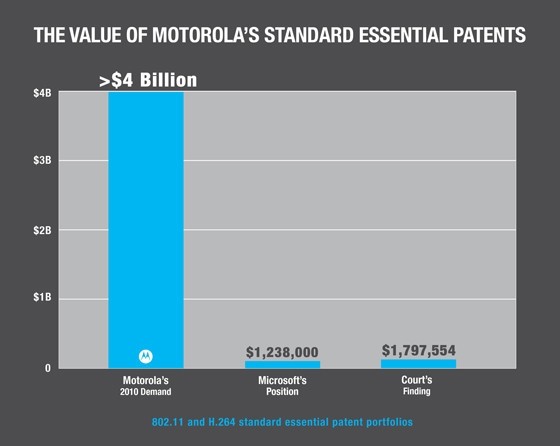 In a refreshing display of common sense, as reported by AllThingsD, the court noted that there are some 92 different entities with patents essential to 802.11 networking, and if each of them is allowed the royalty fee per device sold that Motorola wanted, the cost of wireless networking alone would exceed the price of an Xbox.
The royalty rate for deemed appropriate for Motorola's H.264 standards-essential patents was 0.555 cents for each end product sold, while a reasonable range would stretch up to 16.389 cents. For the 802.11 patents, the court ruled that 3.471 cents per unit was to be the rate for Xbox products and 0.8 cents per unit for any other products. The upper limit for a reasonable royalty rate in this case was set at 19.5 cents.
Foss Patents has more details on how the court arrived at these per-unit amounts, along with their take on the situation, noting that the ruling is a strong indication that Google way overpaid for Motorola's patents, which so far have resulted in zero enforceable injunctions or import bans against Microsoft and Apple.