Neowin's 7 Days: A week of fabulous flagships, low-end Lumias, hardcore Xbox-ing and a sad panda
By Steven Parker
What a week it's been. One event has dominated recent headlines – and we were there to soak up the atmosphere and bring you some of the biggest stories. Indeed, that's where we begin our look back on the last seven days: in Barcelona, at the Mobile World Congress trade expo.
MWC is the biggest event in the mobile industry calendar, hosting tens of thousands of visitors from around the world, including many leaders, decision makers and influencers from companies large and small. And as the jewel in the industry crown, MWC is also the ideal launch venue for some of the most exciting devices that are released each year.
So densely packed are the days of the event that some firms have taken to announcing their new products before it even begins. HTC was one example, unveiling its new One M9 flagship on the day before MWC kicked off.
We had some hands-on time with the device, and came away impressed by its rich and vibrant 5-inch 1080p display, premium build quality and 20-megapixel camera – but its two-tone silver and gold bodywork is something of an acquired taste.
Like HTC, Samsung also held its main press conference just ahead of MWC, at which it too unveiled its new flagships, the Galaxy S6 and Galaxy S6 Edge. The two handsets share similar high-end specs, including an octa-core Exynos processor, 3GB RAM and up to 128GB of storage.
But it's the Edge variant that's the most interesting, with a wild display that curves around both the left and right edges of the device, similar to Samsung's own Galaxy Note Edge, which it launched last year. However, as we discovered during our hands-on time, while the S6 Edge's unusual display is certainly drop-dead gorgeous, it doesn't seem to be especially useful.
Oh, and if you buy the 'standard', non-Edge version of the Galaxy S6, you'd better make sure you set some money aside to buy a nice case for it, unless you're a fan of fingerprint smudges.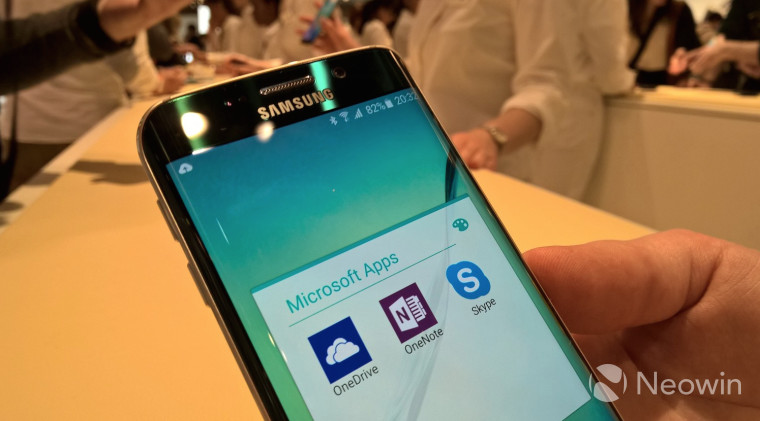 During our brief hands-on preview with the new Galaxy handsets, we also spotted that they come with a trio of Microsoft apps pre-installed: OneDrive, OneNote and Skype. On Friday, Samsung revealed that Office 365 will be pre-installed with its Knox Workspace suite for Android – the Korean firm's 'secure mobility solution' for business and enterprise.
Microsoft unveiled two new additions to its Lumia range at Mobile World Congress – but to the bitter disappointment of some fans, neither of these was a new Windows Phone flagship. In fact, the Lumia 640 and 640 XL are aimed firmly at the lower mid-range of the market, with quad-core 1.2GHz Snapdragon 400 processors, but they're also equipped with enormous displays.
The 5-inch 640 is dwarfed by its even larger 5.7-inch XL sibling, which also gets a bigger battery and 13-megapixel camera with ZEISS optics.
As we noticed during our hands-on preview of the devices, Microsoft's new Lumia 640 and Lumia 640 XL are the very first handsets to launch with the newest version of the OS, Windows Phone 8.1 Update 2. The first mention of the update was originally uncovered on Microsoft's site a few weeks ago, and among various changes is a slightly redesigned Settings hub.
Alongside the new handsets, Microsoft also revealed its new Universal Foldable Keyboard. The accessory does as it sounds – it's a cross-platform keyboard that can connect to (supposedly) any device via Bluetooth, and it folds in half for greater portability.
And the good news for Windows Phone users is that the new keyboard will work with their handsets… as long as they're running the latest version 8.1 Update 2 of the OS, which will introduce Bluetooth keyboard compatibility for the first time. Microsoft still hasn't revealed full details of the update, nor has it given any indication of when it might roll out to existing devices.
Microsoft first announced Update 1 (GDR1) back in July 2014 (and then re-announced it as the Denim update for its Lumia devices in September) – but even now, that update is still trickling out to devices. At that same pitiful rate of progress, some users will be lucky to see Update 2 by next winter – and let's not forget that Windows 10 for phones is supposed to be arriving in the next few months too.
Indeed, Microsoft actually spent some time at its MWC press conference talking about what's to come in Windows 10 for phones, sharing a few previously unseen bits, including a quick look at its new Bing Maps app, demonstrating improved integration and continuity between the phone and PC versions.
The company also shared a fleeting glance at its new Project Spartan web browser running on Windows 10 for phones for the first time.
Microsoft has now confirmed that Spartan will be included in the next Windows 10 Technical Preview for PCs, which could arrive as early as next week. On Thursday, a bunch of screenshots emerged showing Spartan in action on the desktop.
There have been plenty of screenshots to feast upon this week, showing builds 10022 and 10031 of the Technical Preview in action, revealing a couple of tiny tidbits of info here and there.
However, a well-placed and trusted source revealed to Neowin last weekend that the number of devices running the Windows 10 preview for phones is much, much lower than that – only around 60,000 users worldwide, including Microsoft employees.
That number should grow considerably in the coming weeks, as Microsoft's Gabe Aul confirmed that the next preview build for phones will support a wider range of handsets. Currently, the preview is limited to just a small subset of low- and mid-range Lumia devices.
/>
However, Microsoft also confirmed what should really come as no great shock to any of you: there will be no new Lumia flagships until Windows 10 finally launches. Anyone surprised? Probably not, since it makes sense for the company to launch its latest and greatest handsets with its next-generation OS.
/>
The prospect of a new flagship-class Windows phone is a tantalizing one for some. Last month, Microsoft whet the appetites of its fans when it revealed that "Lumia smartphones powered by Snapdragon 810 processors" are on the way.
By the way, don't forget that this weekend, we're giving away a Samsung 11,300mAh portable power pack, capable of recharging your devices many times over! Available to our readers across the globe, the contest ends on Sunday, March 8 at 2300 PST – so make sure you enter ASAP!
And if you've got a PlayStation 4, check out our other giveaway this weekend, in which you could win one of three downloadable codes for Zombie Army Trilogy!