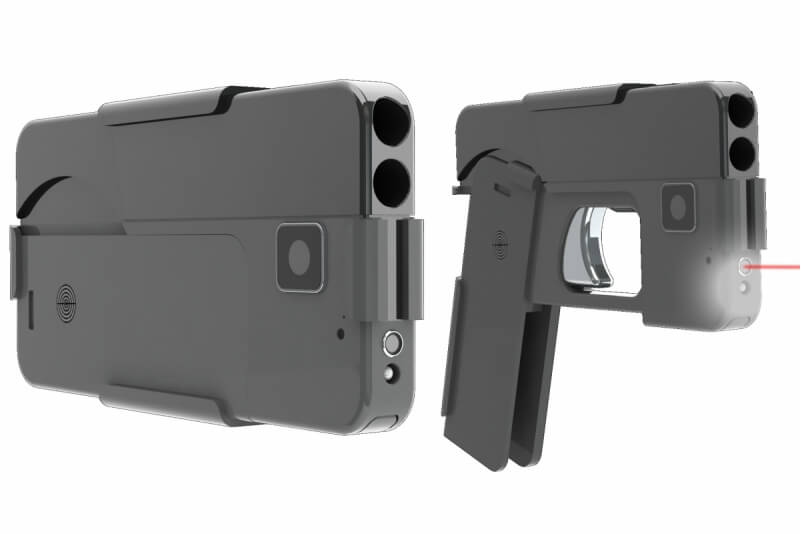 A handgun that can be folded up so it bears a striking resemblance to a smartphone is coming out later this year. The first product from Minnesota-based company Ideal Conceal, over 2500 people have already expressed an interest in purchasing the weapon when it is released.
The .380-caliber derringer, which will cost around $395, comes with two bullets loaded into two barrels. When folded into the locked position, the trigger and trigger guard are concealed by the grip, giving it the size, shape, and general appearance of a smartphone inside a case. It even comes with a clip, so it can be attached to a belt when folded.
"Ingeniously designed to resemble a smartphone, yet with one click of the safety it opens and is ready to fire," says the company website. "Smartphones are everywhere, so your new pistol will easily blend in with today's environment. In its locked position it will be virtually undetectable because it hides in plain sight."
While this isn't the first folding pistol, or even the first to be shaped like a box, it's thought to be the first one designed to not resemble a gun when folded – something that's causing concern among law enforcement officials.
"In general, the concept of any kind of weapon that's disguised, so that it's not apparent that it's a weapon, would be cause for concern," said Bill Johnson, executive director and general counsel for the National Association of Police Organizations, to CNN Money.
Developer Kirk Kjellberg said he came up with the idea for the weapon when walking through a restaurant and a young boy saw his pistol (Kjellberg has a concealed carry permit).
"This little kid says, 'Mommy, Mommy, that man's got a gun,' so the whole restaurant looks at you like you're about to shoot the place up," he explained. "So I thought to myself there's got to be another way to be able to carry without bothering other people."
Some states may require owners of the pistol to have a concealed carry permit, but this will depend on state and local laws. Kjellberg said he is considering developing similar guns with different calibers and plans to introduce a semi-automatic version in 2018.