Binance CEO reportedly accused Sam Bankman-Fried of trying to "depeg" stablecoin Tether
Desperate trades during the FTX collapse threatened to cause a "meltdown" of the entire crypto industry
By Cal Jeffrey 7 comments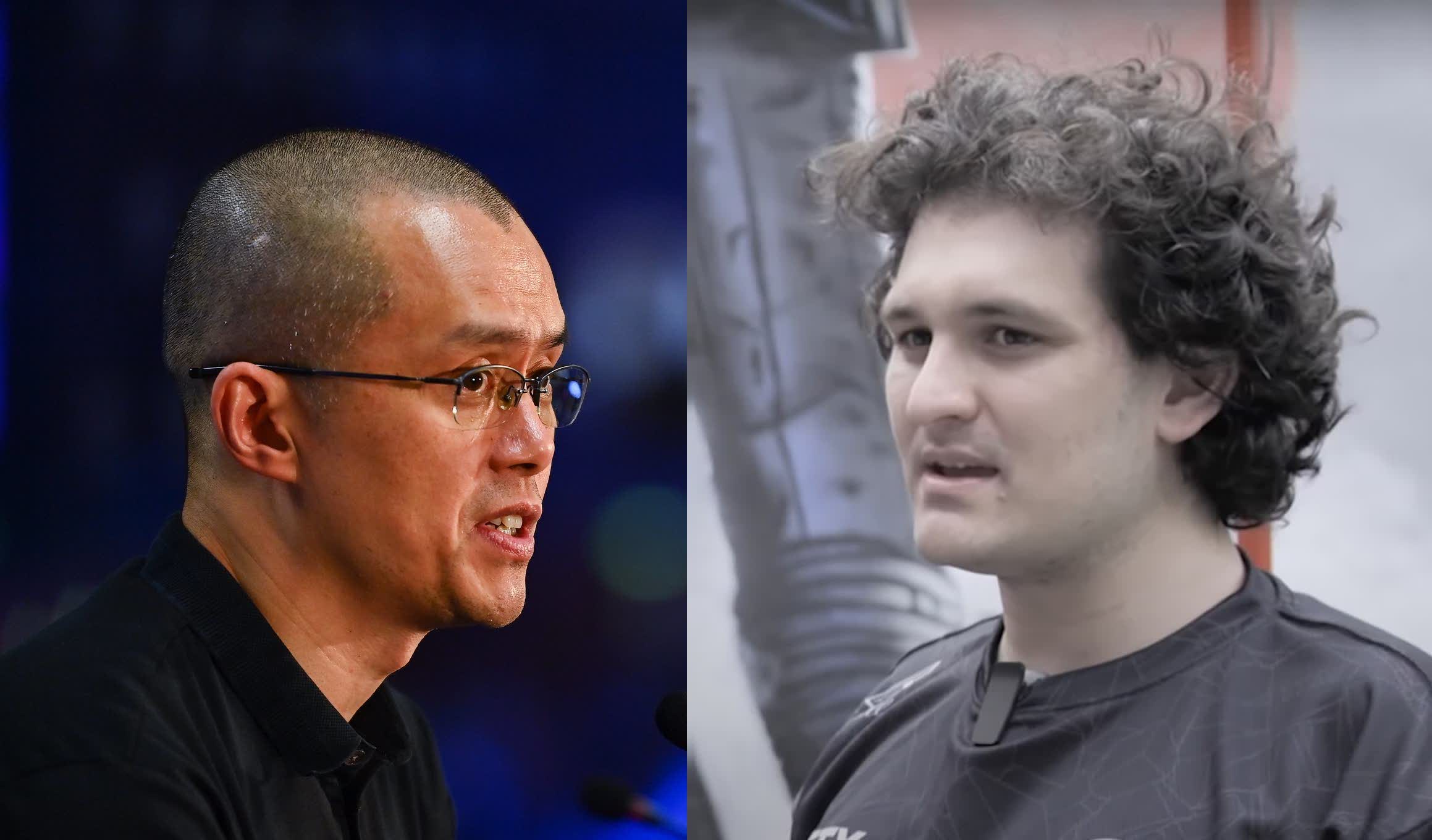 TechSpot is celebrating its 25th anniversary. TechSpot means tech analysis and advice
you can trust
.
Why it matters: The crypto industry is still reeling from the failure of the FTX exchange last month. Investors are mad and calling for Sam Bankman-Fried's head over operating what they consider was nothing more than a Ponzi scheme. Now, a private text exchange indicates that Binance CEO Changpeng Zhao believed that Bankman-Fried had been breaking the law even before the financial crisis that brought his crypto empire to ashes.
According to anonymous sources and private text transmissions leaked to The New York Times, Sam Bankman-Fried (SBF) was still trying to make cryptocurrency trades after his FTX exchange collapsed. The messages were in an encrypted Signal group chat between several crypto executives, including SBF and Changpeng Zhao (CZ).
On November 10, only one day after FTX imploded, Zhao addressed SBF in the group message to stop making trades and warned him that if he continued, he faced extended "jail time."
"Stop now, don't cause more damage," CZ wrote. "The more damage you do now, the more jail time."
The Times suggests that CZ's motives were not solely to keep SBF out of legal trouble.
"My honest advice: stop doing everything. Put on a suit, and go back to DC, and start to answer questions."
The quick fall of FTX caused a ripple effect in the entire industry that saw many coins and related businesses tumble. As CEO of Binance, CZ has a vested interest in seeing that the cryptocurrency market does not completely crash and put him too out of business.
Zhao was afraid that SBF was trying to desperately hold on to FTX with ill-advised trades that could have piled onto the downward momentum the market was already experiencing. Zhao was probably less concerned with Bankman-Fried going to jail and more concerned about Binance's future if the industry continued its freefall.
The messages were frantic, and the argument was heated. Zhao accused Bankman-Fried of intentionally trying to "depeg" the stablecoin Tether with a $250,000 transaction. Backed by the US dollar, Tether (USDT) has a fixed (pegged) price of $1. Zhao insinuated SBF was trying to manipulate the market and knock Tether off its peg with the transaction made through the FTX executive's other failed company, Alameda.
Bankman-Fried called the claim "absurd."
"Huh? What am I doing to stablecoins? Are you claiming that you think that $250k of USDT trading would depeg it? Trades of that size would not make a material impact on Tether's pricing, and to my knowledge neither myself nor Alameda has ever attempted to intentionally depeg Tether or any other stablecoins. I have made a number of mistakes over the past year but this is not one of them."
There is a lot to cover and will take some time. This is a highly dynamic situation, and we are assessing the situation in real time. Binance has the discretion to pull out from the deal at any time. We expect FTT to be highly volatile in the coming days as things develop.

--- CZ " Binance (@cz_binance) November 8, 2022
Ironically, Binance may have caused the bank run leading up to the crisis. Zhao and SBF had been in talks about a merger. During due diligence, CZ offhandedly tweeted general financial details on November 8 that may have caused investors to panic and try to withdraw their funds (tweet above).
According to an anonymous source, before the Binance/FTX deal, SBF had scheduled a meeting with a top Tether exec in his Bahamian headquarters. He allegedly asked Tether for a billion dollars in funding to prop up FTX, but the company turned him down.
It is unclear if this bail-out request happened before or after SBF's $250,000 Tether transaction. What is clear is that CZ felt FTX was utterly doomed during the November 10 message exchange. The dust had not even settled, and Zhao was telling SBF to get ready to be grilled by the government.
"My honest advice: stop doing everything. Put on a suit, and go back to DC, and start to answer questions," CZ said, referring to the already initiated investigation by the US Federal Trade Commission for allegedly mishandling the money pool. The CEO had allegedly used FTX to bailout other struggling currencies and advertised the exchange heavily using investors' funds.
The day after the chat, FTX filed for Chapter 11. Investors are also suing Bankman-Fried and various actors who promoted the exchange. The lawsuit claims the who thing was a Ponzi scheme targeting "unsophisticated investors from across the country." Bahama's Attorney General L. Ryan Pinder has also faced public criticism for not taking swift enough action against FTX and SBF.
Image credits: Changpeng Zhao by Web Summit, Sam Bankman-Fried by Marco Verch