Nvidia RTX 4090 and 4080 gaming laptops will be available for pre-order starting February 1st
Gamers have a week to secure a new RTX 4090 or 4080 laptop before launch day
By Aaron Klotz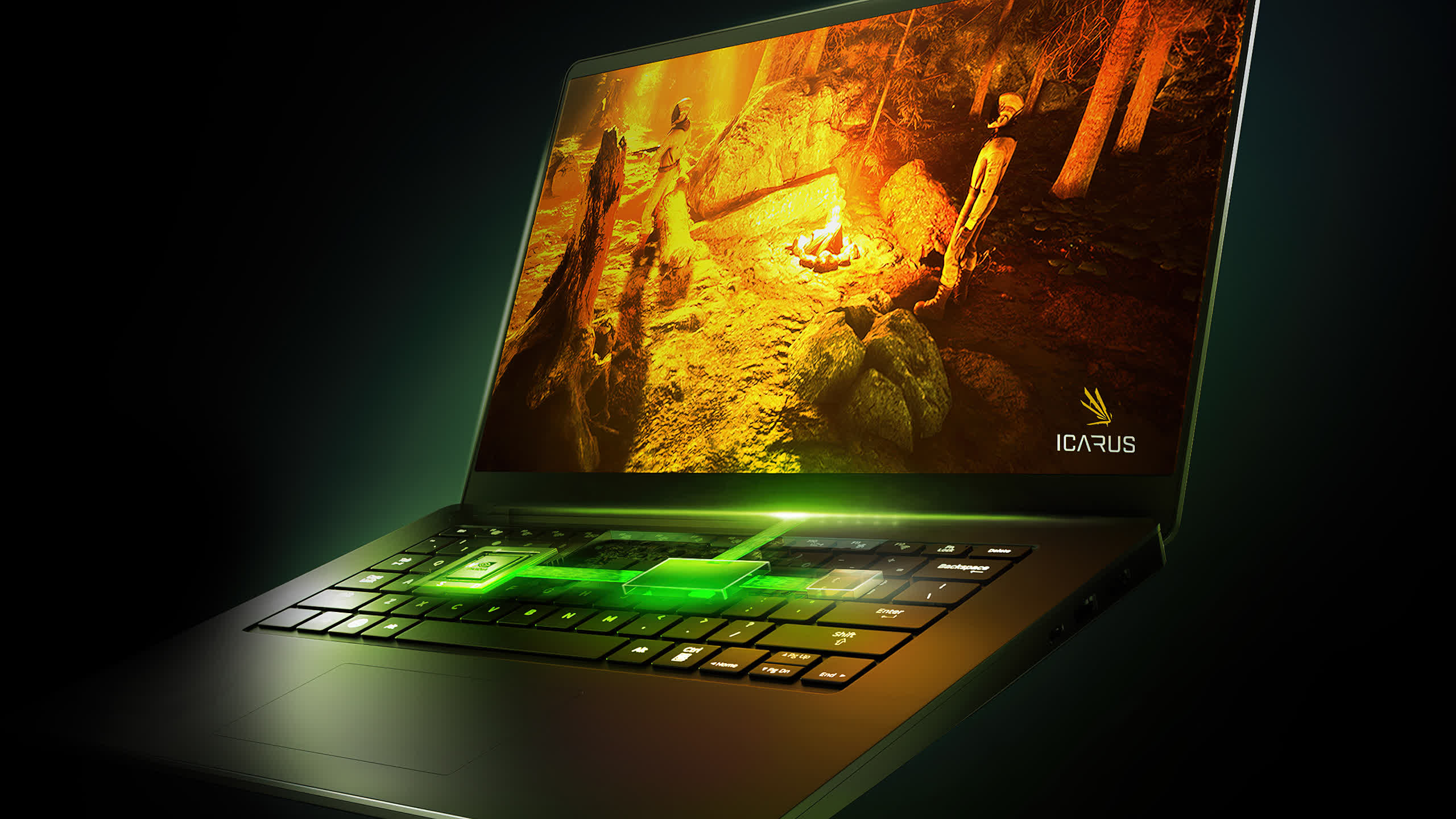 TechSpot is celebrating its 25th anniversary. TechSpot means tech analysis and advice
you can trust
.
Forward-looking: Pre-orders for Nvidia RTX 4090 and RTX 4080 laptops have been confirmed to open February 1st, which is 8 days before both GPUs are launched officially. This will give people an additional week to shop and secure a high-end RTX 40 series gaming laptop before day-one availability inevitably dries up.
Nvidia is launching its new RTX 40 series mobile GPUs next month, however the February 8 launch only consists of the top RTX 4090 and RTX 4080 laptops. The rest of the lineup including the RTX 4070, 4060 and 4050 will arrive a few weeks later on February 22nd.
Nvidia's RTX 4090 mobile GPU is the flagship SKU this generation, set to replace the RTX 3080 Ti, it will come with 9728 CUDA cores, and 16GB of GDDR6 operating on a 256-bit bus. Clock speeds will range anywhere between 1455MHz and 2040MHz and power consumption 80W to 150W depending on laptop manufacturer's choices, cooling design and footprint.
The RTX 4080 is the runner-up to the 4090, featuring 7424 CUDA cores, and 12GB of GDDR6 on a 192-bit bus. Clock speeds will range anywhere between 1350MHz to 2280MHz, and power consumption will be 60W to 150W.
Nvidia boldly claims both of these high-end mobile GPUs will be capable of 60 FPS gameplay on not just one 4K monitor, but three set up in a surround gaming setup. We have to assume this supposed capability includes DLSS 3 frame generation to make their numbers look better than they normally would.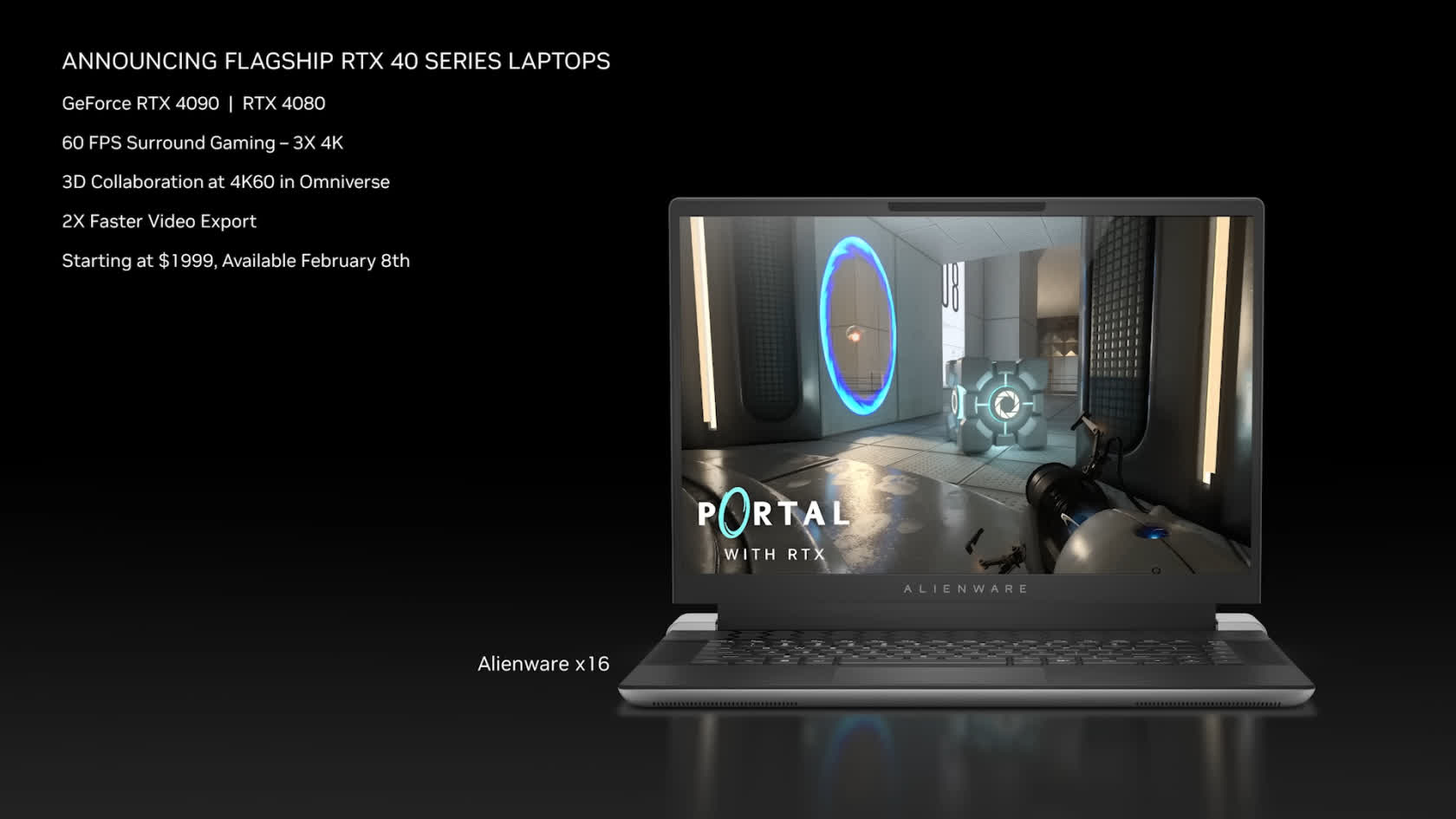 The GeForce RTX 4070 sits in the middle of Nvidia's product stack this generation, offering 4608 CUDA cores, 8GB of GDDR6, a 128-bit bus, boost clocks of 1230MHz to 2175MHz, and a power consumption range of 35W to 115W.
The RTX 4060 will feature 3072 CUDA cores, 8GB of memory, a 128-bit interface, and a power rating of 35W - 115W. Boost frequencies will land anywhere between 1470MHz to 2370MHz.
Filling out the entry-level stack is the RTX 4050, featuring 2560 CUDA cores, 6GB of GDDR6 on a 96-bit bus, and a power consumption rating of 35W - 115W (like the 4060 and 4070). Boost clocks on this model are rated for 1605MHz - 2370MHz. These differentiating boost clock targets represent the minimum and maximum boost frequencies you can expect from any laptop equipped with these GPUs and will correlate directly with the GPU's power target, which will be tuned by the laptop manufacturer.
Nvidia says the RTX 4070, 4060, and 4050 will consume just a third of the power consumption of an RTX 3080 and will be able to run games at 1440p Ultra settings at 80FPS. Nvidia's statement is quite suspicious though, so take this information with a grain of salt until we can put them down to a real test.