Apple confirms the Vision Pro headset achieves 90Hz refresh rate, is HDR capable
Vision Pro can switch to 96Hz to smoothly play 24fps video
By Daniel Sims 11 comments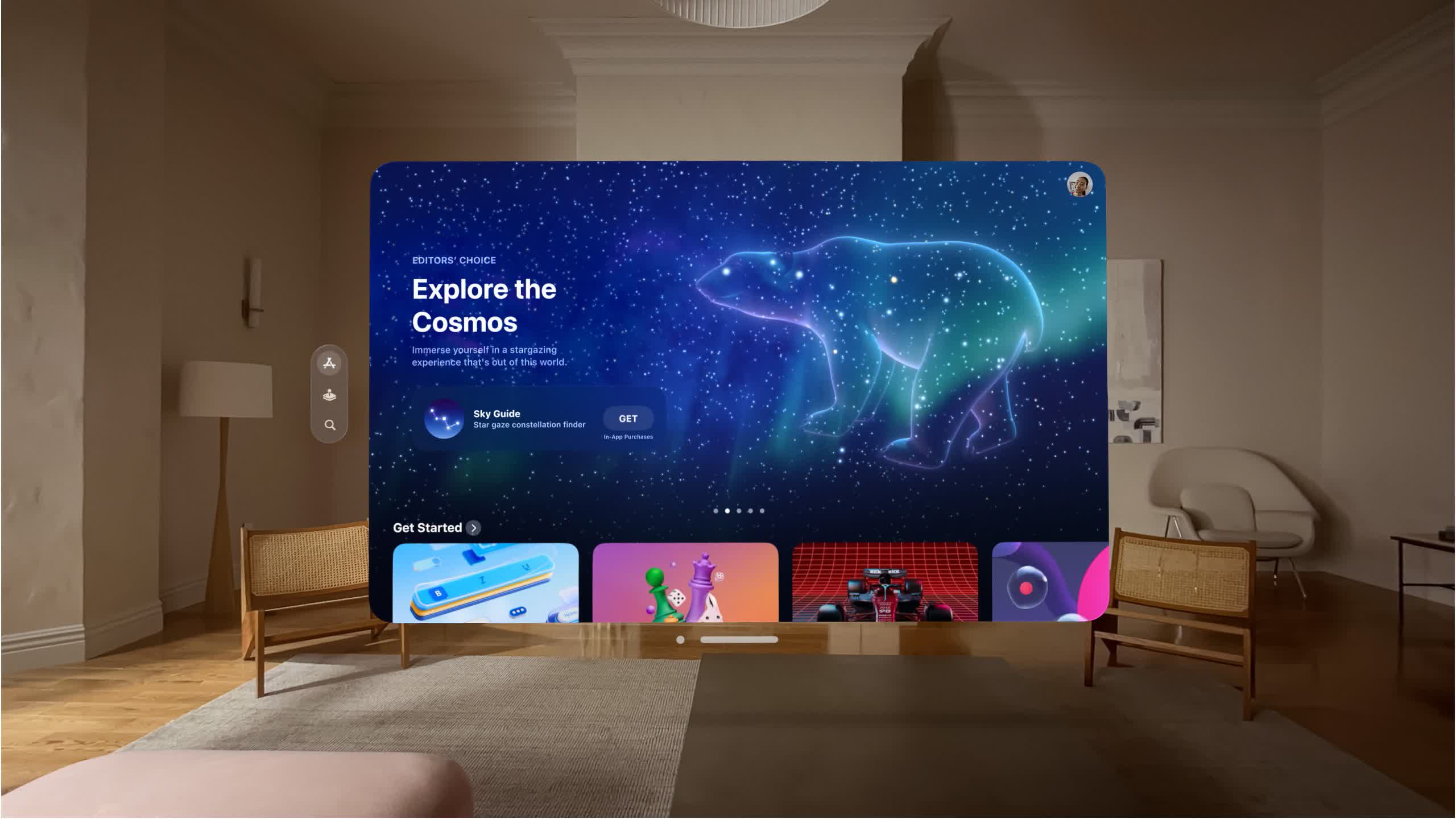 TechSpot is celebrating its 25th anniversary. TechSpot means tech analysis and advice
you can trust
.
In context: Apple usually releases a full spec sheet on its website immediately after unveiling a new device, but no such table currently exists for the Vision Pro. This leaves some technical questions surrounding the device unanswered, but a new developer deep-dive sheds a bit more light on the headset's capabilities.
Apple has confirmed that the displays in its new Vision Pro mixed-reality headset usually maintain 90Hz and support HDR. That refresh rate is standard among VR devices like the Meta Quest, PlayStation VR 2, and Valve Index.
The Cupertino giant said the Vision Pro is "mostly" 90Hz because it also features a 96Hz mode that can automatically activate when users watch 24Hz content, which includes most movies and TV shows. Because 96 divides evenly into 24, 24Hz content should display more smoothly than on a typical 60Hz TV. Sony and Valve's headsets can reach 120Hz, which also divides evenly into 24, but 96 works as a middle ground.
During the initial reveal, Apple emphasized arguably the Vision Pro's most significant advantage over the competition – its 4K-per-eye display resolution. The panels achieve roughly double the pixel count of other headsets and enable viewing full 4K videos.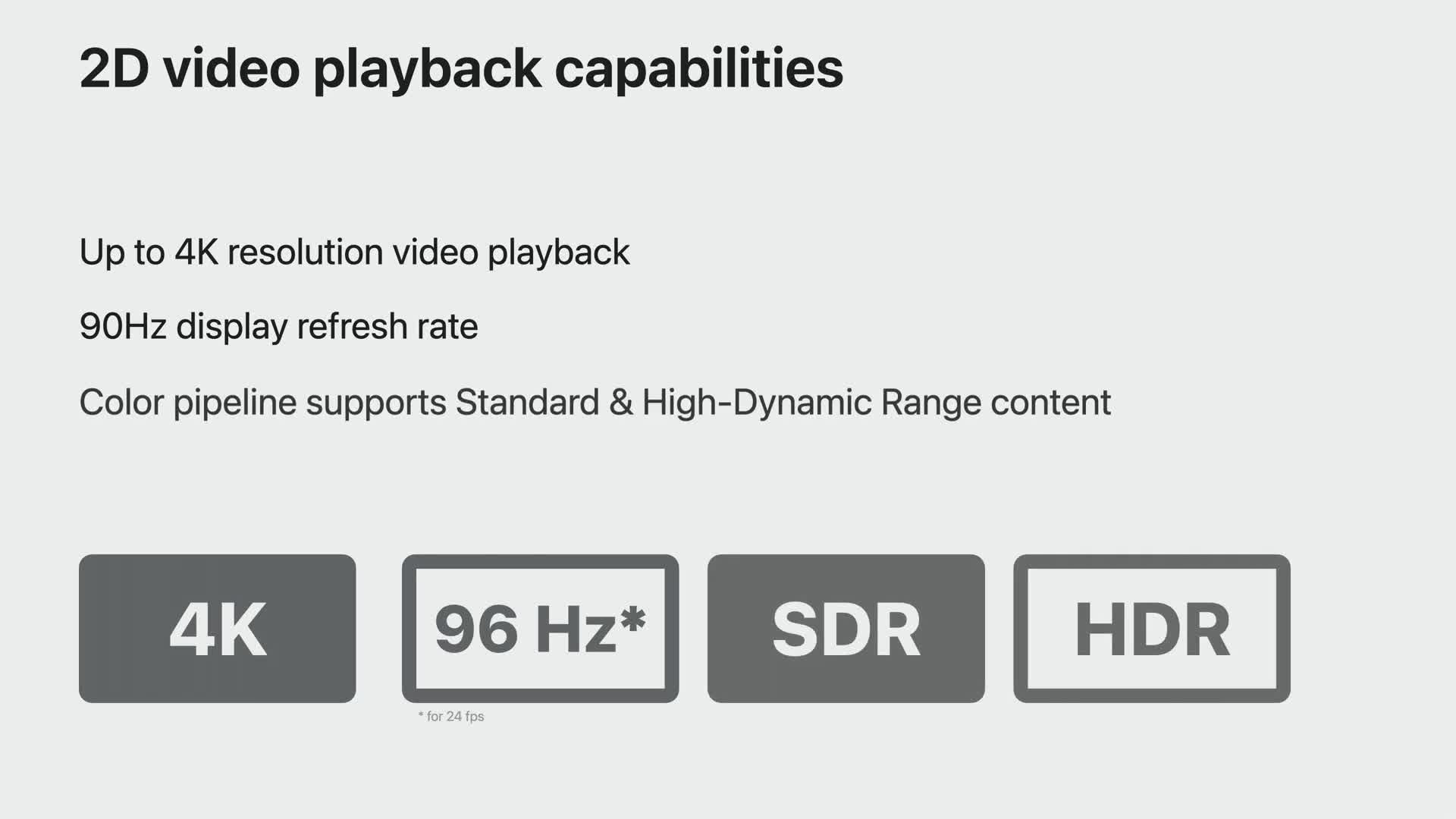 The refresh rate information is part of one of several guides Apple released to help developers adjust to its new mixed-reality operating system, visionOS. The video series contains information on how to build accessible interfaces for Vision Pro apps and content that looks smooth when wearing the headset, including 2D and 3D videos.
Also read: I got to play with the Apple Vision Pro and saw the future of computing. Again.
Immersive 180-degree and 360-degree videos have long been a core appeal of VR headsets, but less attention has gone toward their ability to play back flat-panel 3D video. Apple made streaming a significant focus of its Vision Pro reveal presentation, including 3D content, with immersive Disney+ experiences as a highlight. If the company thinks 3D streaming will be a primary use for its headset, it makes sense to encourage entertainment companies and content creators to embrace the format.
One of the guides focuses on properly using video codecs to create 3D streaming content. Apple said Vision Pro supports MP4 and HEVC but didn't mention AV1, a royalty-free alternative gaining support among other hardware manufacturers.
The headset's other impressive properties include its M2 processor and R1 chip, the latter dedicated to handling sensor input to create a more comfortable pass-through experience. The Vision Pro's capabilities essentially amount to an 8K MacBook strapped to the user's face, but $3,500 is still a lot.