Car quality is suffering as automakers shift focus to technology
They don't make them like they used to
By Shawn Knight 29 comments
TechSpot is celebrating its 25th anniversary. TechSpot means tech analysis and advice
you can trust
.
Bottom line: New vehicles are more technologically advanced than ever, which is great when everything works as it should. In the real world, tech adds more complexity to the equation which translates to more opportunities for failure and an overall lower perception of quality.
That's more or less the summary of J.D. Power's 2023 U.S. Initial Quality Study (IQS), which highlighted quality declines in eight out of nine key categories. Driving experience was the only category that didn't suffer a decline, remaining flat year over year.
J.D. Power's study tracks the number of problems per 100 vehicles (PP100), and noted a record 30 PP100 increase over the past two years (an 18 PP100 increase from 2021 to 2022 and a 12 PP100 jump from 2022 to 2023).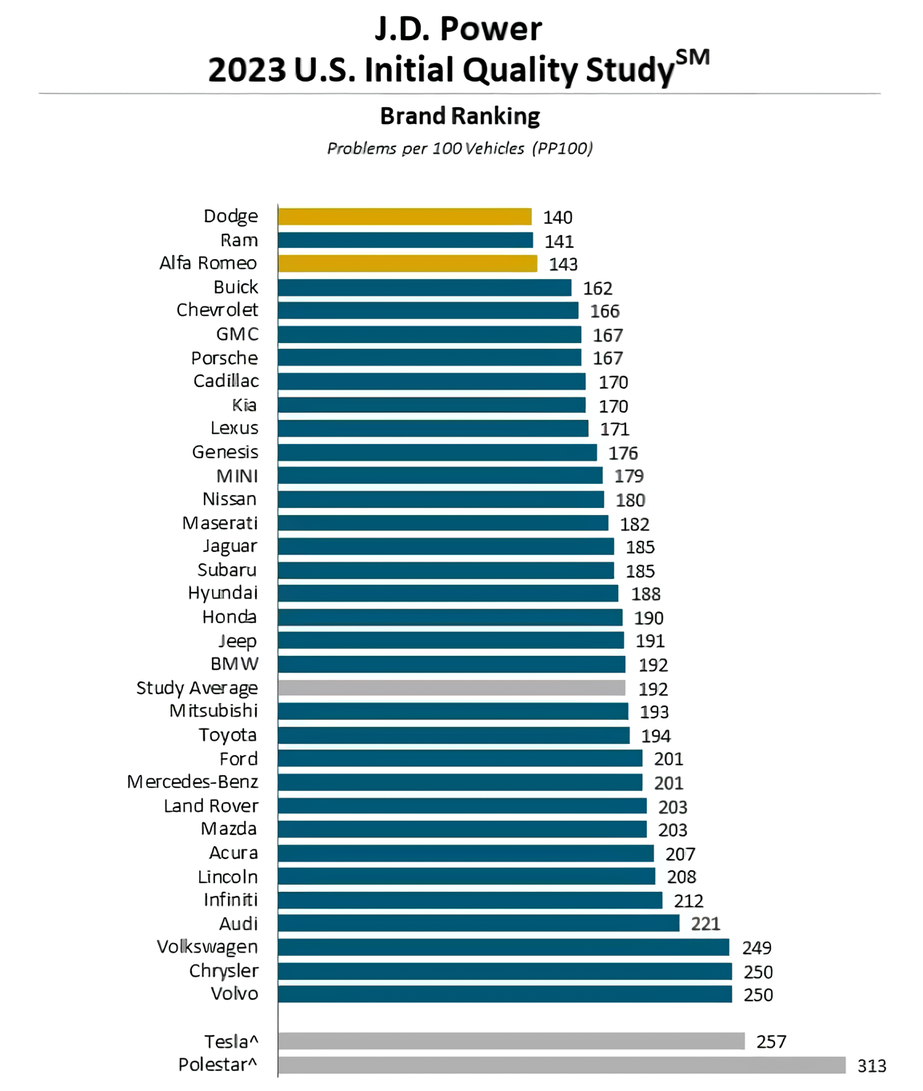 The consumer intelligence company said the continued decline of quality can be attributed to multiple factors including but not limited to greater use of technology in new cars and the repeated implementation of audio systems with known issues. The features, controls, and displays category and the infotainment category saw the largest year-over-year increase in problems at +3.2 PP100 and +2.3 PP100, respectively.
Specific complaints included wireless charging pad issues and problems with driver assistance features. Attempts to reinvent the wheel – that is, modernize basic features that have already been perfected – were problematic as well. For example, some owners reported issues with door handles and manufacturers' insistence on making them unnecessarily complex.
"The automotive industry is facing a wide range of quality problems, a phenomenon not seen in the 37-year history of the IQS," said Frank Hanley, senior director of auto benchmarking at J.D. Power. How each manufacturer chooses to move forward will be paramount to its future, Hanley added.
Dodge ranked at the top of J.D. Power's list with 140 problems per 100 vehicles followed closely by Ram with 141 PP100 and Alfa Romeo with 143 PP100. Buick and Chevrolet rounded out the top five with 162 PP100 and 166 PP100, respectively. The study average was 192 PP100 and for those curious, EV makers Tesla and Polestar checked in with 257 PP100 and 313 PP100, respectively.
Image credit: Infotainment by Brock Wegner, Dodge by Artishmie Robbins