The GeForce RTX 4060 launch at a Japanese store attracted just one buyer, again
A repeat of the RTX 4060 Ti launch
By Rob Thubron 19 comments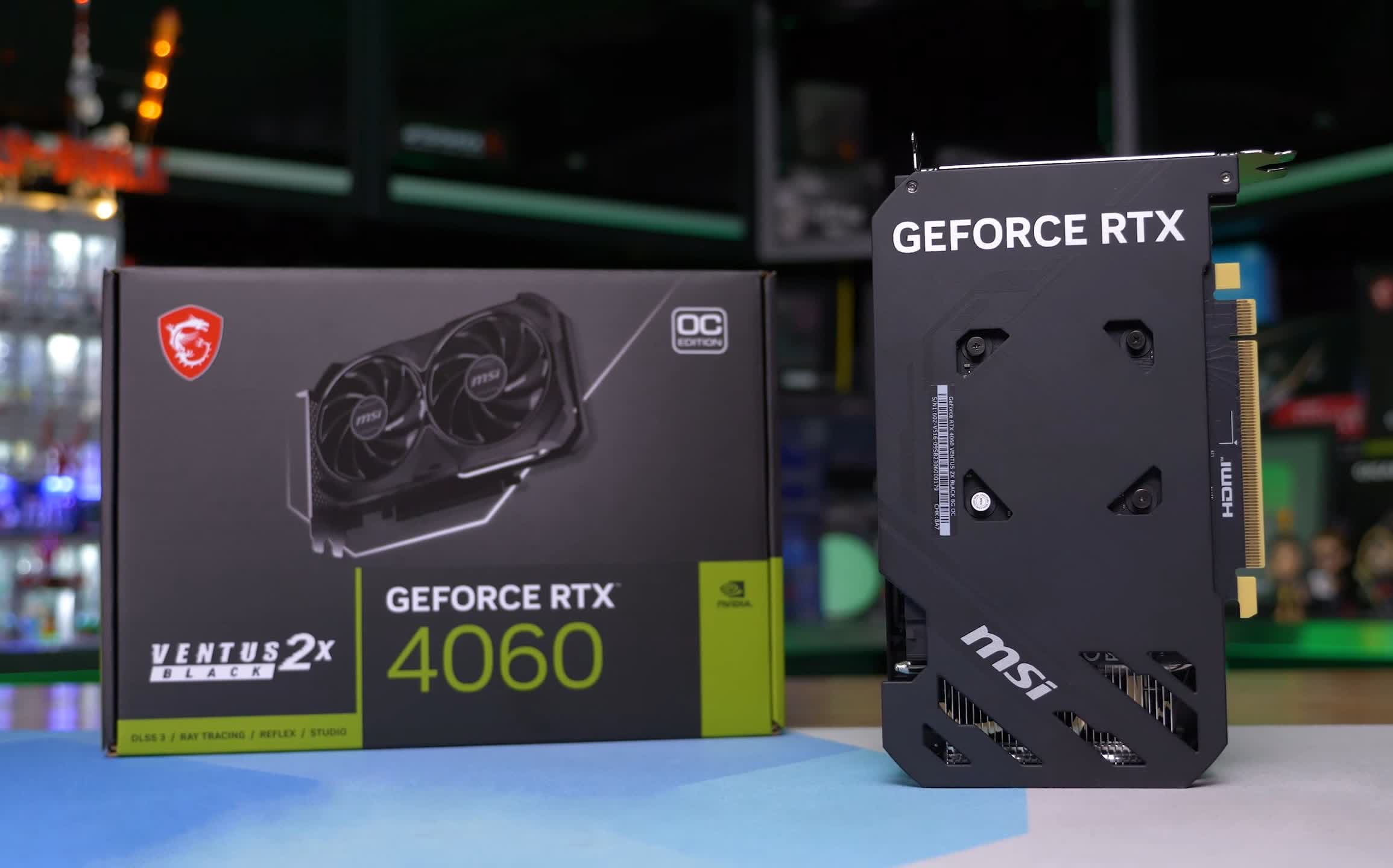 TechSpot is celebrating its 25th anniversary. TechSpot means tech analysis and advice
you can trust
.
Facepalm: In a case of history repeating itself, the launch of the Nvidia RTX 4060 graphics card in Japan saw just a single person turn up at one retailer to buy the GPU. But given the card's reception, this isn't entirely surprising.
The $300 RTX 4060 arrived yesterday to a resounding "meh" from most reviewers; we awarded it a score of 70, noting that it offers no better value than the Radeon RX 7600, and is even worse value than AMD's card for those who don't care about Nvidia tech like Frame Generation.
In Japan, where the sales embargo usually lifts at 10 pm, the once familiar sight of people lining up to secure a new card was replaced with the sad image of a single person waiting at one of the country's big PC stores.
Local news publication Hermita_Akiba tweeted an image of the sole gamer buying an MSI Gaming X model of the GeForce RTX 4060. He said that he was upgrading from his GTX 1060, which remains the second-most-popular graphics card in the Steam survey. Still, the RTX 4060 obviously offers a huge jump in performance, but he might have been better off opting for a cheaper product.
ãÂÂã¢ã­ãÂÂ�-æÂÂç­�'çµÂå±ÂãÂÂ�'ã½ã³ã³工æ¿ ç§Â�'�åÂÂæ¬�-ã§1åÂÂãÂÂ購�...��-ã¦çµÂäºÂ�-ã¾�-ãÂÂãÂÂ売ãÂÂãÂÂã®ã¯MSIãÂÂGeForce RTX 4060 GAMING X 8GãÂÂãÂÂGeForce GTX 1060ãÂÂãÂÂ�...�-ã¶ãÂÂã®�-ãÂÂæÂÂãÂÂã¨ã®äºÂã§�-ã pic.twitter.com/8vagoFlZzu

– ã¨ã«ãÂÂã¿ã¼ã¸ãÂ¥ç§Â�'�åÂÂç·¨éÂÂé¨ (@hermita_akiba) June 29, 2023
Another Japanese PC store, PC Studio, looked equally desolate when the RTX 4060 launched.
�'ã½ã³ã³工æ¿ã¨ãÂÂã¹�'ã© pic.twitter.com/MfIzbRuOMA

– Mæ°Â ã¢ãªã±ã³èªä½ÂPCãÂÂã§ãÂÂãÂÂãÂÂã­ã« (@akiba_ten_M) June 29, 2023
This sort of thing is becoming commonplace in Japan. When the RTX 4060 Ti, which we really don't like, arrived in May, just two stores opened in Tokyo's popular Akihabara shopping district for the card's launch, with only a single person turning up to buy a card – one of the stores had zero buyers.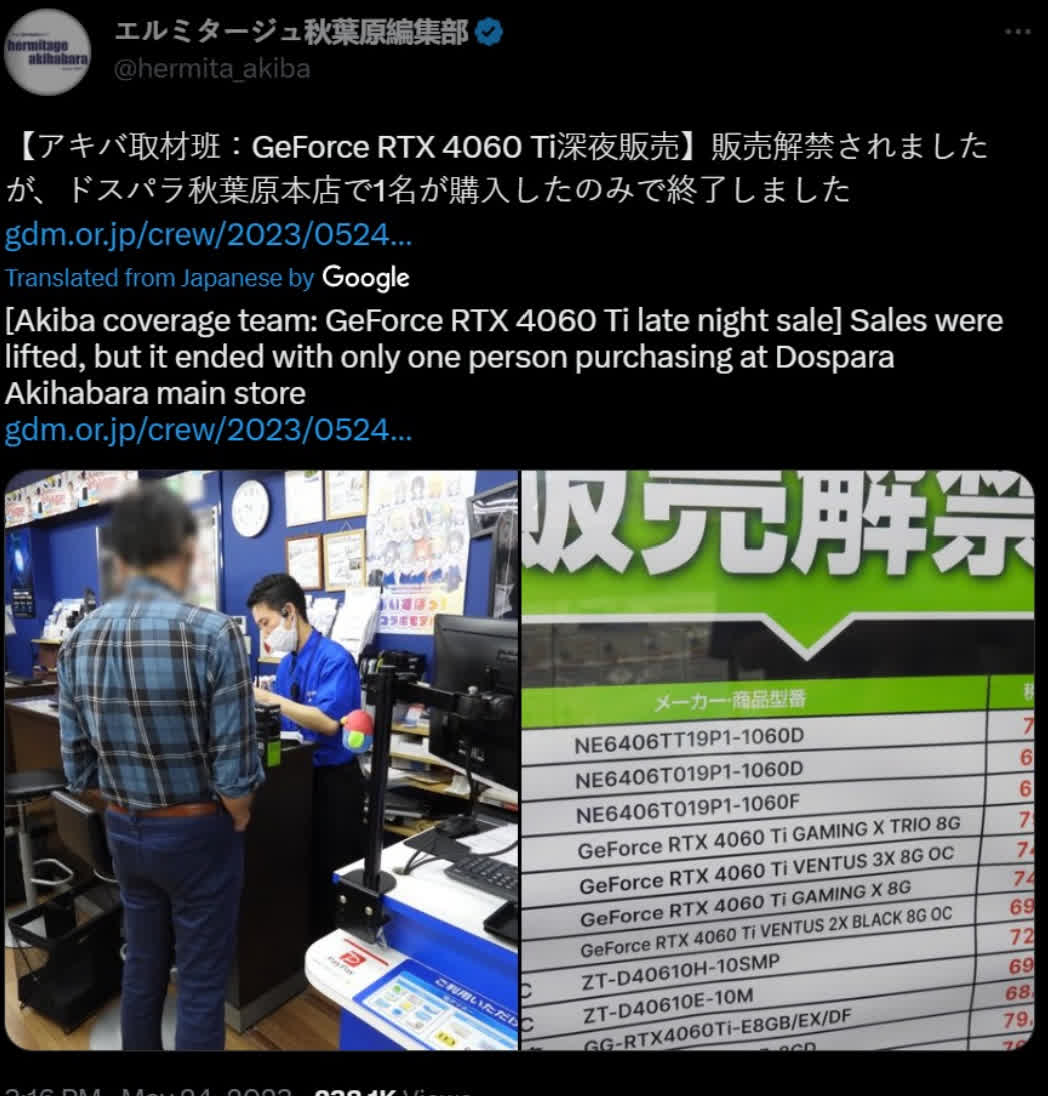 As per our review, the RTX 4060 isn't as egregiously poor as the 4060 Ti, but it's still disappointing, and it's certainly not worth buying at $300. Nvidia has tried to claim that the increased L2 cache capacity makes up for the 128-bit wide memory bus and 8GB of VRAM (the RTX 3060 offers 12GB), but this isn't entirely true.
There's an abundance of RTX 4060 cards available on Newegg and Amazon right now, illustrating how much things have changed compared to a few years ago when pandemic-induced unprecedented demand, cryptominers, and scalpers meant buying cards required patience, luck, and a willingness to spend way more than the MSRP.