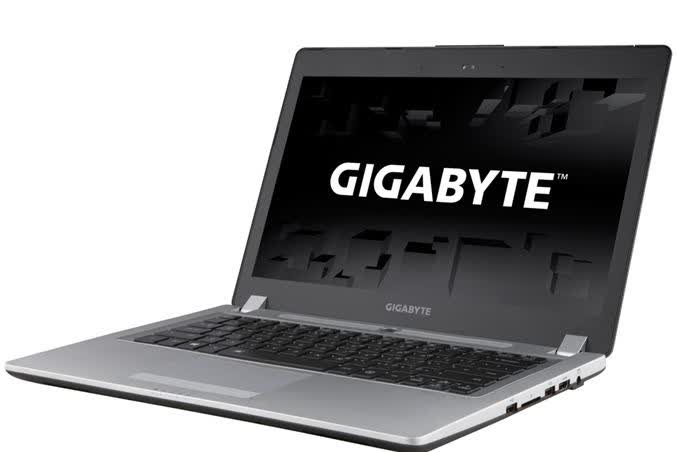 Pros:
Good gaming performance with the GTX 860M and an I7, Very quiet under low/medium load, Compact and lightweight at ~1.75kg, Very good 1080p IPS level display, Very good Intel 7260 WiFi card, Good case build quality, Very good keyboard, Backlit key...
Light and slim, Very stylish casing, Very good gaming performance, First rate application performance, Ports not in the front area, Bright, sharp and color accurate screen, Excellent keyboard back light, Included bag, Gigabyte Smart Manager, Considerably...
Decent performance at a good price, Slim and lightweight, Bright 1080p display with good viewing angles
Cons:
Heat, Performance per price ratio not for those who are not after a gaming ultrabook, Speakers are mediocre, All plastic (disadvantage for some)
Inaccurate processing of the review sample, Display back attracts fingerprints, Unrealistic stress test caused CPU throttling, Massively limited gaming performance in battery mode, Keyboard could be more solid, Middling sound, Not exactly quiet and cool...
TechSpot is supported by its audience. When you buy through our links, we may earn a commission.
Learn more
.
Good gaming performance with the GTX 860M and an I7, Very quiet under low/medium load, Compact and lightweight at ~1.75kg, Very good 1080p IPS level display, Very good Intel 7260 WiFi card, Good case build quality, Very good keyboard, Backlit key
Light and slim, Very stylish casing, Very good gaming performance, First rate application performance, Ports not in the front area, Bright, sharp and color accurate screen, Excellent keyboard back light, Included bag, Gigabyte Smart Manager, Considerably
Decent performance at a good price, Slim and lightweight, Bright 1080p display with good viewing angles
Heat, Performance per price ratio not for those who are not after a gaming ultrabook, Speakers are mediocre, All plastic (disadvantage for some)
Inaccurate processing of the review sample, Display back attracts fingerprints, Unrealistic stress test caused CPU throttling, Massively limited gaming performance in battery mode, Keyboard could be more solid, Middling sound, Not exactly quiet and cool
Loud cooling fans, Genericlooking design, Uninspiring batterylife