Bridge Constructor Portal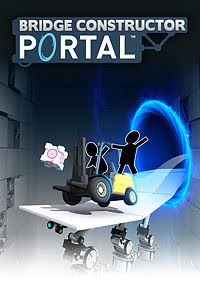 Pros:
Setting it in the Portal universe helps immensely, Fun gameplay that is more compelling than ever before
GLaDOS (and Ellen McLain!), Solid learning curve, Some interesting challenges
Smooth introduction easily explains the basics
Cons:
It's still Bridge Constructor. Your mileage may vary
Occasional glitches, Poor editing tool, Portal tiein is halfbaked, Repetitive toward end
TechSpot is supported by its audience. When you buy through our links, we may earn a commission.
Learn more
.
Setting it in the Portal universe helps immensely, Fun gameplay that is more compelling than ever before
GLaDOS (and Ellen McLain!), Solid learning curve, Some interesting challenges
Smooth introduction easily explains the basics
Bridge building with portals works, Competitively priced, Challenging
Portal, Has portals, Nostalgia
Great use of Portal license, Progressively challenging puzzles, Truly openended solutions, Lots of replay potential
Bridges and portals work well together, Building mechanics are easy to grasp, Portal concept is as brilliant as ever, Can solve puzzles your way, Plenty of content
It's still Bridge Constructor. Your mileage may vary
Occasional glitches, Poor editing tool, Portal tiein is halfbaked, Repetitive toward end
Most challenges stem from performing miniscule tweaks, Poor editing tool means you have to wait too long to test small tweaks, Story does little more than make obvious references to previous games, Bland visual design, Game-breaking bug killed my progress
Comedy feels a little too forced at times
Limited gameplay, Humor is a hit and miss
No scoring or leaderboards, No way to save solutions/replays
Writing is smirkworthy at best, Physics can be finicky, It's not Portal 3