OnePlus 2 Review
Page 3 :

Hardware Overview and CPU Performance By
TechSpot is celebrating its 25th anniversary. TechSpot means tech analysis and advice
you can trust
.
When you buy through our links, we may earn a commission.
Learn more
.
Hardware Overview and CPU Performance
As is expected, the OnePlus 2 features a generational SoC upgrade on the OnePlus One, moving from a Qualcomm Snapdragon 801 to a Snapdragon 810. In my prior testing of the octa-core Snapdragon 810 I didn't see a huge difference in performance between it and the hexa-core Snapdragon 808, but OnePlus seems to have opted for the Snapdragon 810 to truly make the OnePlus 2 a 2016 flagship killer.
The Snapdragon 810 features four ARM Cortex-A57 CPU cores clocked at 1.96 GHz alongside four Cortex-A53 CPU cores at 1.56 GHz. The larger A57 cores are designed for high performance tasks, while the A53s are more frequently used for general tasks and low power processing. Both clusters are ARMv8-based, meaning they fully support 64-bit code, and Global Task Scheduling allows the SoC to act as a true octa-core processor with all eight cores operating simultaneously where necessary.
The GPU in the Snapdragon 810 is Qualcomm's custom-made Adreno 430 clocked at 600 MHz. There's also a Hexagon V56 DSP clocked at 800 MHz, dual-ISPs for 1.2 GP/s of bandwidth, and 4K HEVC/H.265 encoding and decoding. As for memory bandwidth, the dual-channel 32-bit LPDDR4-1600 memory controller provides 25.6 GB/s of throughput. The OnePlus 2 comes with either 3 or 4 GB of RAM depending on whether you get the model with 16 GB or 64 GB of eMMC 5.0-based internal storage.
The Snapdragon 810 supports LTE Category 9 for 450 Mbps of downstream bandwidth and 50 Mbps upstream, with the OnePlus 2's North American model supporting FDD-LTE on bands 1, 2, 4, 5, 7, 8, 12 and 17. Unfortunately the lack of band 3 support makes this model largely unsuitable for use in Europe and Asia, with OnePlus producing a separate model for these regions. All OnePlus 2s come with two SIM card slots.
The OnePlus 2 also comes with Wi-Fi 802.11a/b/g/n/ac, Bluetooth 4.1, and GPS+GLONASS support. OnePlus has decided not to include NFC support in the OnePlus 2, as apparently not enough people used the feature in the original OnePlus One. This is a little bit baffling to me, as Google is just about to launch their NFC-based payment solution, Android Pay. Without NFC support in the OnePlus 2, the device will not be able to run Android Pay, unlike the vast majority of its flagship competitors. While NFC isn't currently in widespread use, in a year's time its omission from the OnePlus 2 to save a few dollars might be quite annoying.
There is no microSD card slot in the OnePlus 2, so if you want to expand upon the included storage, you can't. The base 16 GB model is definitely on the slim side for storage, so I'd highly recommend spending the extra money to get the 64 GB model. Plus you also get an upgrade to 4 GB of RAM (although I don't expect the difference in RAM capacities to make much of a difference in terms of performance).
Let's take a look at how the OnePlus 2 performs in CPU-intensive tasks.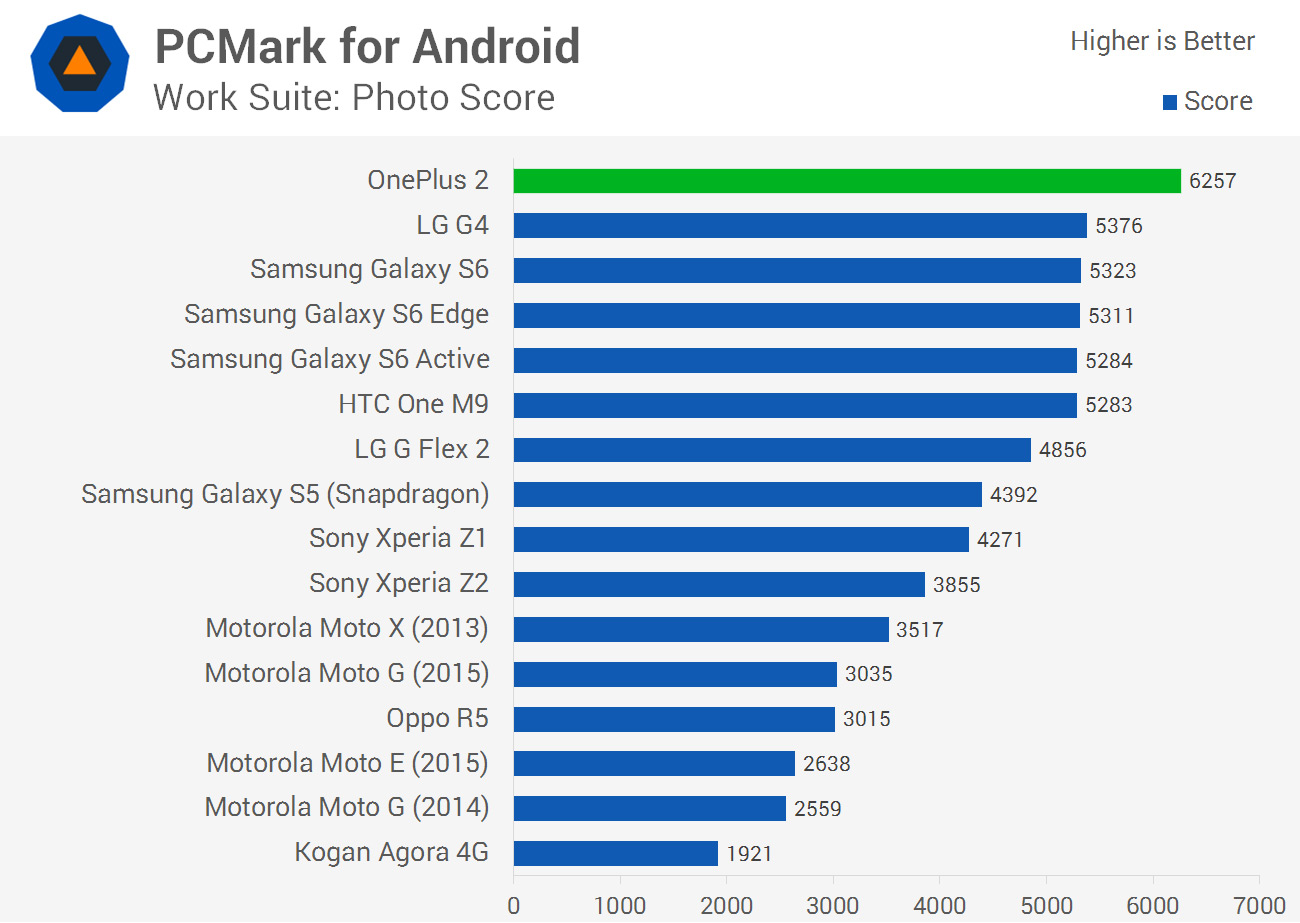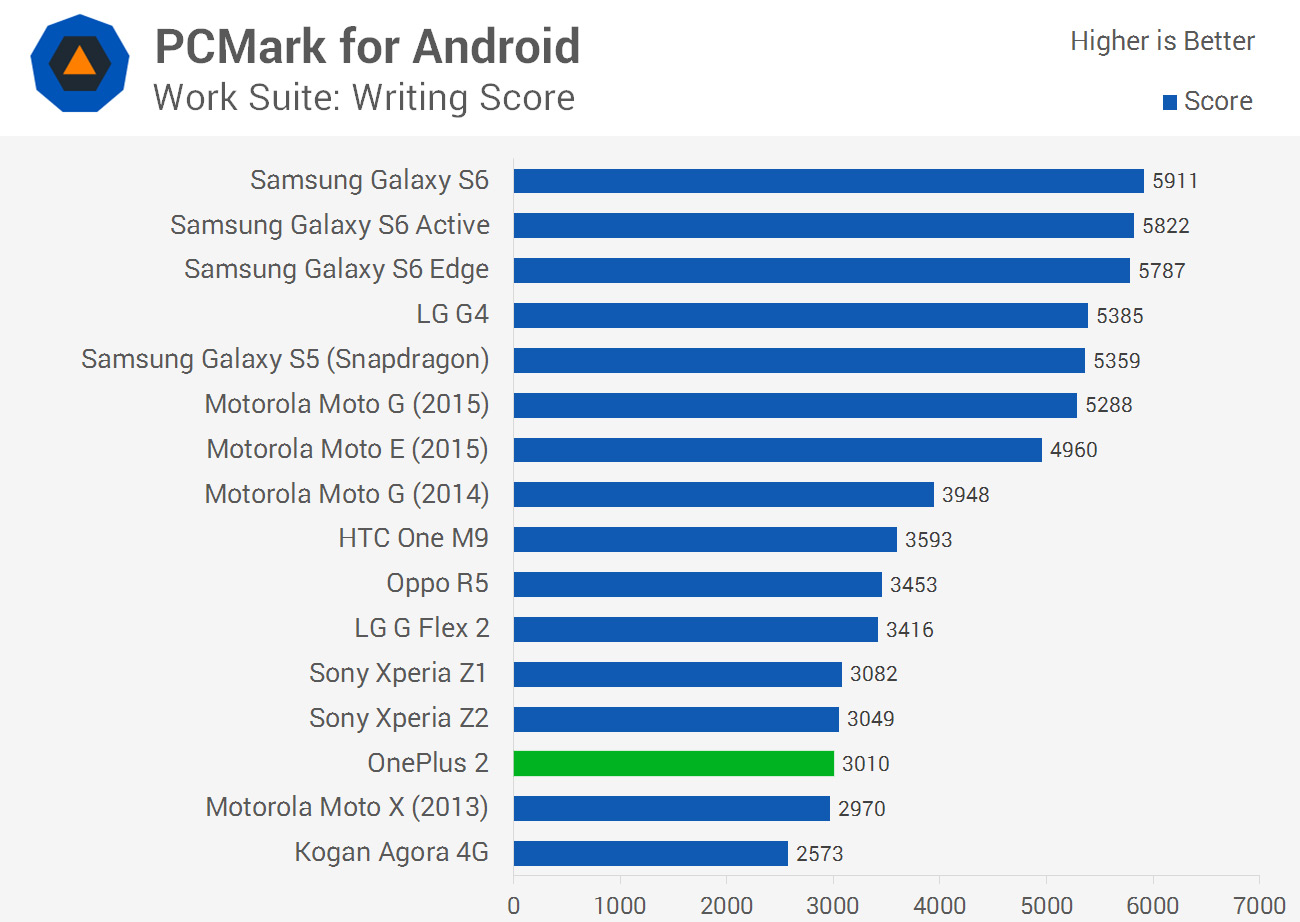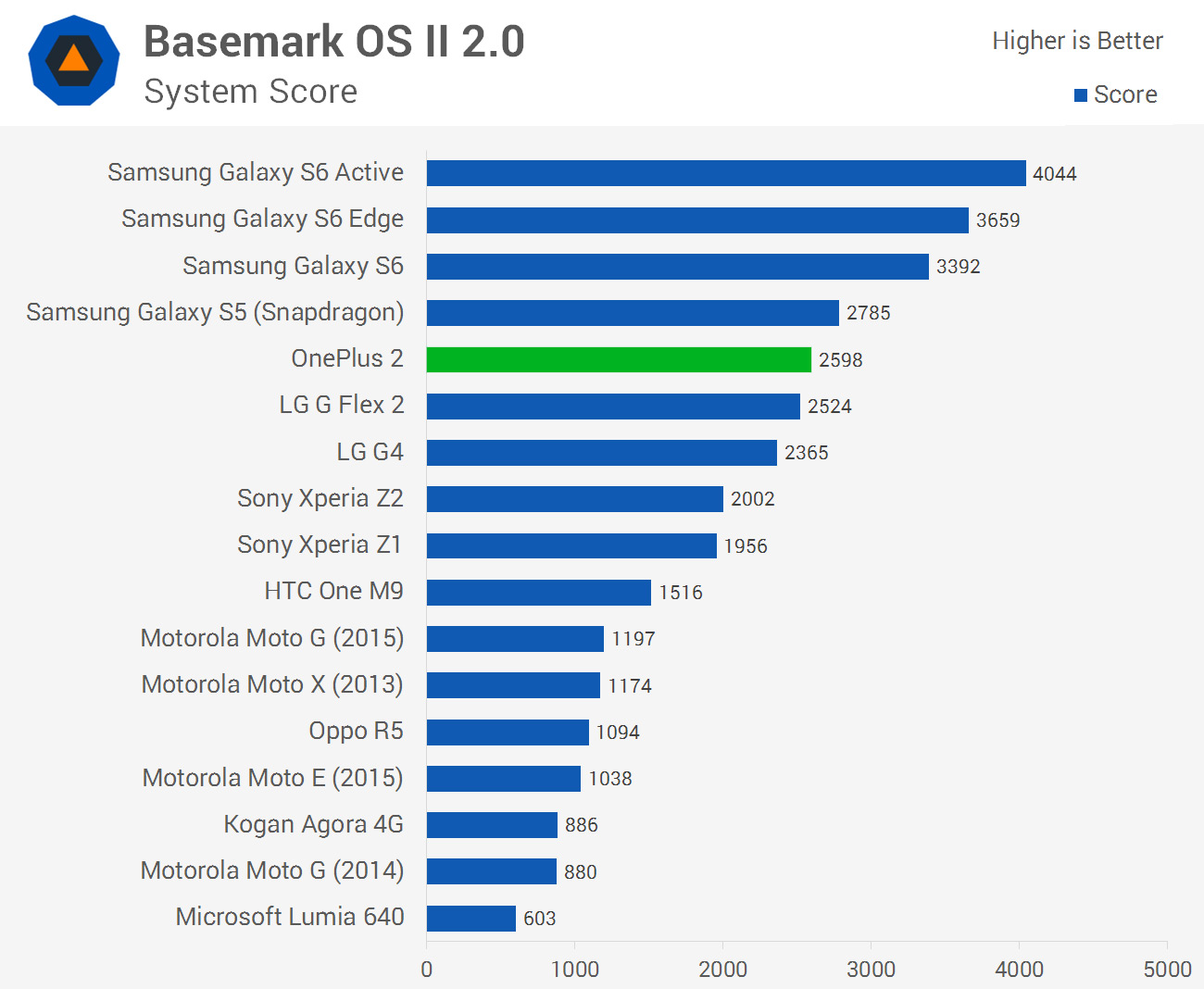 As far as CPU performance is concerned, the OnePlus 2 performs as expected for a Snapdragon 810 device. It was slightly faster than the HTC One M9 and LG G Flex 2, both Snapdragon 810 devices, in most tests, but slightly slower than the Samsung Galaxy S6. This is a pretty decent result for the Snapdragon 810, considering its issues in the two aforementioned devices.