Samsung Galaxy S7 Edge Review
Page 2 :

Display: Curved 5.5-inch 1440p Super AMOLED By
TechSpot is celebrating its 25th anniversary. TechSpot means tech analysis and advice
you can trust
.
When you buy through our links, we may earn a commission.
Learn more
.
Display: Curved 5.5-inch 1440p Super AMOLED
The Galaxy S7 Edge comes loaded with a 5.5-inch Super AMOLED display at a resolution of 2560 x 1440, which equates to a huge pixel density of 534 ppi. It shouldn't surprise anyone that Samsung has yet again opted for Super AMOLED technology, and this year we're looking at a new panel that improves upon what the company has delivered in the past.
As this is an Edge product, the 5.5-inch display is curved along both the left and right edges. This does introduce slight distortions along those edges, as well as increased reflections, but it's easy to get used to this aspect of the Edge after a short period of time. Eventually you'll come to love the curve as it looks awesome and it makes for a very 'swooshable' experience when you're moving through screens and other content.
The S7 Edge's navigation buttons (home, back, and recent tasks) are found below the display, so the entire screen can be used for apps. Occasionally the recent tasks button in the bottom left corner of the device can be hard to touch while using the phone solely in my right hand, as can buttons in the top left quadrant of the display, but generally one-handed usage is fine.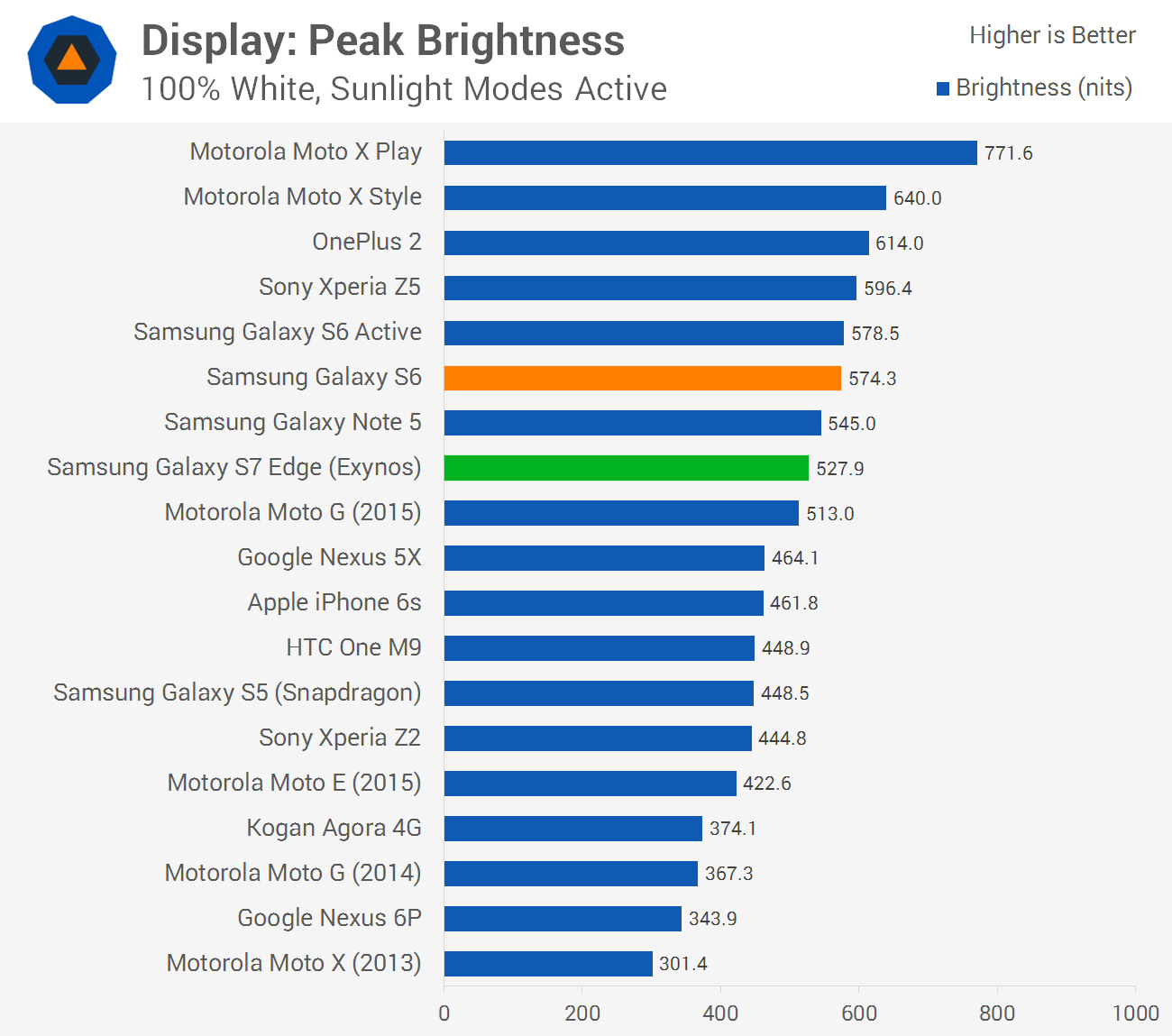 Compared to the Galaxy S6, the Galaxy S7 Edge's maximum brightness tops out around 50 nits lower, as measured when the S7 Edge is in its brightness boost mode. A result of over 500 nits in direct sunlight is still very good, though, and a standard maximum brightness of around 350 nits otherwise should suffice for bright indoor conditions. Auto brightness is fast and accurate, and the display is generally very visible in all conditions, despite thicker than normal protective glass.
With this AMOLED display you're also getting excellent viewing angles and perfect black levels, which are traits of the technology itself. This leads to a contrast ratio that's essentially infinite, making colors pop in all situations. White levels are around 7500K by default, giving the display a cool tone that will be familiar to you if you've used Samsung's previous Galaxy handsets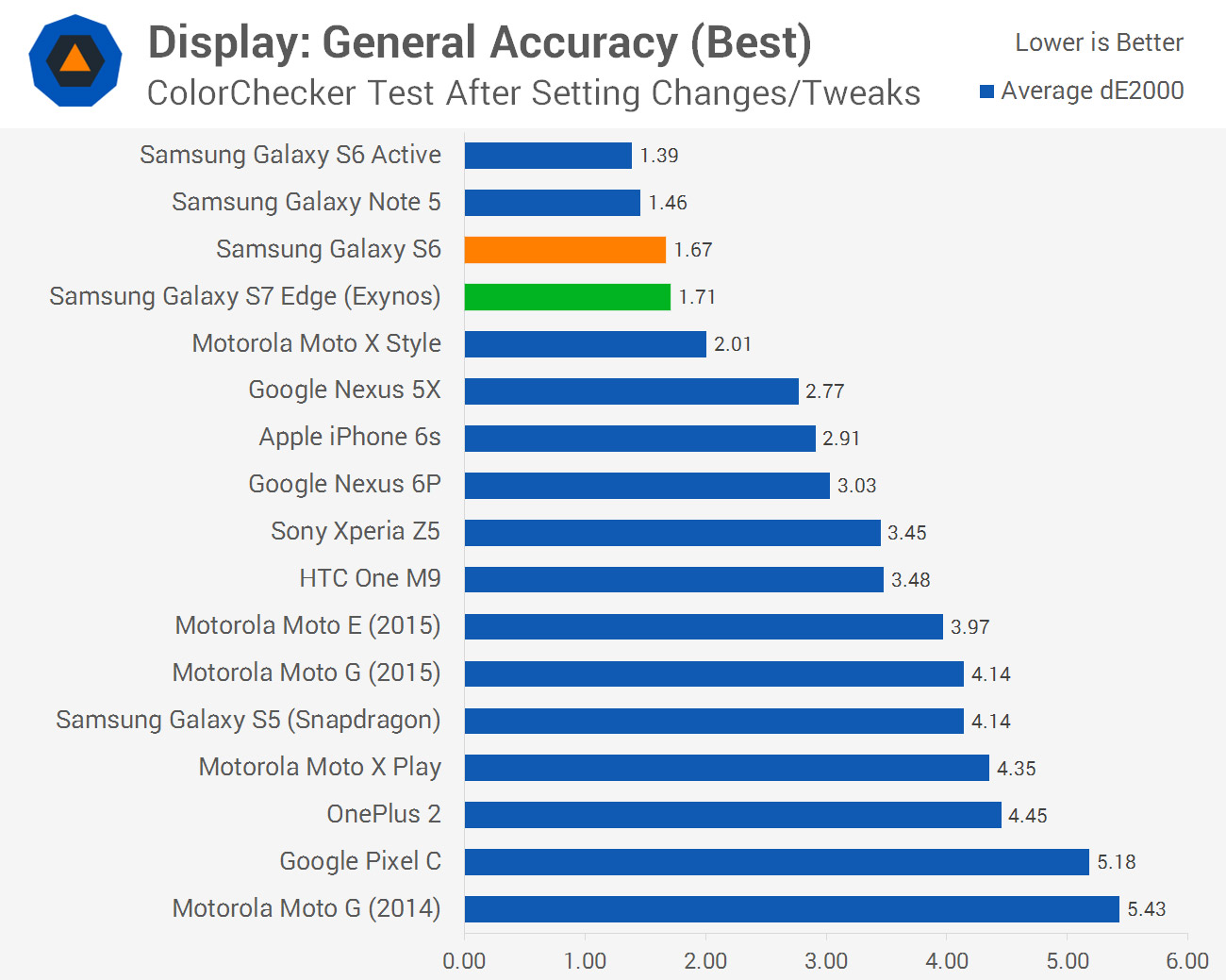 The color profile of the Galaxy S7 Edge's display is unchanged from the Galaxy S6. By default, you're getting a reasonably inaccurate panel that is oversaturated across the board, delivering a vibrant look that's signature to Samsung's smartphones. This display appears to support the Adobe RGB color gamut, but as Android only supports sRGB, supporting a larger gamut actually has a negative effect on accuracy.
If you want a color accurate Galaxy S7 Edge display, put the smartphone into 'Basic' mode via the display settings. This is essentially a true sRGB mode, and you'll now get very accurate color reproduction that's suited to color sensitive work (see the last chart above). Unfortunately, most of TouchWiz and Samsung's apps will look like garbage in this mode as they've been designed for the more vibrant 'Adaptive Display' mode, so I'd typically recommend just leaving the handset on its default setting for the best, if inaccurate experience.
While the display's performance is largely unchanged from previous models, and that's mostly a good thing, Samsung has included a new feature that can only be found in the Galaxy S7 series: an always on display. When this feature is enabled, you can get an at-a-glance look at useful information such as the time, date, a calendar, and even notifications at all times, even when the phone is locked and the display is 'off'.
The always-on display is fully customizable with a range of different clock types and backgrounds to choose from, although the feature is limited in what it can display. If you want it to show more than just the time, date, remaining battery, calendar and notification info, you're out of luck. You're also out of luck if you don't use Samsung's apps for emails and messages, as the always-on display only works with bundled software.
While I am definitely a fan of being able to see the time without having to turn the display on, it's hugely disappointing that the always-on display doesn't work with third-party app notifications. I use the Gmail app for emails, so I can't see a new email counter on the screen. It's the same situation with popular messaging apps: if you use WhatsApp, Facebook Messenger, Slack, or any other non-Samsung solution, notifications won't appear on the display.
Samsung has built in an update mechanism for the always-on display, so there's a chance that support for other apps' notifications could be included in a future update. For now, the feature is heavily restricted.