HTC 10 Review
Page 7 :

Software By
TechSpot is celebrating its 25th anniversary. TechSpot means tech analysis and advice
you can trust
.
When you buy through our links, we may earn a commission.
Learn more
.
Software
HTC is one of the very few Android OEMs that knows how to produce an actually decent custom software offering. The skin they've applied to Android 6.0.1 doesn't include some of the frustrations I've experienced recently with competitors, and the features HTC has included are either useful, or unobtrusive.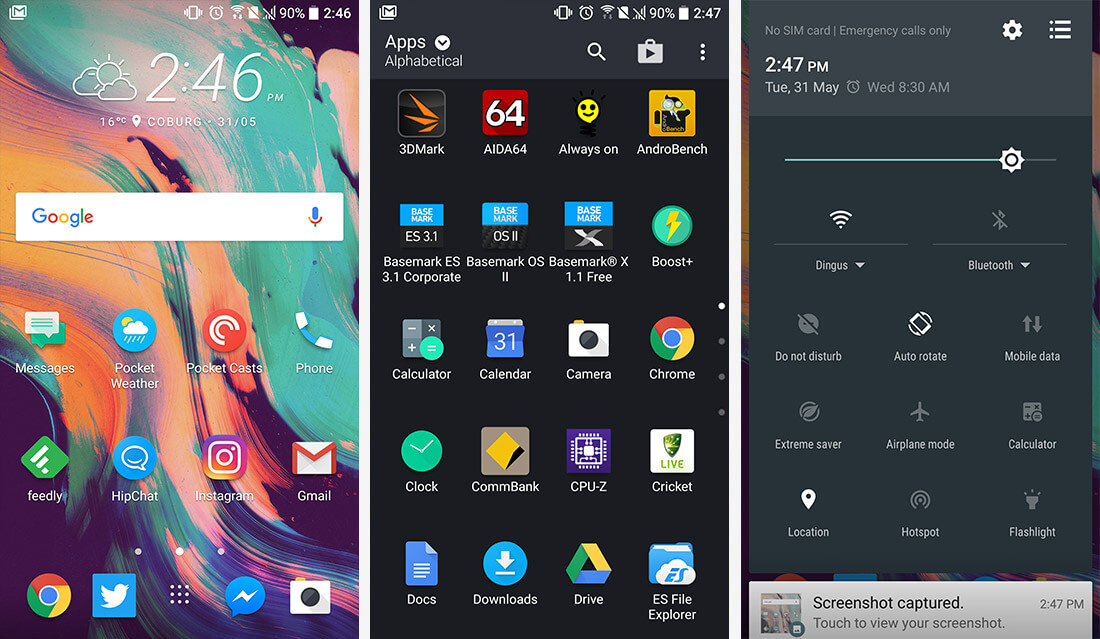 Firstly, though, I want to heap bucket loads of praise on to HTC for resisting the urge to include spam and duplicate applications. The HTC 10 is completely devoid of unnecessary crap: there's just one browser (Chrome), just one gallery app (Google Photos), and just one app store (Play Store). I have not seen a single pop-up dialog while using this device that asked me to choose between two apps. Fantastic!
The design HTC has used throughout their software is a minor improvement on previous skins, and it fits in well with the current design practices of Android 6.0. The few non-Google apps that HTC includes on the 10 (like the contacts and SMS apps) could very easily be stock Android apps, and the design used throughout the OS is consistent and visually appealing.
My one main complaint about the skin would be that the home screen layout is not very information dense. A 4x4 grid on a smartphone with a 5.2-inch display isn't really suitable any more, and I would have liked to see an option that switched the home screen grid to 5x5. Both the Galaxy S7 and LG G5 include this option for their smartphones and I really missed it moving to the HTC 10.
HTC includes decent theming options for their software through a dedicated Themes app. These themes change the wallpaper, icons, colors, and general design of the HTC aspects of the software to whatever you want. Want a stock Android look? You can actually download one through the theme store for free and transform the design of your HTC 10's software to match a Nexus handset.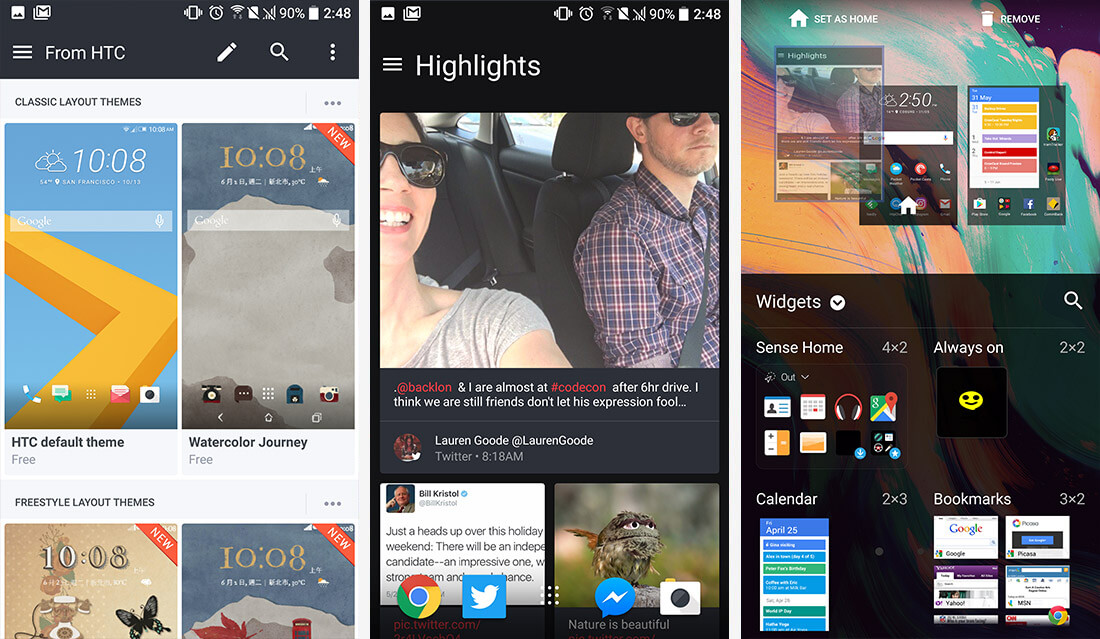 BlinkFeed is one of the better news aggregators included with an Android launcher, but I still disabled it shortly after I set up the HTC 10. I'm glad that HTC still gives you this option because several generations ago, BlinkFeed was permanently on your home screen.
The apps pinned to the home screen dock are also included on the lock screen, and can easily be launched from this screen (after you go through any security). The notification pane is the default Android version, so you unfortunately can't change the order of the setting quick toggles. The settings screen is also very familiar, although the order of some items has been adjusted.
There aren't any really interesting features found throughout the HTC 10's software. There are a few minor things, such as the ability to modify how the navigation buttons perform, a phone migration utility, and a HTC Connect wizard for sharing media with other devices. Considering Android's feature set is already very strong, and most extra features I see in other phones can be added through third-party utilities, I'm pretty happy with what the HTC 10 provides on a software front, particularly the lack of bloatware.
A special mention must be made to the stock keyboard too. The predictive software HTC uses with their keyboard (a variant of TouchPal) is excellent, which makes the typing experience fantastic out of the box. There's a lot of features packed into the keyboard too, such as support for resizing and easy access to emoji.