Google Pixel XL Review
Page 7 :

Software By
TechSpot is celebrating its 25th anniversary. TechSpot means tech analysis and advice
you can trust
.
When you buy through our links, we may earn a commission.
Learn more
.
Software
The Pixel and Pixel XL are equipped with Android 7.1, complete with features exclusive to the Pixel. This is no longer the Nexus line, so Google are going all out to provide the best software experience, and this includes both a version of Android and several features that aren't yet available to Nexus devices, let alone other manufacturers.
I'll start with what's new in Android 7.0 and 7.1. All of the features available in the preview version of Android 'Nougat', which I examined earlier this year, are available in the Pixel XL. Some of these features are fantastic and improve the software experience significantly.
I love Android 7.0's improved app switcher, which switches to your last used app with a double-tap of the recent apps navigation button. The recent apps menu is larger and easier to navigate, plus there's split-screen functionality available for every Android app. Split-screen works well, but on a small smartphone screen I didn't use this feature often; it's much more useful on tablets.
The upgrades to the notification pane are excellent, far better than any modifications I've seen from OEM Android skins. Notifications now include more information thanks to expanded snippets, and there are actions you can perform right from the notification pane like quick replies and email archiving. You can even respond to messages without opening the app itself.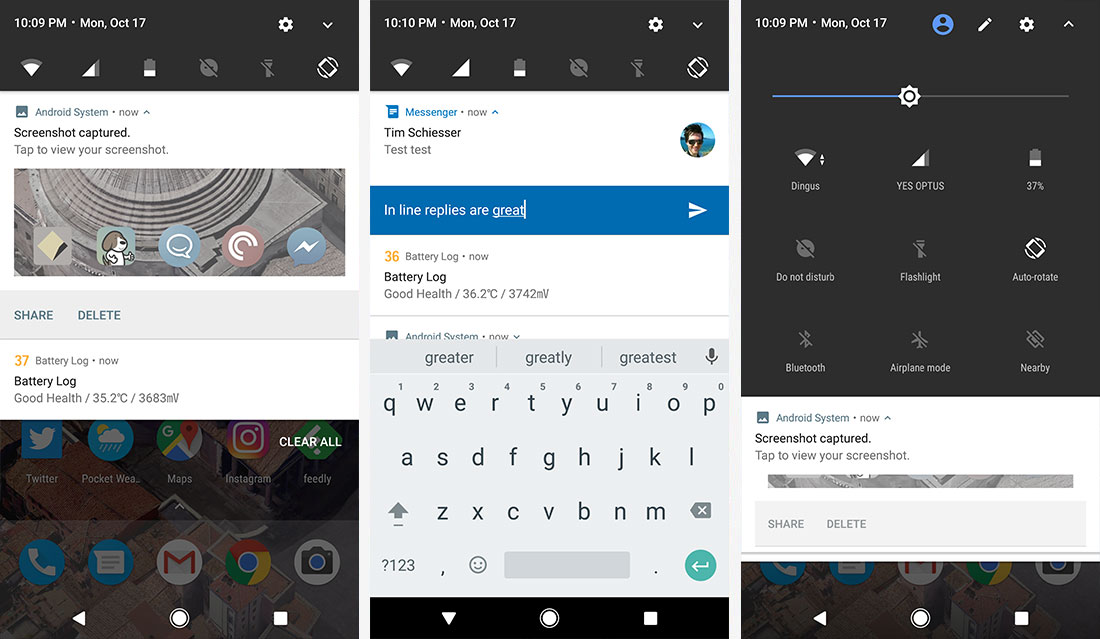 Quick settings have been improved such that you get six quick toggles above your notifications, and swiping down reveals more. This isn't something new to Android skins, but the Android 7.0 implementation is slick and customizable.
Android 7.0 includes a bunch of under-the-hood improvements as well, including updates to Doze battery saving functionality, and seamless software updates. You'll find plenty of minor changes as well, such as the revamped settings screen, a better data saver, more emoji, and more.
But the feature set of Android 7.0 isn't hugely exciting as the update is already available for the Nexus 5X, 6P and older Nexus devices. It's the features new to Android 7.1 and those exclusive to the Pixel and Pixel XL that are of most interest.
Android 7.1 is an incremental update that adds a few extra features to Android 7.0. There's a new Night Light feature that tints the screen orange either on-demand or on a schedule to improve night time display viewing. GIF keyboards are now supported, and Google Keyboard has been updated to include a GIF section, although it only works in a small selection of apps. There's also full support for Daydream VR.
The most exciting features of the Pixel series are exclusive to the phone. Google Assistant is perhaps the best, as it takes the voice assistant that was already available in Google Now and improves it. Available through a long-press of the home button, or by saying "OK Google" in any app or when the screen is off, Google Assistant is available to respond to your queries and demands in a conversational manner.
The best part of Google Assistant is the way it remembers context and information, which makes your conversations with it feel more natural. Google Now already had support for context, but Assistant can now save information for future use, such as the name of your wife, that can be used in future results. Then it becomes easy to say things like "text my wife to say I love her" and receive a meaningful result, complete with a nice conversation that involves how I want to send it, all without touching the phone itself.
Assistant is a good step forward for artificial intelligence assistants, but it still feels formulaic in some respects. It doesn't respond properly to every query, and sometimes it doesn't understand the proper context for my questions. Google is constantly improving their Assistant, though, and what it can do at launch will only be a fraction of its future capabilities. The technology is promising, and the conversational nature of Assistant is better than what I've used previously.
It's also important to realize that Assistant is not just a gimmick with features as limited as Siri. I found myself using it often, especially when I wanted to get a quick snippet of information when my phone wasn't in reach.
Notice the change in wallpaper perspective between the lock screen and home screen?
The Pixel XL also includes a Smart Storage feature that I haven't seen in Android before. When enabled, the feature automatically clears out photos and videos from your phone when storage is running low. It only deletes items if it knows they are backed up, and you can specify to remove photos older than 90 days, for example.
I also love the wallpaper selection available to the Google Pixel. The new Pixel launcher not only includes large collections of wallpapers that can be rotated on a daily basis, but there's also incredibly cool "live earth" wallpapers with 3D effects. Every time I unlock my Pixel XL, the image perspective changes to give me a different angle of the Pantheon (which I chose from several options) in what is an engrossing effect. It's a small thing, but it's one of my favorite Pixel features.
The new Pixel launcher also shrinks the Google search bar to a simple G logo, which I'm not a massive fan of from a visual perspective. However, the improved dock that displays five app icons combined with a cleaner visual style makes the Pixel launcher a general improvement on the old Android launcher. Live support from the settings screen is pretty neat too.
Despite having exclusive features, the Pixel and Pixel XL come with all the benefits of previous Nexus devices: no bloatware applications installed out of the box, and fast update support (although perhaps not on Verizon). The Pixel phones will be the first to get Android security patches, and the first to get new versions of Android, and that's always a bonus.