Netbook Round-up: Lenovo Ideapad S10, Asus Eee 904HA, Acer Aspire One and Smoothbook Slice
Page 2 :

Smooth Creations Smoothbook Slice By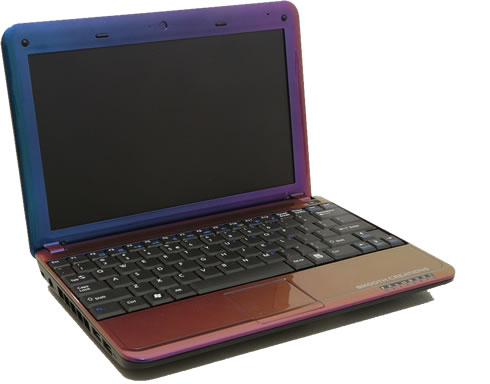 TechSpot is celebrating its 25th anniversary. TechSpot means tech analysis and advice
you can trust
.
When you buy through our links, we may earn a commission.
Learn more
.
Smooth Creations Smoothbook Slice
Founded in 1999, Smooth Creations is a specialty shop that provides custom automotive-grade paint jobs for high-end computer equipment. Customers can send in their own designs and have Smooth Creations bring that design to life on a variety of gear, from computer cases and notebooks to keyboards and mice. They also offer several pre-configured systems, both desktops and notebooks, with stunning paint jobs that are nothing short of amazing. I have seen several of their offerings at CES and have reviewed one of their full tower cases in the past, so I am pretty familiar with their offerings.
For our roundup, Smooth Creations sent over their new Smoothbook Slice netbook. Considering the fact that Smooth Creations doesn't actually manufacture hardware, the Slice is actually a MSI Wind U100 with a custom paint job.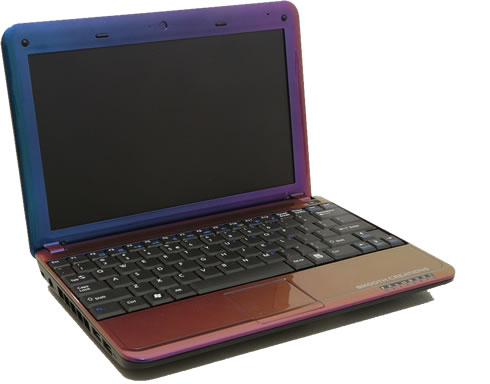 Our review sample came equipped with Intel's Atom processor operating at 1.6 GHz, 1GB of DDR2 667 MHz memory, 10" LED backlit screen, 120GB SATA hard drive and 3-cell lithium ion battery, all running on Windows XP Home Edition.
Our sample arrived in a standard brown box and only included the netbook itself, power adapter, a Smooth Creations carrying case and a piece of soft white cloth used to wrap the netbook in. There was no other information provided at all - no instruction manual, quick user guide, software recovery discs, nothing.
When asked about this, Smooth Creations implied that our review sample was a pre-production model that was essentially configured and rushed out the door for us. That being said, our version may not fully represent what the end user will receive when he/she orders a Slice.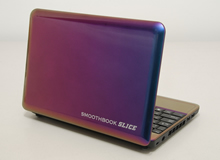 This particular Slice was painted using a special color-shifting paint sometimes referred to as Mystichrome. Generally you will see either a purplish or a greenish-blue color depending on the viewing angle. The entire back lid and the screen bezel are painted, as is the bezel around the keyboard. The only unpainted areas of the Slice are the sides and the bottom. In the photos posted along we tried to show in better detail how the Slice looks like in real life.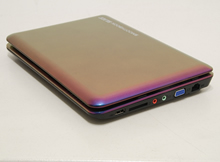 Overall the quality of the paint job is nice, although as you can see, the webcam was mistakenly painted over in our sample. Smooth Creations uses plenty of clear coat to help protect the paint itself and I wasn't able to find any imperfections overall. I did, however, ask one of my friends to have a look at the Slice. He is an automotive painter by trade so something like this is right up alley. He was able to point out some very small surface scratches in a few places, which he indicated were most likely caused by using sandpaper that was too coarse during prep. These scratches are only noticeable when light is reflecting on it at an angle and only if you are actually looking for them. Otherwise, the overall paint job is great.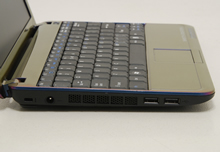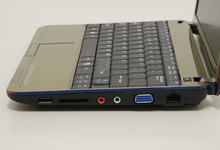 The left side of the Slice houses two USB 2.0 ports, AC power jack and a security lock slot. The middle portion is slotted and reserved as an exhaust vent. The right side features another USB 2.0 port, 4-in-1 card reader (SD/MMC/MS/MS PRO), microphone and headphone jacks, VGA out as well as a network jack. The Slice has wireless connectivity in the form of Wi-Fi and Bluetooth.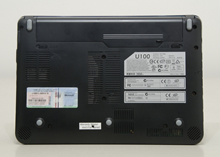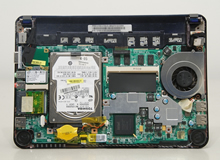 Our Slice shipped with a 3-cell battery but a quick check online reveals that MSI is now shipping the Wind with an optional 6-cell battery.
Removal of the battery is no easy task. It is held in place firmly and I ended up having to use a small screwdriver to help pry it out. Once the battery is free, nine screws need removing to release the bottom cover and gain access to the system internals. 1GB of Hynix DDR2-667 memory has been soldered to the motherboard and an empty expansion slot will allow you to double the total system memory.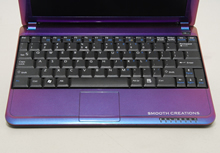 Due to the limited real estate of a netbook, the keyboard layout has to be modified to fit in the smaller-than-normal space provided. The layout of the Slice overall is decent, but there are some flaws. Swapping the Function and Control keys on the bottom left would have been nice, and I really dislike the 2/3 sized Comma, Period and Slash keys. It would have made more sense to shorten the right Shift key and keep the other three keys normal size. Also, there is a blank space beside the Up arrow. Leaving spots empty on an already cramped keyboard doesn't make any sense.
The overall feel of the keyboard is good. There is a tiny bit of flex but nothing major. It types about as well as any notebook keyboard I have used.
The touchpad is centered under the Spacebar key and is also painted. The pad itself seems extremely sensitive and I found myself clicking accidentally when I was simply trying to move the mouse cursor. The left and right mouse click buttons are formed from a single piece but this really didn't seem to be a problem.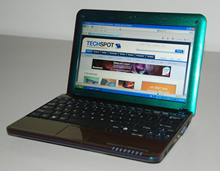 The 10" non-glossy screen on the Slice is actually much better than I expected. The LED backlight provides a crisp and clear picture with a very respectable viewing angle. The 1024 x 600 resolution is more than adequate for web surfing, as most websites are optimized for 1024 pixels in width. The screen lid was less satisfying because it wouldn't close completely. Most notebooks have a latch for the lid or simply shut flush with the base but the screen panel on the Slice would always rebound and not sit level with the base. I also felt that it could be a little stiffer, as it would wobble around a little when the netbook was moved.
The Slice uses a 120GB hard drive with two partitions: 40GB for the OS install and the remaining space allocated as the storage drive. I prefer the use of a traditional hard drive over a SSD for the simple fact that capacity is increased exponentially. While a SSD is more rugged, operates silently and uses less power, at this point it is still limited by capacity and high prices.
The software bundle included with the Slice is limited and consists of a Microsoft Office 60 Day Trial, Ulead Burn.Now 4.5 SE and MSI BurnRecovery. The irony with the two latter programs is that you need an optical drive to use them - something the Slice, and all netbooks, don't have.
Sound quality on the Slice was not that great, but certainly good enough for everyday Windows use. Audio was more or less acceptable at 50% or lower volume, anything louder and things began to break down and vibrations started to become noticeable. If you plan to listen to a lot of music on this netbook, a quality pair of headphones is certainly in order.
With only a 3-cell battery, battery life wasn't exactly stellar. With a fully charged battery, 50% screen brightness and Wi-Fi disabled, I got 2 hours and 10 minutes of idle time sitting at the Windows desktop before the unit kicked itself into standby which comes in last place in our roundup.
Pros: Superb Custom Paint Job, Free Memory (RAM) Expansion Slot, Keyboard Types Well, Good Quality 10" Screen, Carrying Case
Cons: Keyboard Layout Questionable, Sensitive Touchpad, Screen Lid Doesn't Close Securely, Expensive