Motorola Moto G5 and G5 Plus Review
Page 5 :

Camera By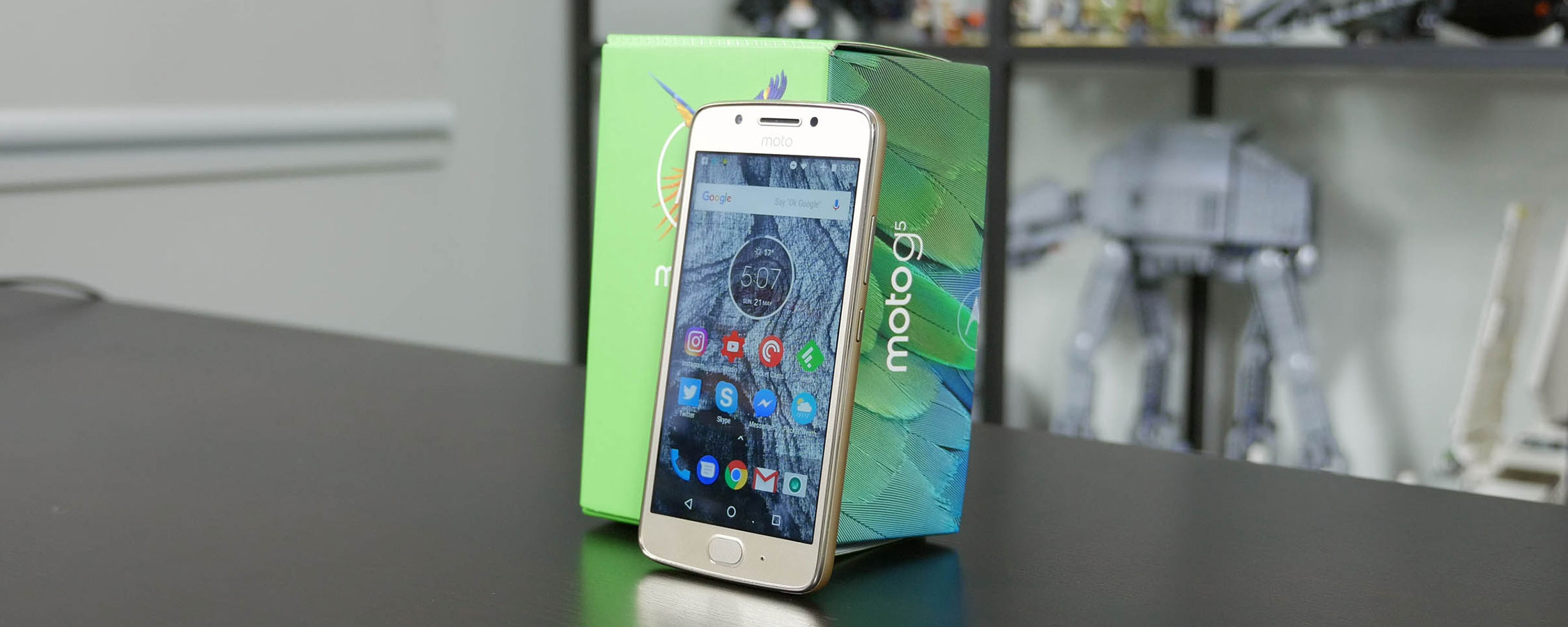 TechSpot is celebrating its 25th anniversary. TechSpot means tech analysis and advice
you can trust
.
When you buy through our links, we may earn a commission.
Learn more
.
Camera
As the Moto G5 and G5 Plus use different cameras on the rear, I'll first talk about the better of the two, the G5 Plus. What we're looking at here is a 12-megapixel Sony IMX260 1/2.5" CMOS sensor with 1.4 μm pixels; in other words, essentially the same camera sensor found in the Samsung Galaxy S7. We're getting dual autofocus pixels here, and a wide open f/1.7 lens, plus 4K video capture and auto-HDR.
Like with the Galaxy S7 camera, the Moto G5 Plus focuses extremely quickly, as every pixel in the sensor is accompanied by a phase detection unit. It's not quite as fast as the Galaxy S7, likely due to processing and optimization limitations, however the Moto G5 Plus reacts very quickly whenever you place an object in front of the lens. It's ready to take a shot almost instantly, with low shutter lag.
The actual quality of photos taken with the Moto G5 Plus isn't nearly as good as the Galaxy S7. Samsung puts a ton of time into image processing, whereas it seems like Motorola has opted to use near-stock processing. Images taken with the Galaxy S7 are much more vibrant, with better metering and superior automatic HDR.
The G5 Plus camera appears to have regressed somewhat in its camera processing compared to the G4 Plus, which used a 16-megapixel OmniVision sensor. Images captured using the G5 Plus are often bright, however dynamic range is lacking even with its auto-HDR mode, such that many photos have obviously over- or underexposed areas. Metering and color saturation is decent, and performance indoors is okay, but the G4 Plus simply managed to capture better photos.
And it's not the sensor, because we've seen that same sensor provide excellent photos in the Galaxy S7. Motorola needs to step up their effort in processing and not just rely on a high-quality sensor to deliver the best images.
There are some positive aspects to the G5 Plus camera. Low light performance is clearly better than the G4 Plus due to larger pixels and a wider lens. Background blur is also better thanks to the larger aperture, and detail provided by its 12-megapixel shots is excellent; better than the Galaxy S7 by a good margin, due to fewer post-processing noise reduction filters.
The Moto G5 camera is a step down from the G5 Plus. It uses a 13-megapixel sensor with an f/2.0 lens, and it supports auto-HDR with 1080p video capture. Despite the slight resolution upgrade, the camera's quality and performance isn't as good. For example, there's no dual pixel support, so autofocus speeds are noticeably slower.
Color performance from the Moto G5 simply isn't as good as the Moto G5 Plus, and the camera is prone to undersaturation, lack of dynamic range, and even slight amounts of 'washing out' depending on the conditions. It's a reasonable performer in outdoor situations, however even then it's clear the Moto G5 is an entry-level phone with an entry-level camera.
Indoors, the Moto G5 suffers from weak metering, and many photos I captured were blurry as the camera simply can't ramp the ISO high enough without introducing grain, or stabilize for a suitably slow shutter. Low light performance is poor, as you might have expected, producing dark and grainy imagery.
In fact, when comparing the Moto G5's camera to last year's budget Moto G4 Play, the G4 Play has a noticeably better camera. This is another disappointing regression in camera performance for Motorola.
The front facing camera appears to be the same on both the Moto G5 and Moto G5 Plus: a 5-megapixel sensor with an f/2.2 lens. It does a respectable job of producing selfies, although it is somewhat weak in low light and lacks some detail. Its performance isn't surprising from a phone that is priced around the $200 mark.
Motorola still hasn't bothered to improve their camera app, which remains weak and underfeatured. There is a Pro mode included, which allows you to adjust settings such as ISO and white balance, but that's the only stand out feature. It's a basic app for budget phones. The one bonus here is the inclusion of 4K capture in the Moto G5 Plus for the first time.