Motorola Moto G5 and G5 Plus Review
Page 3 :

Hardware Overview and System Performance By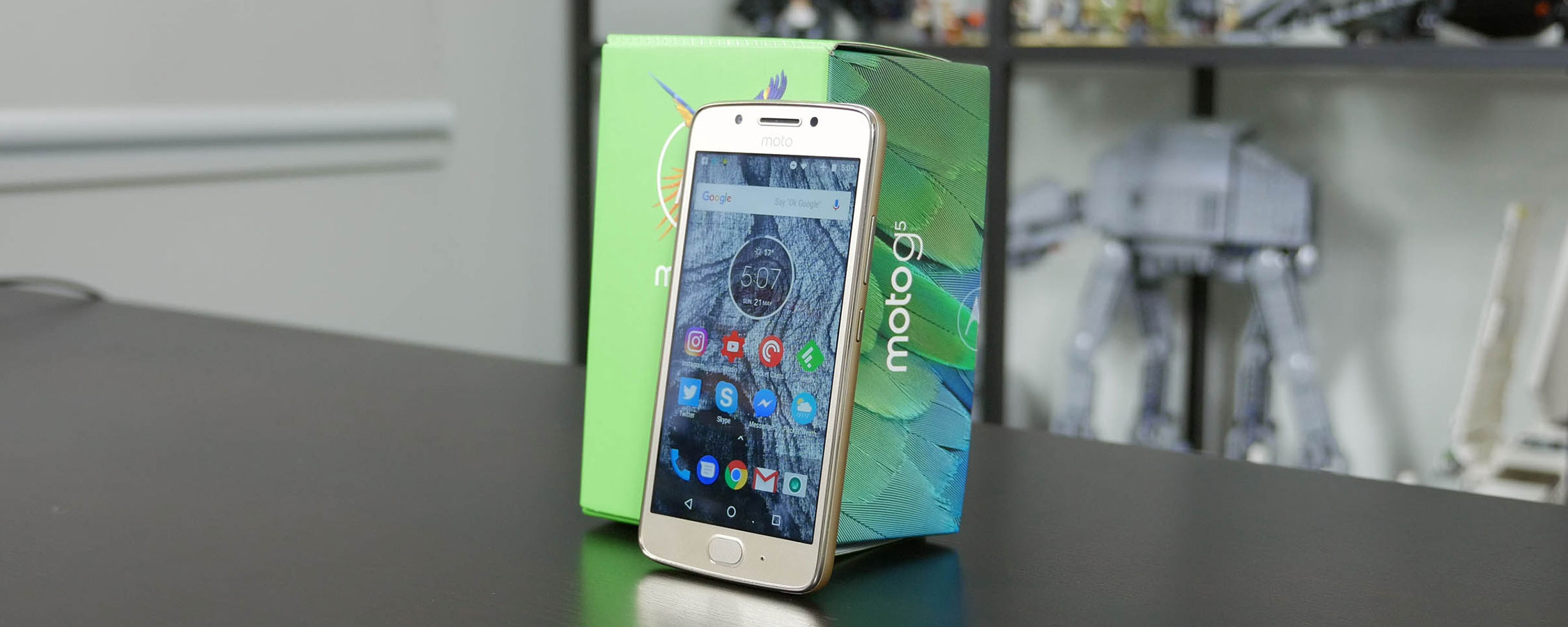 TechSpot is celebrating its 25th anniversary. TechSpot means tech analysis and advice
you can trust
.
When you buy through our links, we may earn a commission.
Learn more
.
Hardware Overview and System Performance
The hardware inside the Moto G5 and G5 Plus differs somewhat, and each handset is split into several variants as well. As you might expect, neither phone delivers top-tier hardware, with Motorola sticking to entry-level and mid-tier components in the G5 and G5 Plus respectively.
Starting with the Moto G5, we're looking at a Qualcomm Snapdragon 430 SoC. In some ways, this is a sideways shift, as the Moto G4 packed a Snapdragon 617 SoC. Both SoCs are octa-core models using ARM Cortex-A53 CPU cores: the S430 has all eight clocked at 1.4 GHz; while the S617 is split into a 1.5 GHz quad-core cluster, and a 1.2 GHz quad-core cluster. Memory bandwidth is slightly reduced moving from the S617 to S430, while the Adreno 505 GPU in the S430 is a very minor downgrade relative to the Adreno 405 in the S617. Yes, those GPU names are confusing.
The G5 is available in two configurations: one with 16GB of NAND and 2GB of RAM, and another with 32GB of NAND and 3GB of RAM. Both models support microSD card expansion. For wireless connectivity, the Moto G5 comes with LTE Category 4, Bluetooth 4.2, and dual-band Wi-Fi 802.11a/b/g/n, so we're missing support for the latest technologies like Wi-Fi ac and fast LTE.
The Moto G5 Plus is a larger hardware upgrade than its predecessor, the Moto G4 Plus. Previously, the Moto G4 Plus had the same Snapdragon 617 SoC as the Moto G4, providing no performance advantage in the more expensive model. This time around, there is a clear SoC advantage to the G5 Plus: we're getting a Snapdragon 625 SoC here.
The Snapdragon 625 is Qualcomm's lower-mid-tier SoC, with an octa-core ARM Cortex-A53 CPU clocked at 2.0 GHz. It's built using a 14nm manufacturing process, rather than 28nm for the S617, which provides efficiency improvements. The GPU has also received a decent upgrade, moving from an Adreno 405 at 550 MHz to an Adreno 506 at 650 MHz. The memory controller, however, remains the same single-channel LPDDR3 unit with 7.5 GB/s of bandwidth.
There are multiple G5 Plus configurations: either 32 or 64 GB of NAND, and RAM ranging from 2 to 4GB. Again, you get microSD card expansion, while some sub-variants support NFC depending on your region. The G5 Plus supports Bluetooth 4.2 and Wi-Fi 802.11a/b/g/n like the G5, however you get faster LTE Category 6 support.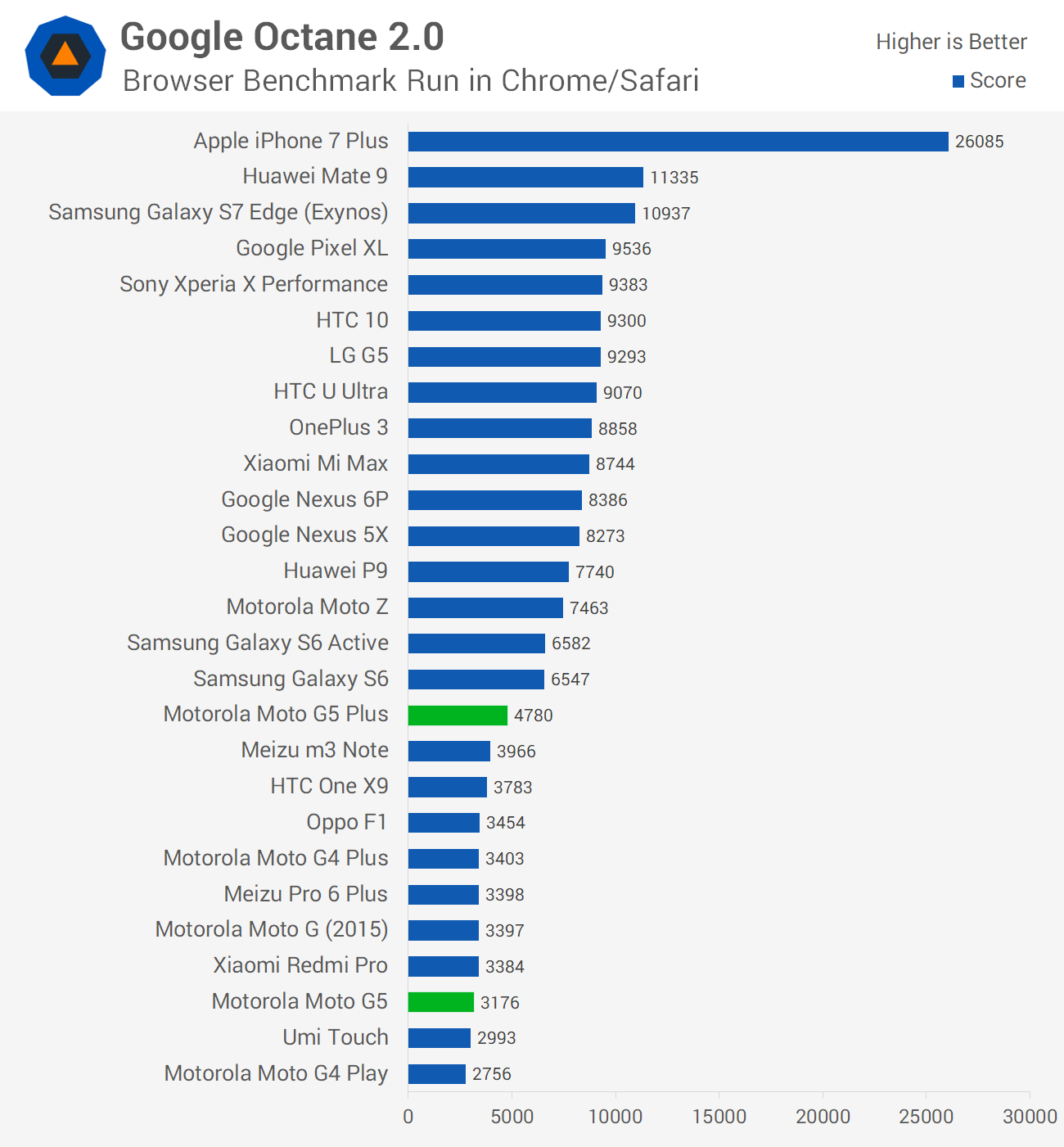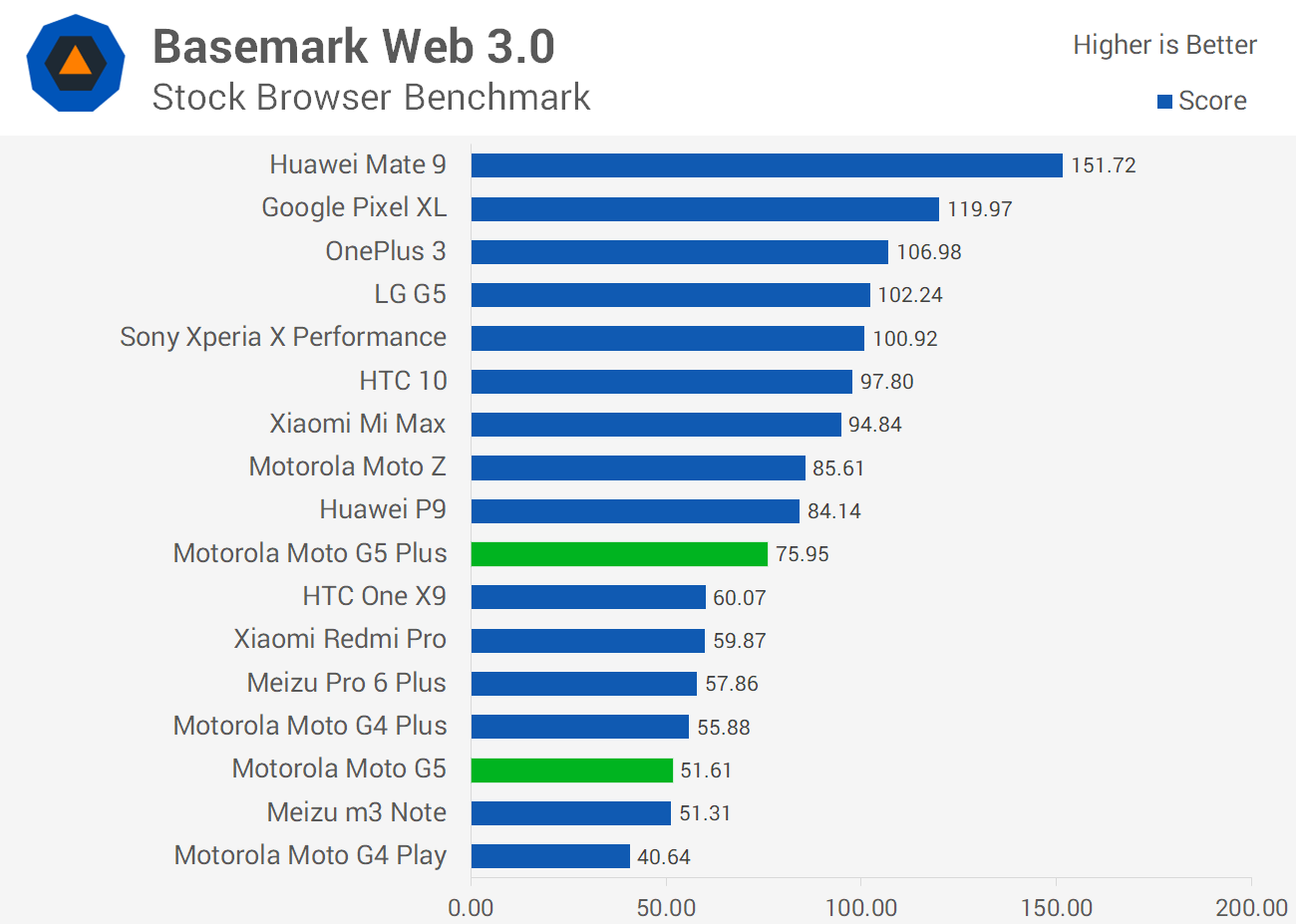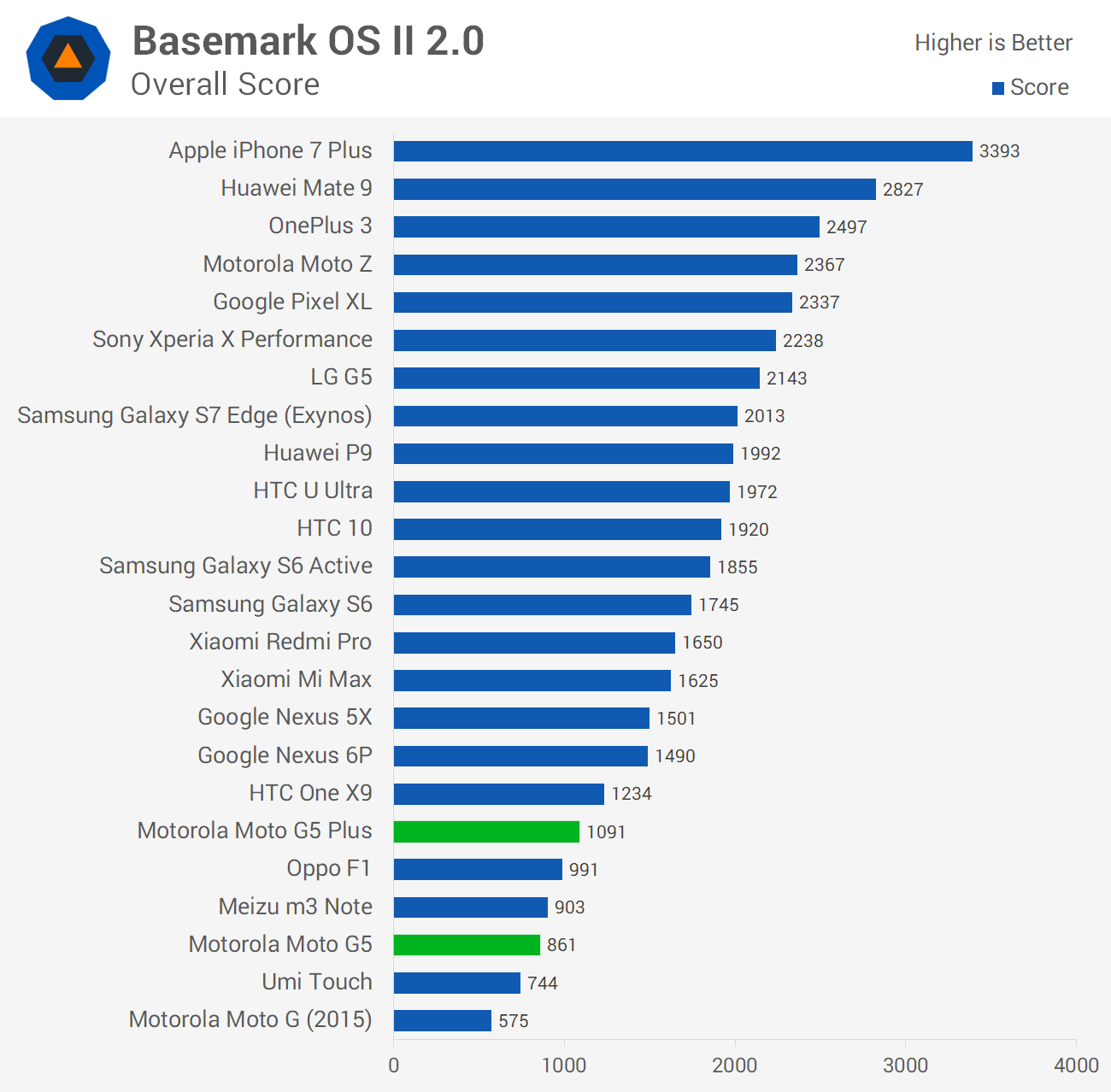 Let's compare the G5 and G5 Plus to begin with. The G5 Plus is clocked 43 percent higher on its CPU, and this translates into a 37 percent average performance improvement in system benchmarks. In benchmarks such as PCMark's Work 2.0 test, the G5 Plus is a good 39 percent faster, while in browser tests there's a larger 45 percent margin in favour of the G5 Plus.
The G5 Plus is also decently faster than the G4 Plus to the tune of 38 percent on average. Relative to a device with a Snapdragon 410 SoC inside, the Snapdragon 625 is providing a significant 71 percent performance improvements, which is great news for those moving from a third-generation Moto G.
As for the Moto G5, we're looking at almost identical performance to the Moto G4; it's under one percent slower, which is within the margin of error. In some workloads, such as browser benchmarks, the Moto G5 is up to seven percent slower, but in general the phones are well matched. Compared to S410 phones we're seeing a 24 percent performance improvement.
What does this mean in real world usage? The Moto G5 still performs like an entry-level handset, though I'm consistently impressed by the smooth experience Motorola achieves with the hardware. The Moto G5 Plus is noticeably faster to use, with quicker app loading times, though both phones still fall behind a decent flagship handset.