LG G6 Review
Page 2 :

Hardware Overview and System Performance By
TechSpot is celebrating its 25th anniversary. TechSpot means tech analysis and advice
you can trust
.
When you buy through our links, we may earn a commission.
Learn more
.
Hardware Overview and System Performance
The LG G6 is a lackluster hardware upgrade on the LG G5, primarily as LG hasn't moved to upgrade the SoC in any meaningful way. The phone uses a Qualcomm Snapdragon 821 SoC, which is largely the same SoC as the G5's Snapdragon 820, while 4GB of RAM and 32GB of internal storage are still standard.
The Snapdragon 821 contains a quad-core Kyro CPU with two cores clocked at 2.34 GHz, and two cores clocked at 2.19 GHz. The clock speeds are higher here than the Snapdragon 820 - in fact the low power cores have received a hefty 600 MHz boost - but the fundamental architecture remains the same. There's also an Adreno 530 GPU clocked up to 653 MHz and an LPDDR4 memory controller providing 29.8 GB/s of bandwidth.
Those expecting the G6 to perform significantly better than last year's crop of flagship phones will be disappointed for the most part.
Wireless connectivity also remains mostly the same as last year. The G6 still includes Wi-Fi 802.11a/b/g/n/ac, Bluetooth 4.2 and NFC. LTE capabilities have been upgraded from Category 9 to Category 12, providing a bump up to 600 Mbps downstream and 150 Mbps upstream. Some Snapdragon 835 handsets like the Galaxy S8 support Gigabit LTE Category 16, so the G6 is still behind the pack here.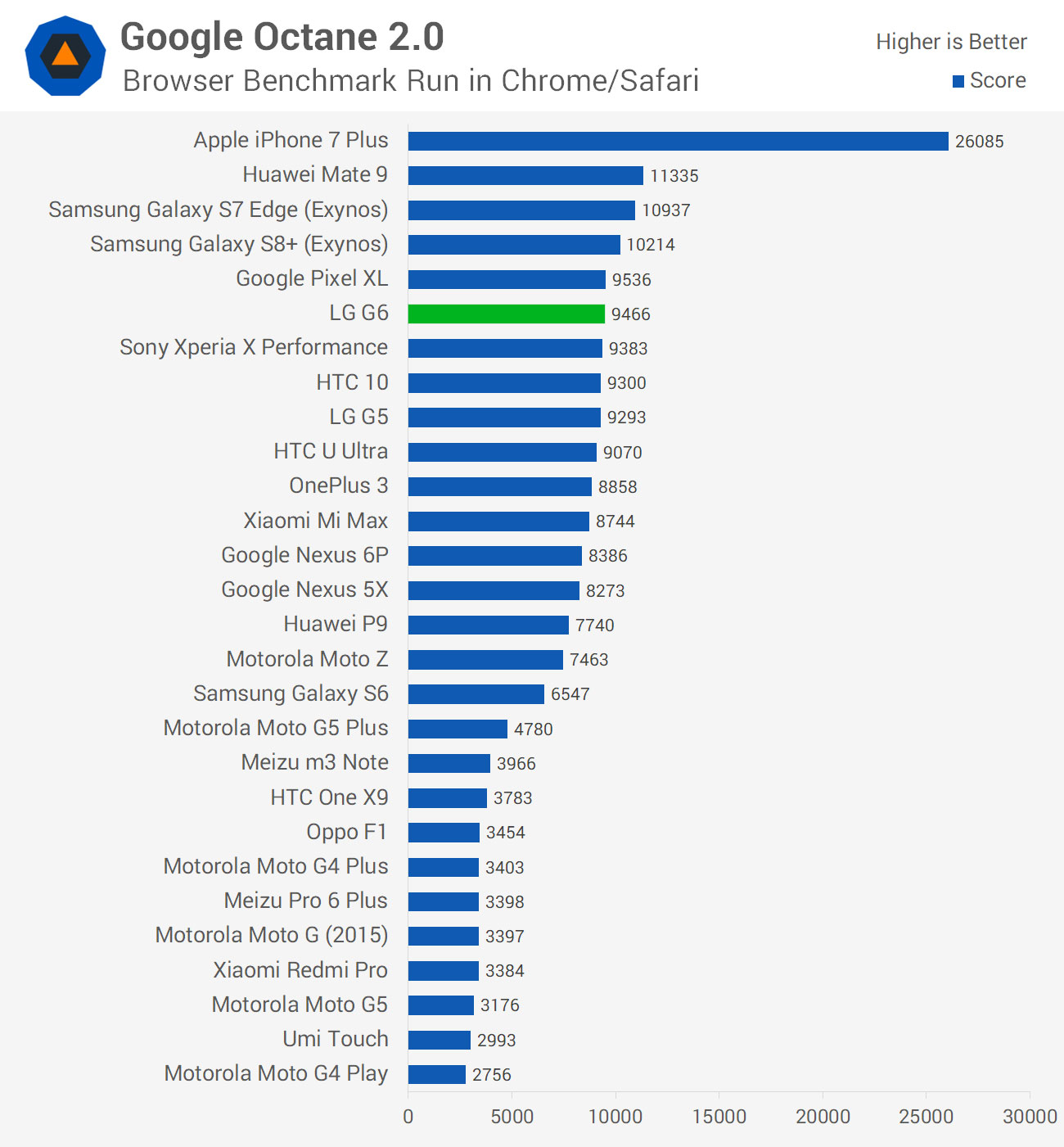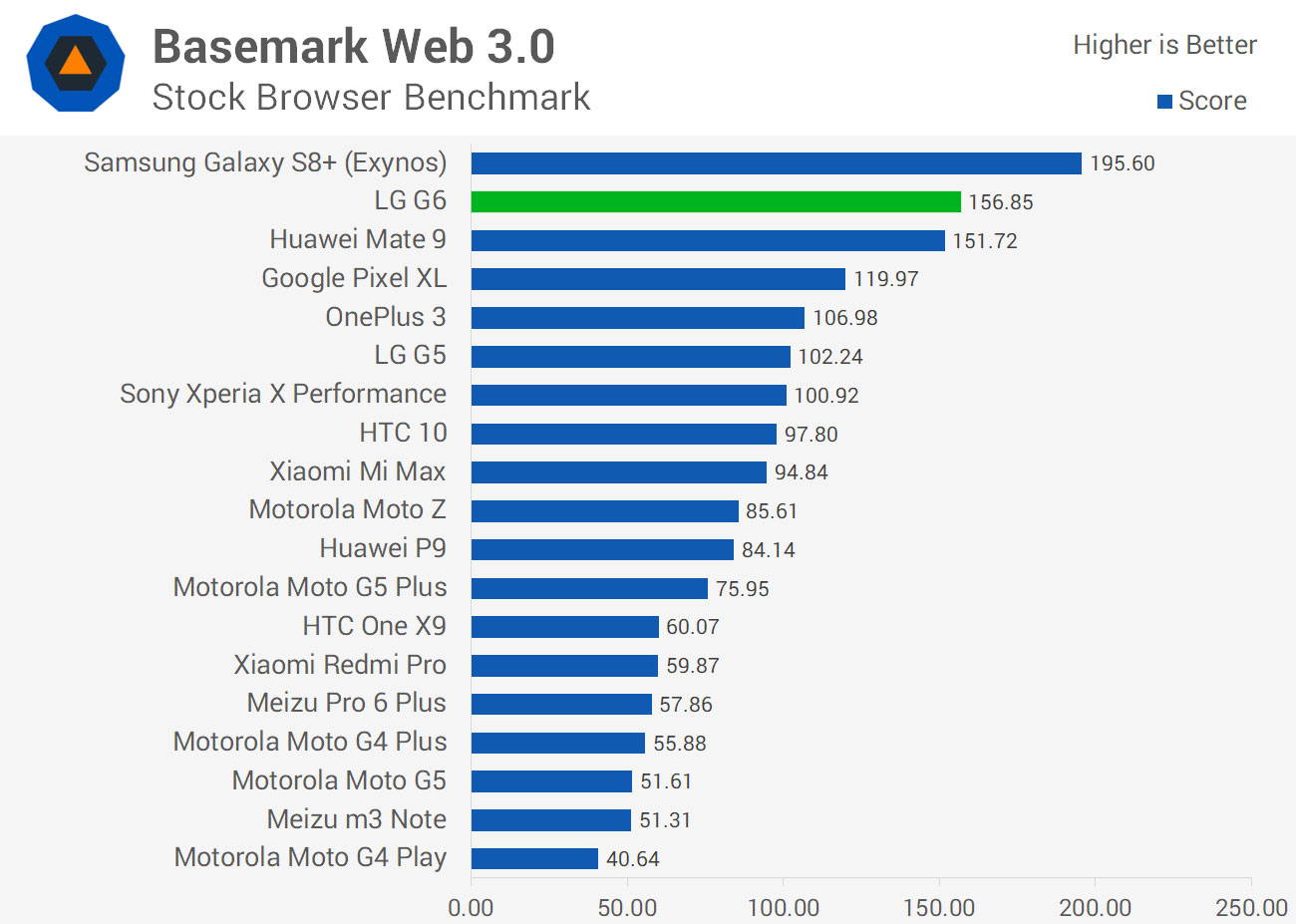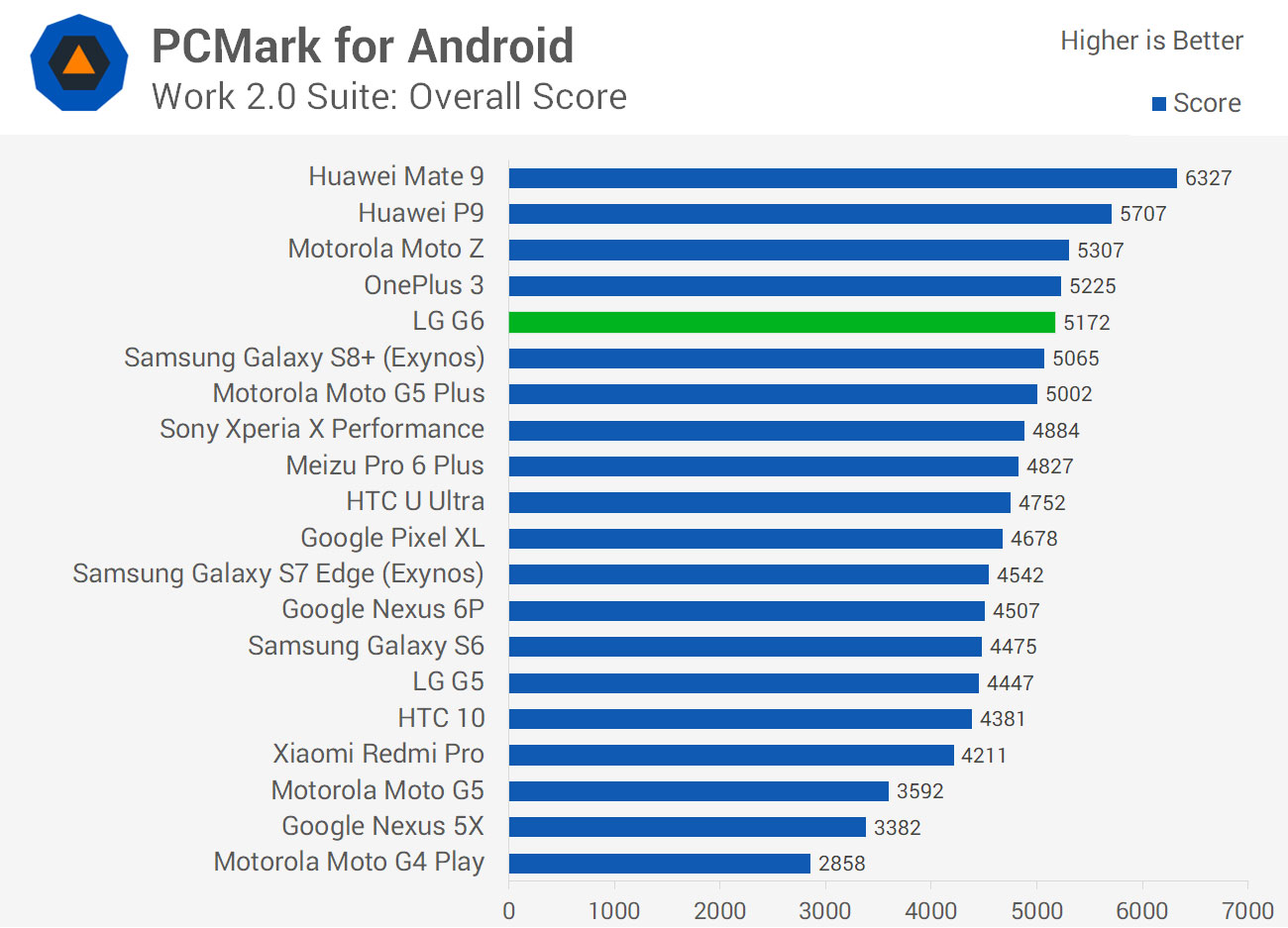 When comparing the G6 with the G5 in a head-to-head battle, the clock speed improvements in the S821 do provide 16 percent better CPU performance on average. That falls closely in line with what I expected to see considering the S821 is clocked higher than the S820. It's a small but respectable upgrade on last year's model.
The G6 is around 15-16 percent faster than the Pixel XL, which uses the variant of the S821 that's clocked identically to the S820 (yep, confusing naming there Qualcomm). The G6's variant is a faster S821 variant, hence there is a much smaller gap between it and the HTC Ultra, which uses the same SoC.
Unfortunately, though, the LG G6 can't hold its own against current-generation SoCs. The Galaxy S8+ with the Exynos 8895 inside is seven percent faster on average in CPU limited workloads, while the Huawei Mate 9 with its Kirin 960 pulls away by 17 percent. The Snapdragon 835 should outperform the G6 by a similar margin.
These performance differences won't make a huge difference in today's Android workloads, though it's always nice to know that you're holding the fastest smartphone out there when you purchase a new flagship. The experience provided by the G6 is great today, though it may not be as capable as other devices towards the end of its lifespan.