Google Pixel 2 XL Review
Page 4 :

Graphics, Throttling, Storage Performance By
TechSpot is celebrating its 25th anniversary. TechSpot means tech analysis and advice
you can trust
.
When you buy through our links, we may earn a commission.
Learn more
.
Graphics, Throttling, Storage Performance
CPU performance is only one part of the story, but it's no real surprise that again, the Pixel 2 XL matches other Snapdragon 835 devices in raw GPU performance.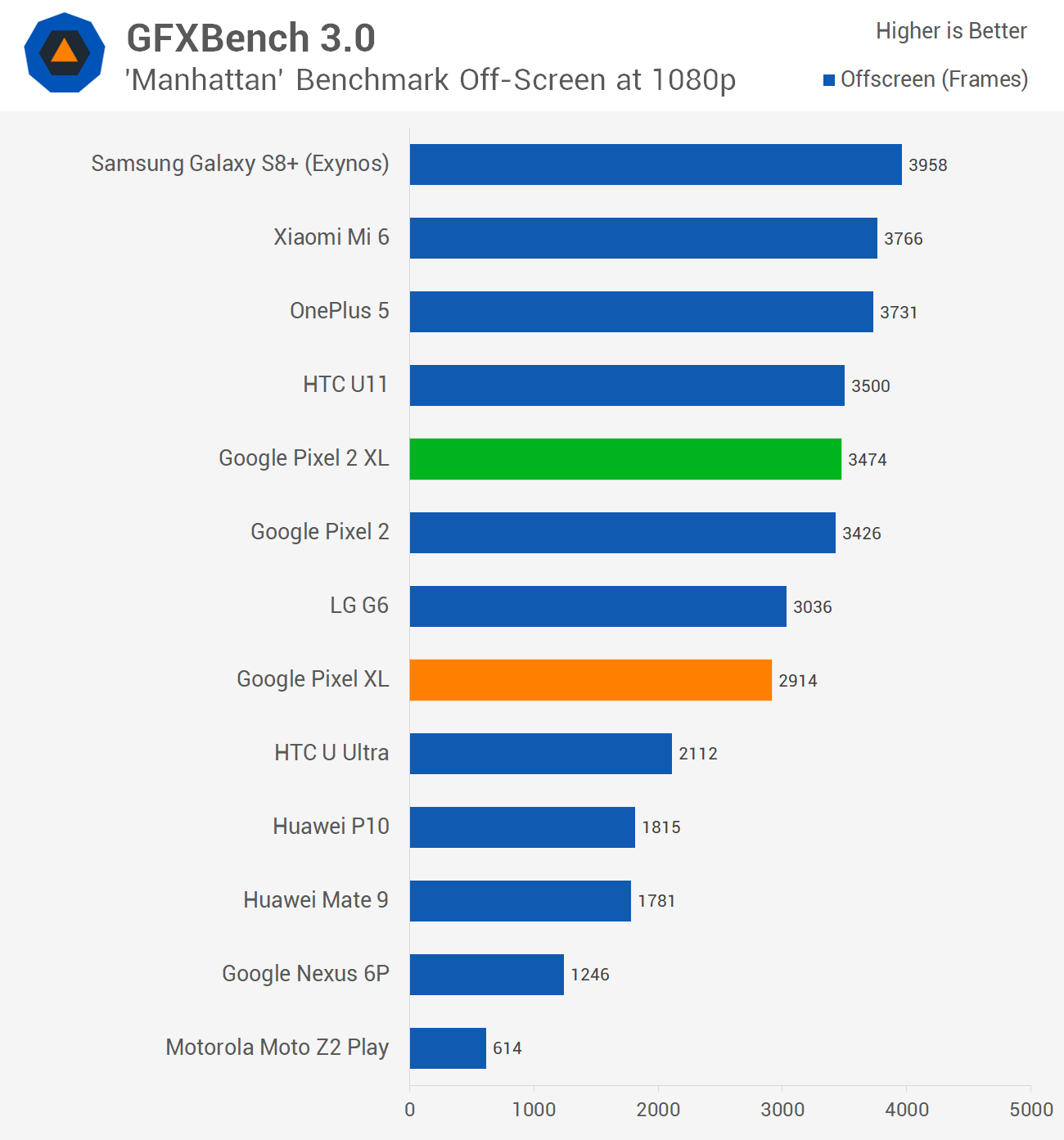 There are a wide variety of display resolutions used in flagship phones, so it's worth taking a look at how the Pixel 2 XL with its 2880 x 1440 display stacks up. Relative the HTC U11, which uses the Snapdragon 835 and has a standard 1440p display, the Pixel 2 XL was about 4 percent slower in onscreen benchmarks. This gap extends to 38 percent compared to the OnePlus 5, which uses a 1080p display.
If you're moving from a Google Pixel XL, expect around a 13 to 26 percent performance uplift in games; those coming from the Nexus 6P should expect around double the performance.
One of the great aspects to the Pixel 2 XL is that it throttles by a relatively small margin after 30 minutes of intense gaming. I still observed a 25 percent decline in performance compared to its peak, though phones like the HTC U11 (37%) and Xiaomi Mi 6 (43%) are far worse offenders. The only modern Android phone that throttles less is the OnePlus 5, at just 7% but at the expense of heat.
This result does mean the OnePlus 5 is more than twice as fast as the Pixel 2 XL in long term gaming, though a lot of this comes down to the discrepancy in resolution. While the Pixel 2 XL does have a high resolution display, I didn't experience any slowdowns while gaming.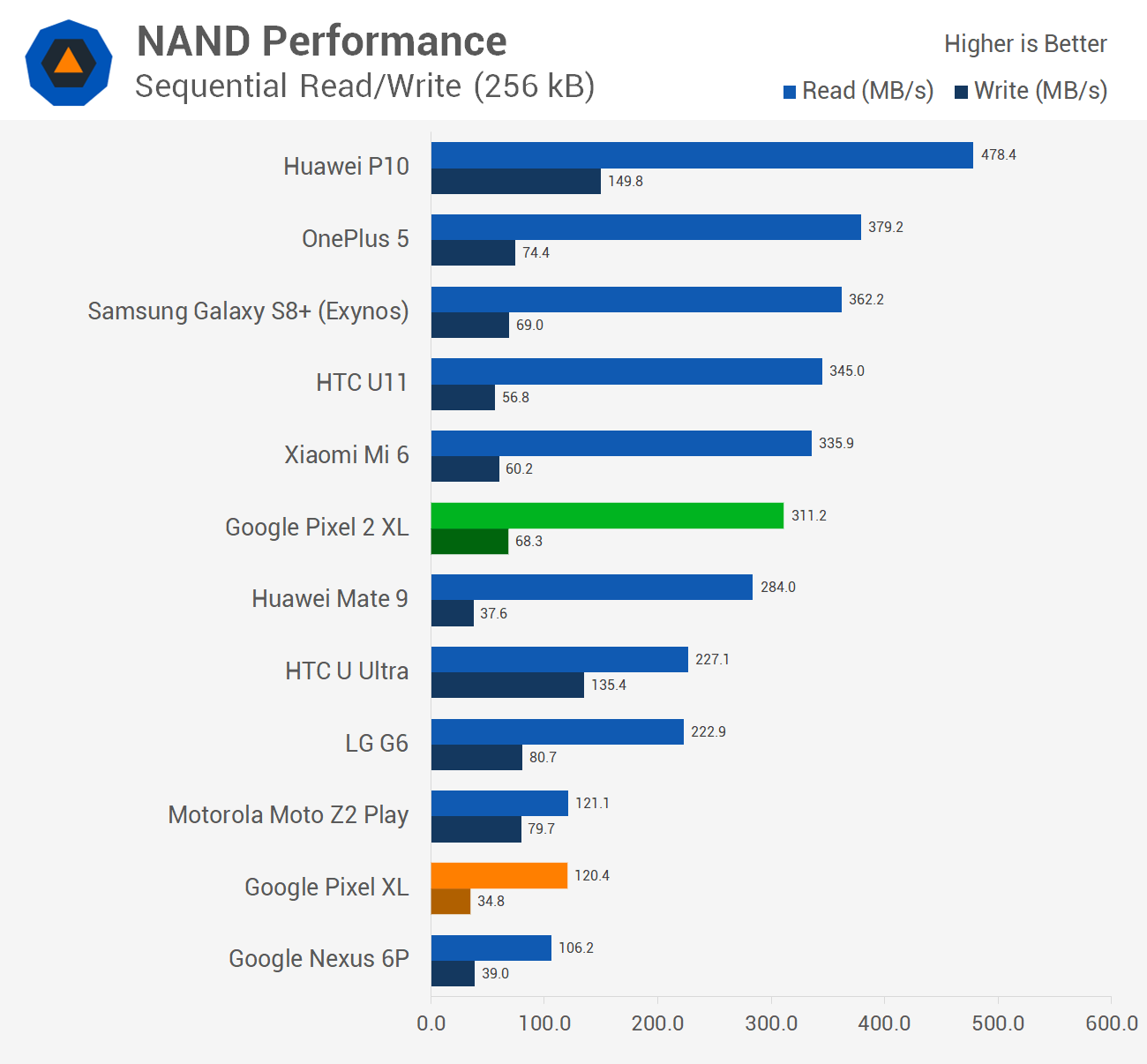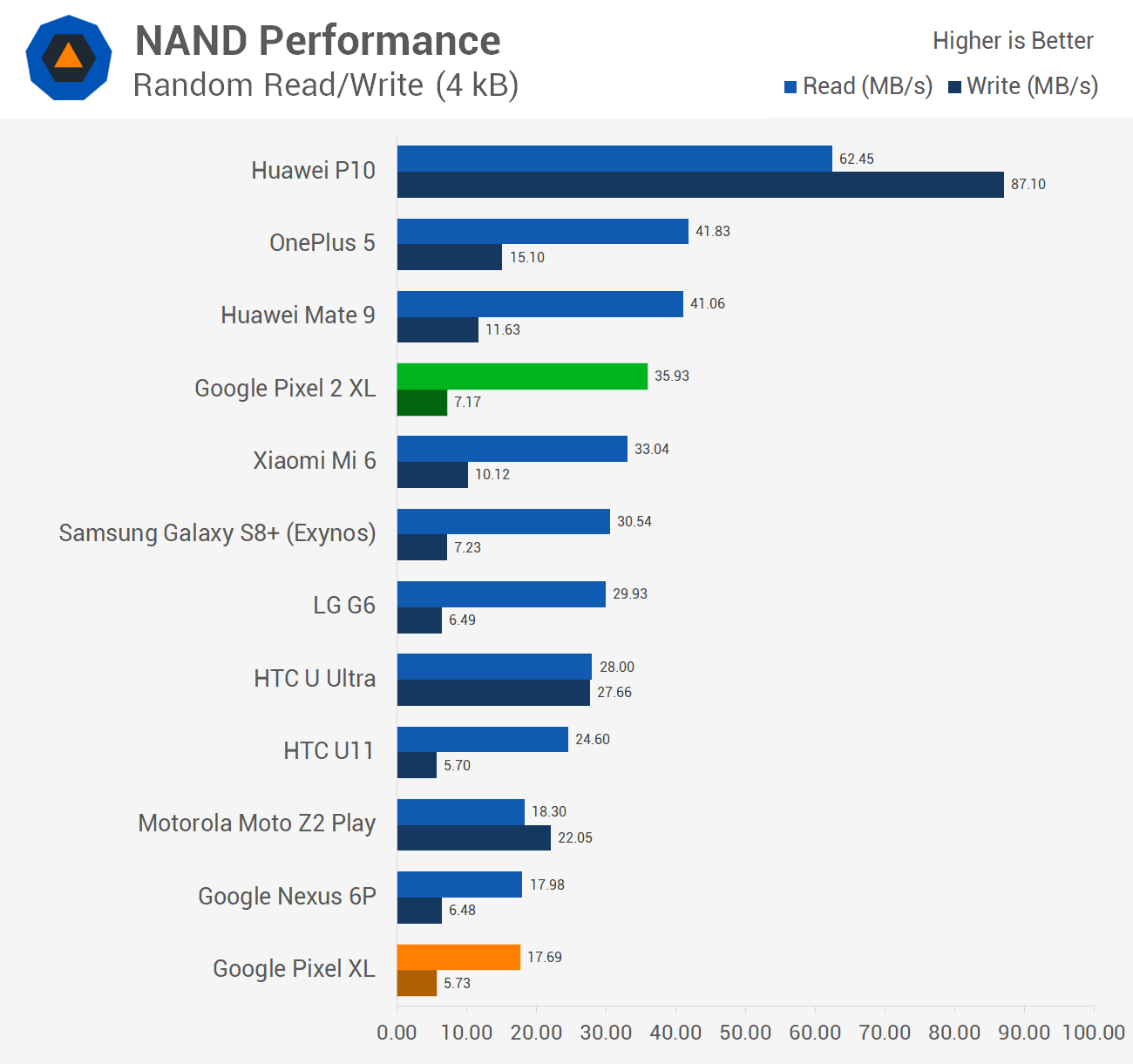 Storage performance is one of the key areas to receive a big boost in the Pixel 2 XL. Performance was relatively weak with the Pixel XL, but this isn't the case with the Pixel 2 XL, as the phone now approaches some of the fastest phones in the market when it comes to NAND. The Huawei P10 still outperforms all contenders in the Android space at this stage, but the Pixel line is no slouch any more.