TechSpot is celebrating its 25th anniversary. TechSpot means tech analysis and advice
you can trust
.
When you buy through our links, we may earn a commission.
Learn more
.
Legit CPU, Incredible Integrated Graphics
With all benchmarks out of the way, let's talk a bit more generally about how the Ryzen 5 2500U performs. In terms of CPU performance, the 2500U is a bit slower than the Core i7-8550U. Not a perfect apples-to-apples comparison, but the i7-8550U is 30.6 percent faster on average based on the benchmarks we used.
These results are skewed in Intel's favor a bit by the enormous disparity in MATLAB. Now, the Core i7 CPU here is a higher-tier model, but the equivalent Ryzen 7 2700U is only 10 percent faster on paper at best, so that's won't be enough to close the gap.
It's worth mentioning that most people will be upgrading to Ryzen Mobile from an older dual-core Intel CPU, which the Ryzen 5 2500U trounces with four-core power. (...) Coming from a four-year-old laptop? This Ryzen CPU will blow you away.
For those following the desktop battle between AMD and Intel, these results shouldn't be a surprise. Intel still holds a strong IPC lead, and AMD does not have a core count advantage in their mobile parts like they do on the desktop. Even with clock speeds favoring AMD by up to 300 MHz in sustained all-core workloads, in some cases at least, Intel's strong Kaby Lake IPC sees it outperform Ryzen Mobile across the board.
This leaves the Core i7-8550U anywhere from 10 to 25 percent faster than the Ryzen 5 2500U when hitting all four cores, and typically that margin will increase in single-thread loads as Intel gains a clock speed ascendency. But not always.
Is this a bad result for AMD's Ryzen Mobile CPU? Not necessarily, as we're comparing Core i7 to Ryzen 5 here and we haven't tested any 8th gen Core i5 parts yet. The gap will close when pitting the Core i7 up against the Ryzen 7 2700U, or when comparing Core i5 to Ryzen 5. It's still unlikely AMD will take the lead, but that battle will end up closer, possibly in a 10 to 20 percent lead for Intel.
It's also worth mentioning that most people will be upgrading to Ryzen Mobile from an older dual-core Intel CPU, which the Ryzen 5 2500U trounces with four-core power. Gains of around 50 to 80 percent relative to the Core i7-7500U are common, and that's only pitting Ryzen 5 against last-gen Intel silicon. Coming from a four-year-old laptop? This CPU will blow you away.
But the real story here is graphics performance, which is where the Ryzen 5 2500U demolishes the Core i7-8550U. The integrated Vega 8 GPU is considerably more powerful, to the tune of more than 2x in GPU heavy benchmarks. It manages to achieve this while keeping to the same 15W TDP as Kaby Lake Refresh, and even when both the CPU and GPU are slammed, the Ryzen 5 2500U pulls ahead by a huge margin.
On paper, Vega 8 is ~2.5x times faster than UHD 620 in terms of raw compute, though in practical gaming scenarios I saw anywhere from 70 to 100 percent more performance out of it. This is enough of a gain to make some games, like Civilization VI, playable where they previously were not, even at low settings.
As I've only had time with the HP Envy x360, it's hard to make a definitive conclusion on how power efficient the Ryzen 5 2500U is. I have started the process of battery testing the Envy x360 and results seem as expected for this sort of laptop, which is good news for Ryzen Mobile, but I need more data before it becomes clear whether AMD or Intel has a power lead here.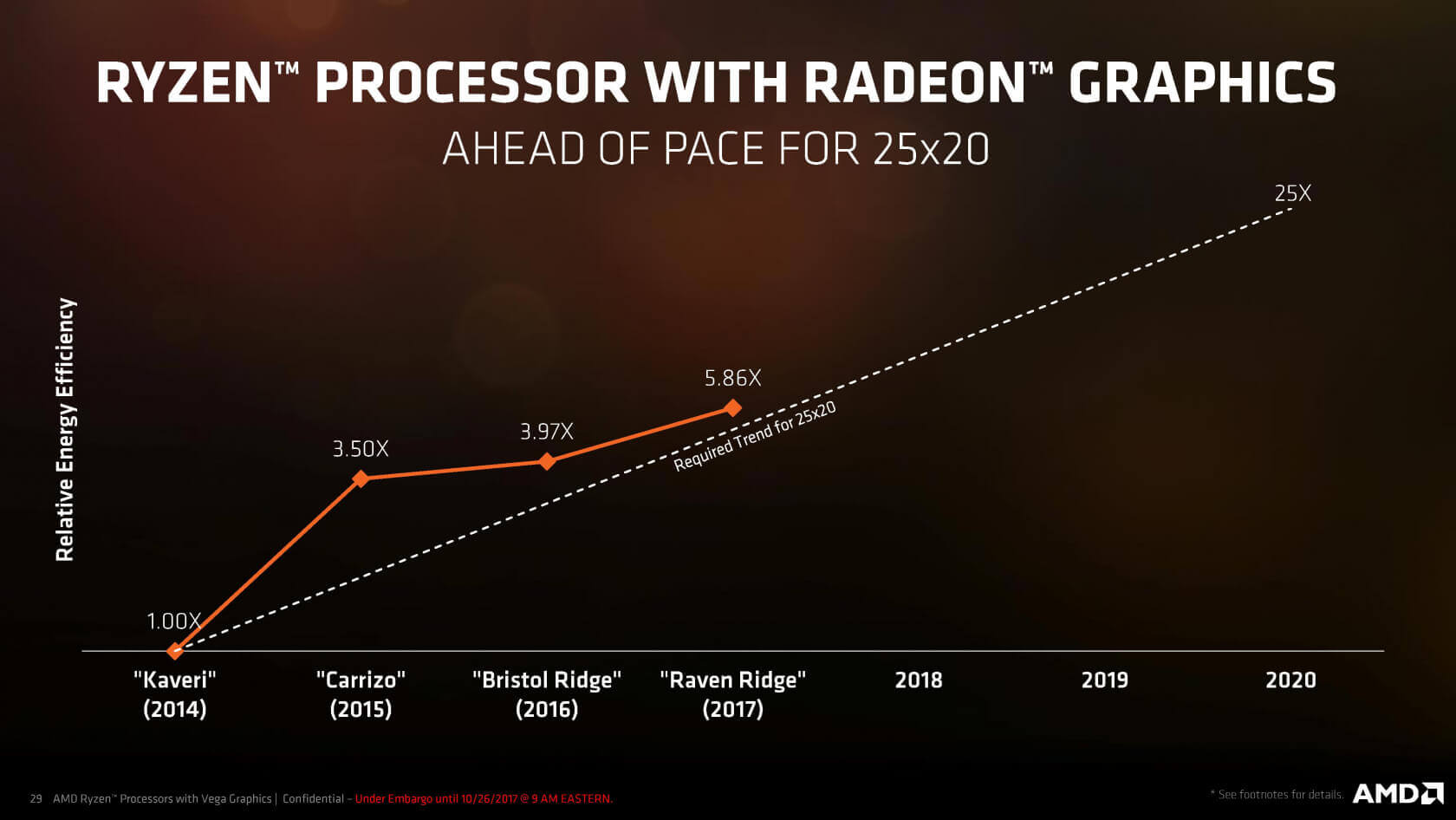 The main issue with Ryzen Mobile for now is availability. This testing has shown the Ryzen 5 2500U is a highly competitive APU and will be especially attractive for those that want more GPU power in an ultraportable form factor, but you just don't have many options if you want a laptop with Ryzen inside. There's the HP Envy x360, and that's basically it.
And to make matters worse, the Envy x360 is a 15-inch laptop, which is a form factor where GeForce MX150 discrete GPUs (the mobile version of the desktop GeForce GT 1030) are readily available alongside Kaby Lake CPUs in similar ultrathin designs.
If Ryzen Mobile is to succeed, AMD needs to get this chip inside 12 and 13-inch ultraportables where discrete GPUs are rarely seen. If Ryzen 5 2500U can hit the same levels of performance in a smaller chassis, AMD would have a real winner on its hands.
So my final message to AMD and laptop manufacturers is: get this chip in laptops. Judging by the chatter around the internet, there is genuine demand for ultraportables with an APU like this inside. Make the laptops, and sales will follow.
Shopping Shortcuts:
Pros: AMD is back in the mobile game. More than decent CPU performance output with four cores and eight threads. Vega 8 GPU is spectacular for integrated graphics in this thermal envelope.
Cons: Availability is a real concern (13-inch ultraportables wanted). CPU performance lags behind Intel's latest.