TechSpot is celebrating its 25th anniversary. TechSpot means tech analysis and advice
you can trust
.
When you buy through our links, we may earn a commission.
Learn more
.
HIS Radeon HD 5850 In Detail
As an early production model this Radeon HD 5850 is not your typical highly modified HIS graphics card. Rather, it closely follows the reference design and specifications, with pretty much the only difference being a HIS sticker on the fan shroud.
The package bundle HIS has prepared for their Radeon HD 5850 card however is more generous than we have come to expect from graphics card manufacturers as of late. Besides the card itself, inside the box we found a CrossFireX bridge adapter, two 6-pin power cable adapters (in case your PSU does not have them), a DVI-VGA adapter, the usual quick reference manuals and a game coupon for DiRT 2. We recently featured this game as one of the titles to look forward this holiday season on the PC. It's expected to be released sometime in December and will be the first shipping DirectX 11 title.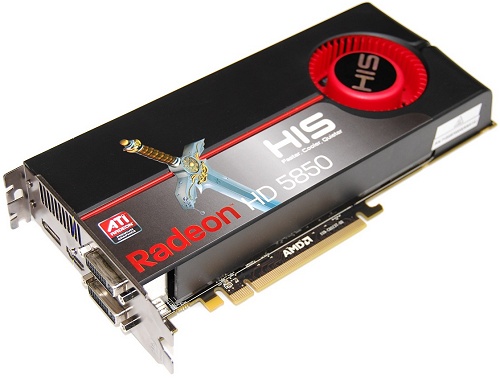 As mentioned before, while the Radeon HD 5870 measured 28cm long, the Radeon HD 5850 is shorter at 24cm. That 4cm saving means that this new graphics card will fit in any case that can support a standard ATX motherboard. Although the Radeon HD 5850 is considerably smaller than other high-end graphics cards, it is still ~3cm larger than the Radeon HD 4850 and 4770 graphics cards.

Cooling the "Cypress Pro" GPU is a fairly large aluminum heatsink made up of 36 fins measuring 10.5cm long, 6.0cm wide, and 2.5cm tall. Connected to the base of this heatsink are two copper heatpipes which help improve efficiency. Finally, there is a 75x20mm blower fan that draws air in from within the case and pushes it out through the rear of the graphics card.
The Radeon HD 5850 shares the same remarkably low 27 watt idle consumption levels we saw on the 5870, allowing for a similarly quiet operation in such scenarios. When we began to game, the fan kicked in and made some noise – as you would expect. Noise levels were comparable to those of the Radeon HD 4870 or GeForce GTX 285 graphics cards, however, nothing unusual here.
The use of a 40nm design has allowed ATI to be quite aggressive with the GPU core speed, clocking it at 725MHz. Compared to the Radeon HD 5870, AMD has disabled two of the SIMDs and reduced the core clock speed by 125MHz. This translates to 10% less SIMD capacity and a 15% lower core clock speed.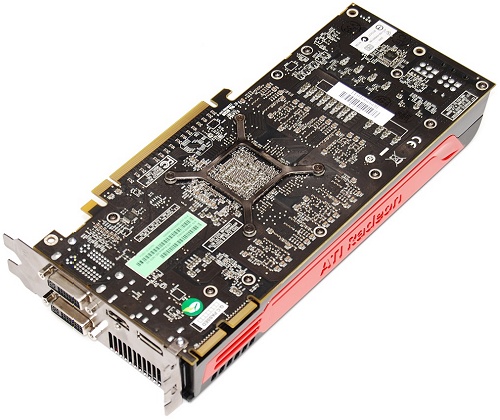 GDDR5 memory works at a frequency of 1000MHz on this particular model, or 17% slower than on the Radeon HD 5870. There's 1GB of memory in total spread across eight chips located on the front side of the graphics card. These memory chips are cooled via a large aluminum plate which is also used to cool the power circuitry.

The GPU configuration features an impressive 1440 SPUs, 72 TAUs (Texture Address Units) and 32 ROPs (Rasterization Operator Units). While the core clock speed and memory frequency have been reduced significantly, the core configuration is not all that different than the Radeon HD 5870's.
The Radeon HD 5850 can consume up to 151 watts of power when pushed hard. In order to feed the graphics card enough power, AMD has included a pair of 6-pin PCI Express power connectors. This is the same configuration that you will find on the Radeon HD 4870/4890 and GeForce GTX 285 graphics cards.
As with all modern Radeons, in the standard position you'll find a pair of Crossfire connectors for bridging two or more cards together. The only other connectors can be found on the I/O panel. Our HIS card featured two dual DVI connectors, a HDMI and Display Port connection. It is worth noting that all Radeon HD 5850 graphics cards can support a maximum resolution of 2560x1600 on not one but rather three monitors (a feature ATI calls Eyefinity).