TechSpot is celebrating its 25th anniversary. TechSpot means tech analysis and advice
you can trust
.
When you buy through our links, we may earn a commission.
Learn more
.
Benchmarks: 3Dmark2006, X3: Reunion
Test System Specifications
- AMD Athlon64 3800+ (2.40GHz) AM2
- Corsair PC2-5400 2GB DDR2
- ASUS M2N32-SLI Deluxe (nForce 590 SLI)
- OCZ GameXStream (700 watt)
- Seagate 250GB 7200RPM (Serial ATA II)
- Nvidia GeForce 7600GT (256MB)
- Nvidia GeForce 7600GS (256MB)
- ATI Radeon X1650 Pro (256MB)
Software
- Microsoft Windows XP Pro (SP2)
- Nvidia Forceware 91.47
- ATI Catalyst 6.9
- NVIDIA nForce 590 SLI 9.35
Despite offering far less memory bandwidth, the much older GeForce 7600GS was just 2.5% slower than the new Radeon X1650 Pro at 1600x1200. The biggest performance margin was seen at 1024x768 where the X1650 Pro was 4% faster than the 7600GS, it will be interesting to see how this impacts the real-world numbers.
Although the GeForce 7600GT is not officially part of this head to head battle between the Radeon X1650 Pro and GeForce 7600GS we have included it for comparison nonetheless. Given the Radeon X1650 Pro is priced between the 7600GS and 7600GT we thought it would be interesting to see how much faster the 7600GT is. According to 3Dmark2006 Pro the GeForce 7600GT is an incredible 45% more powerful than the new Radeon X1650 Pro based on the 1024x768 performance.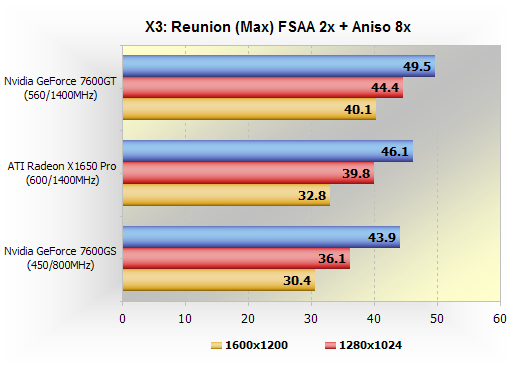 The original Radeon X1600 Pro was notably slower in the X3: Reunion test than the GeForce 7600GS, so it is good to see the X1650 Pro providing a lot more competition. Using the FSAA 2x + Aniso 8x settings the X1650 Pro was roughly 2fps faster at 1600x1200 and 3fps faster at 1280x1024. Perhaps not a huge win for ATI, but it is still something.
While the 7600GT was leaps and bounds ahead of the X1650 Pro in 3Dmark2006, it's not quite as dominant in X3: Reunion. That said the 7600GT still gave it to the X1650 Pro, knocking it off by 20% at 1600x1200. With an average frame rate of 40fps at 1600x1200 with FSAA 2x + Aniso 8x enabled the old and trusty 7600GT was most impressive.