TechSpot is celebrating its 25th anniversary. TechSpot means tech analysis and advice
you can trust
.
When you buy through our links, we may earn a commission.
Learn more
.
As much as we love testing and talking about the latest innovations in PC graphics, it's only a fraction of the gamers market that can truly enjoy these high-end products as soon as they come out of the oven because of its high prices.
It's not a surprise then that the bulk of Nvidia and ATI sales for videocard upgrades are in the segment between $100 and $200, this is also what we call the mainstream market. For this article we have narrowed down such segment to cards below the $150 mark, where the obvious contenders, Nvidia and ATI have laid down two products that go head to head: the long dominant GeForce 7600GS, and the recently launched Radeon X1650 Pro.
The newly released Radeon X1650 Pro is based on the RV530 architecture and features just 4 pixel pipelines. Along with it there was a second ATI mid-range card announced using the same architecture which is now know as the X1650XT, though we are yet to see this product. Both products utilize the same core and memory clock frequencies though the more powerful X1650XT boasts 8 pixel pipelines. This should give the X1650XT a significant performance advantage in most gaming titles.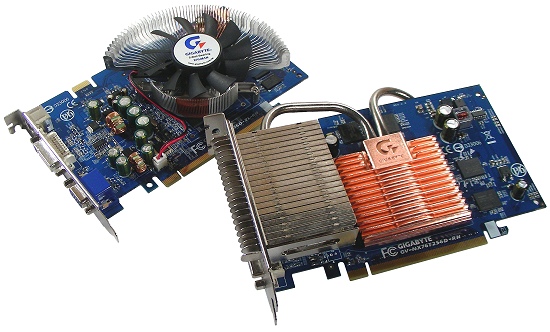 As we often find with these minor product refreshes, the X1650 Pro is basically an overclocked version of the older X1600XT. But this should actually come as good news considering the original X1600XT was a solid product that would have received much better press if it wasn't for the fact it was too expensive at the time of its release. Today, it's a completely different picture, for about $130 the Radeon X1650 Pro should be a very good value. The X1650 Pro is available supporting either the AGP 8x or PCI Express 16x platform.
The Radeon X1650XT, which we are yet to see will most likely take on the GeForce 7900GS as both are priced around the $200 mark. The X1650 Pro is then left to compete with the 7600GS, though at the moment it is priced closer to the slightly more expensive 7600GT. This means while today's article will be pitching the new Radeon X1650 Pro against the GeForce 7600GS we will also include the 7600GT for comparison purposes.
Examining the specifications of the Radeon X1650 Pro, it appears to be a far superior product than the 7600GS, boasting almost twice as much memory bandwidth thanks to a frequency of 1400MHz, versus 7600GS' 800MHz. The X1650 Pro core is also clocked 50% higher giving it a 200MHz clock advantage. The 7600GS in the other hand, has three times the pixel pipelines, which when taken into account almost makes the memory bandwidth advantage look meaningless.