TechSpot is celebrating its 25th anniversary. TechSpot means tech analysis and advice
you can trust
.
When you buy through our links, we may earn a commission.
Learn more
.
Today we are looking at a pint-sized HTPC/desktop case that, despite its size, can accommodate some impressive gaming hardware. The Lian Li Mini Q PC-V354 is a bit of an all-rounder, suitable for both compact gaming rigs and home theater PCs.
I've built many high-end gaming systems using tons of different processors, motherboards, graphics cards and even storage drives. Although I used a different case each time, they were all full-size ATX cases, making them quite cumbersome.
Massive ATX cases offer obvious benefits: more room means better airflow, which leads to cooler hardware and improved overclocking results. Large chassis also provide users with more hardware options, such as multi-GPU configurations.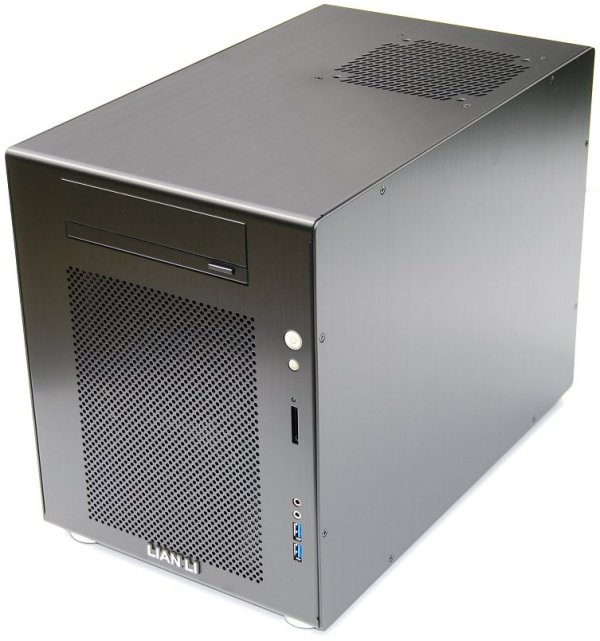 The only significant downside to larger cases (besides higher prices) is their weight. For example, the Antec Twelve Hundred weighs 15kg, Cooler Master's HAF 932 tips the scales at 13kg, Thermaltake's Armor+ is 17kg while the company's new Level 10 weighs an intimidating 20kg+.
It's not just the weight that makes them difficult to move, but their awkward dimensions – the very thing that makes full-towers popular to being with. Gamers planning to move their computer a lot require something not only lighter but also more compact and easier to maneuver.
The MicroATX form factor has been around for over a decade, but gaming systems utilizing this format have only recently become commonplace because there was little gaming orientated MicroATX hardware. Said hardware is now available from companies including Asus and DFI, but one problem remains: what should you put it in?
While powerful MicroATX motherboards like Asus' Maximus II Gene might be readily available, you have to find a case that supports high-end graphics cards. Many compact cases can't house graphics cards longer than the motherboard, and that limits card lengths to 23-24cm, eliminating most flagship ATI and Nvidia products. Multi-GPU setups are generally off the table, too.
Putting an end to such restrictions, Lian Li has developed a case to complement new high-end mATX motherboards. Called the Mini Q PC-V354, the company says this little guy supports graphics cards as long as 35cm, making even the mighty Radeon HD 5970 a possibility. In fact, the Mini Q PC-V354 can supposedly house two enthusiast GPUs, which is amazing given the case itself is just 42cm long.