TechSpot is celebrating its 25th anniversary. TechSpot means tech analysis and advice
you can trust
.
When you buy through our links, we may earn a commission.
Learn more
.
Testing Methodology
For putting together this performance review we tested 19 graphics card configurations, using AMD and Nvidia GPUs that ranged from the uber expensive models to budget-minded offerings. The latest official drivers were used for all graphics cards.
Although Black Ops has been out for just a few days, graphics card manufacturers already got their multi-GPU technologies working perfectly with it. This is one advantage of using a tried and true game engine.
For our benchmarks we used Fraps to measure frame rates during a minute of gameplay from the first single-player level (Operation 40). The test begins from the checkpoint where the player mans a machine gun on a plane trying to take off. As luck would have it this scene goes for a little over 60 seconds and the path is automated, so we could accurately run it over and over again.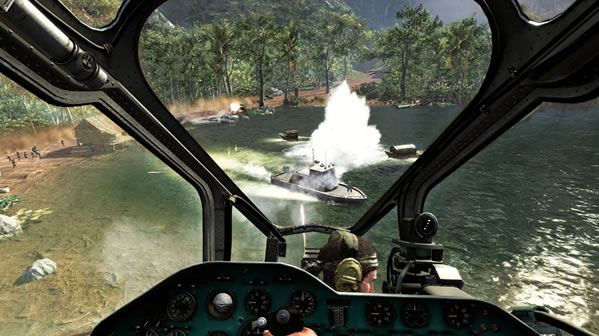 The scene has heaps going on and helps provide an excellent representation of what kind of performance gamers can expect to see from Call of Duty: Black Ops. Although there are countless angry enemy combatants firing at you, it appears that the "Recruit" skill level setting is another way of saying "god mode" in this game.
The Intel Core i7 920 processor was overclocked to 3.60GHz in an attempt to remove any CPU bottlenecks that could influence high-end graphics cards scores. It is important to note that by default Call of Duty: Black Ops is frame rate limited to 85fps. However, this is very easy to modify either in game using the console command "com_maxfps," or in the user configuration file before entering the game. By setting the maximum frame rate to 300fps we gave ourselves more than enough headroom to test and make sure this cap wouldn't affect results.
The game was tested at three resolutions: 1680x1050, 1920x1200 and 2560x1600. We used 4x Anti-Aliasing with 16x Anisotropic Filtering. The texture filtering setting was set to bilinear and the texture quality was set to extra. Other settings such as shadows and bullet impacts were enabled, and the number of corpses was set to large.
We understand many of you like to have CPU scaling performance included along with graphics, so we clocked our Core i7 processor at a range of frequencies to see how it affects performance. We also ran similar tests using a range of processors from both AMD and Intel product lines.
We will be looking for an average of 60fps for stutter-free gameplay on Call of Duty: Black Ops.
Test System Specs
- Intel Core i7 920 (Overclocked @ 3.60GHz)
- x3 2GB G.Skill DDR3 PC3-12800 (CAS 7-7-7-20)
- Asus P6T Deluxe (Intel X58)
- OCZ GameXStream (700W)
- Seagate 500GB 7200RPM (Serial ATA300)
- GeForce GTX 580 (1.53GB)
- GeForce GTX 480 (1.53GB)
- GeForce GTX 470 (1.28GB)
- GeForce GTX 460 (1GB)
- GeForce GTS 450 (1GB)
- GeForce GTX 285 (1GB)
- GeForce GTX 275 (896MB)
- GeForce GTX 260 (896MB)
- GeForce GT 240 (512MB)
- GeForce 9800 GT (512MB)
- Radeon HD 6870 (1GB)
- Radeon HD 5970 (2GB)
- Radeon HD 5870 (1GB)
- Radeon HD 5850 (1GB)
- Radeon HD 5830 (1GB)
- Radeon HD 5770 (1GB)
- Radeon HD 5670 (512MB)
- Radeon HD 4890 (1GB)
- Radeon HD 4850 (1GB)
Software
- Microsoft Windows 7 Ultimate 64-bit
- Nvidia Forceware 262.99
- ATI Catalyst 10.10