TechSpot is celebrating its 25th anniversary. TechSpot means tech analysis and advice
you can trust
.
When you buy through our links, we may earn a commission.
Learn more
.
Internal Design
The Lian-Li PC-Q25's innards are equally simplistic, but again, this isn't a bad thing and the case does have plenty of clever features. With the side panels removed, you're presented with a very tiny empty box.
We immediately spotted another improvement the PC-Q25 has over the PC-Q08: it gets a separate motherboard tray instead of forcing the right panel to pull double duty. This allows you to easily remove the right side door without having to dismantle half the system first. The tray itself is fairly basic and supports Mini-ITX as well as Mini-DTX motherboards.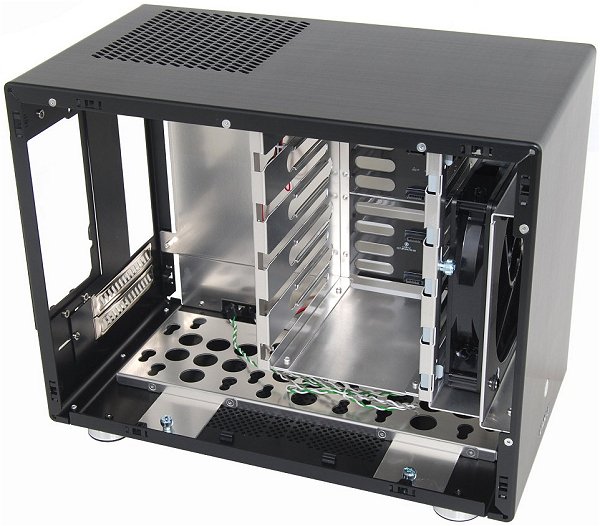 The case floor has a removable adapter capable of supporting an additional three 2.5" or 3.5" drives. However, keep in mind that it's not possible to install 3.5" drives in the bottom of the PC-Q25 when using a dual-slot cooler. Many high-end graphics cards will also make it difficult or even impossible to install 2.5" drives.
Nonetheless, there are five hot-swappable 3.5" hard drive bays. These have a tool-free design that require you to install a pair of mounts to each drive, allowing you to slip them into place. This system works extremely well, though we did experience on issue.
While the PC-Q25 is built to support standard ATX power supplies, most ATX PSUs actually exceed the design specifications. The spec calls for dimensions of 6 x 3.5 x 5.5" (150 x 86 x 140mm) – the length (last figure) being key here.
We first tried to install OCZ's modular ZX 850w which measures 6 x 3.5 x 6.8" (150 x 86 x 175mm). That's 25% longer than the original spec and it made the ZX 850w far too long to install.
Next we tried the Thermaltake Thoughpower XT 575w which was the lowest wattage and shortest power supply we had on hand, measuring 14% shorter than the ZX 850w at 6.3 x 3.4 x 5.9" (160 x 86 x 150mm).
Even so, the Thermaltake unit required some physical persuasion to fit inside the PC-Q25 and its modular cables pressed against the 3.5" hot-swap bay, bending it slightly and making it more difficult to work with the drives.
Ideally, you should aim for a power supply that adheres to the specification of 140mm long, such as OCZ's StealthXStream series.
The power supply also presents another problem. Given that the power supply sits almost directly above the CPU socket, you'll have a tough time finding an aftermarket cooler suitable for the job. As such, we stuck with the standard Intel box cooler.
Gamers typically want extreme graphics while HTPC users desire plenty of storage, and the PC-Q25 serves both. It can accommodate dual-slot cards measuring 12.6" (320mm) long, which is enough room for the dual-GPU Radeon HD 6990.
Naturally, cramming such a powerful graphics card into such a confined space is going to raise concerns over heat. Thankfully, Lian-Li has equipped the PC-Q25 with a pretty impressive cooling setup.

Cool air is sucked in by a 140mm fan while hot air is expelled from a 120mm top-mounted fan. This is in addition to the power supply and most graphics cards, as both should feature their own external exhaust.
Overall, the Lian-Li PC-Q25's internal design left us pleased. Its greatest drawbacks stem from the fact that it's so small, but there's nothing that can't be resolved by careful planning (again, aim for a PSU that measures 5.5"/140mm long).