TechSpot is celebrating its 25th anniversary. TechSpot means tech analysis and advice
you can trust
.
When you buy through our links, we may earn a commission.
Learn more
.
The AMD FX Series
AMD is kick starting the new FX lineup with seven processors, including 8-, 6- and 4-core models. The flagship processor is the FX-8150, which features a base frequency of 3.6GHz with a Turbo Core clock of 3.9GHz and a Max Turbo speed of 4.2GHz. Before delving any deeper, let us explain what the Turbo Core and Max Turbo frequencies mean.
AMD's Turbo Core technology has been enhanced for FX processors to include a new mode that boosts all Cores when there's enough thermal headroom. This allows new highly threaded scenarios to take advantage of the extra frequency. AMD Power Manager inside the CPU monitors the processor states as seen below.
The Max Turbo mode is activated on lightly threaded applications by increasing frequency on half the cores. AMD has enhanced the highest clock level of its Turbo Core Technology to remain in a higher frequency state than in previous AMD Phenom II Processors. The result is better performance in single and lightly threaded applications.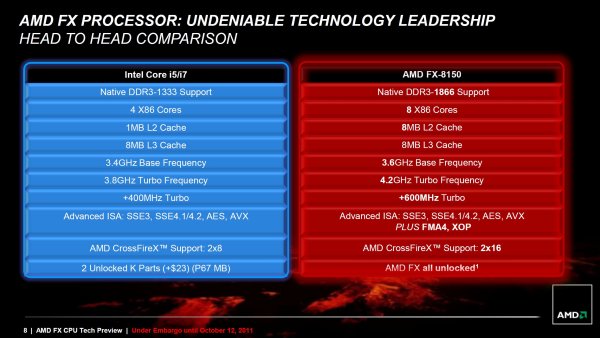 Turbo Core and Max Turbo are present on all core configurations (again, the FX series is comprised of 8-, 6- and 4-core chips). The 3.6GHz FX-8150 carries 8-cores, has a 125-watt TDP, and an 8MB L2 + 8MB L3 cache, which is standard across all 8-core FX parts. The flagship octo-core processor is accompanied by the 3.1GHz FX-8120 and 2.8GHz FX-8100.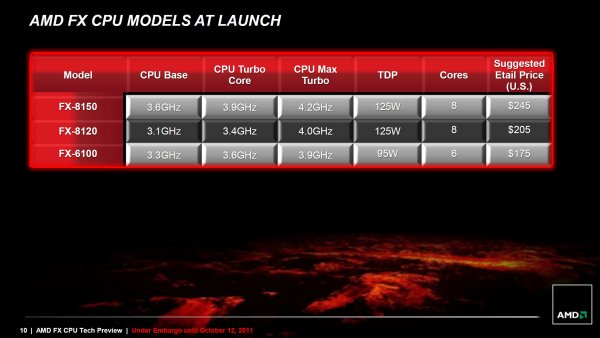 AMD has set the FX-8150's MSRP at $245, which is only slightly more than the Core i5-2500K's asking price, while it is considerably lower than the Core i7-2600K. The FX-8120 is even more affordable than the i5-2500K at $205.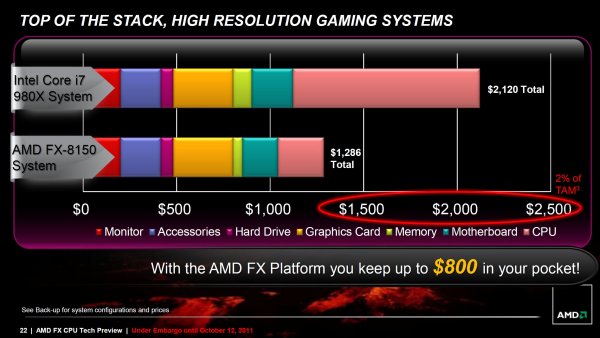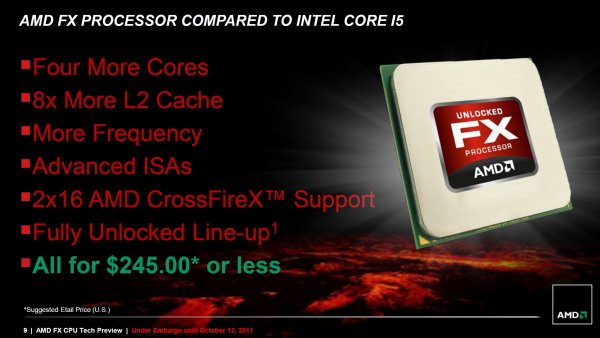 Along with the three 8-core processors, AMD has launched a single 6-core chip known as the FX-6100, which comes clocked at 3.3GHz with a Turbo Core frequency of 3.6GHz and a Max Turbo of 3.9GHz. While the L3 cache remains the same at 8MB, the L2 cache has been reduced to 6MB, as 1MB is allocated per core. The FX-6100 is only $175, which seems like an incredible bargain considering the Phenom II X6 1100T is currently $190.
Lastly, there are three 4-core models: the FX-4170, FX-B4150 and FX-4100. All of the quad-core CPUs have 4MB L2 cache with 8MB L3 cache. The FX-4170 is the highest clocked Bulldozer chip with a standard frequency of 4.2GHz, however, Turbo Core is disabled and the Max Turbo frequency is just 100MHz above the base clock.