HTC Titan Review: Windows Phone 7.5 on a Giant Screen
Page 3 :

Messaging, App Store, Browser By
TechSpot is celebrating its 25th anniversary. TechSpot means tech analysis and advice
you can trust
.
When you buy through our links, we may earn a commission.
Learn more
.
Messaging, App Store, Browser
Messaging
Messaging with the HTC Titan was pretty swift, thanks to the large keyboard afforded by the huge screen. However, the WP7 on-screen QWERTY keyboard doesn't offer second functions for any of the keys, so whenever you want to add a character such as a question mark or hyphen, you have to delve into one of two separate pages of characters. Only the comma and full stop/period are catered for on the main keyboard, along with a button for adding smileys.
Otherwise, text entry was quick and easy, and predictive text is still present to help fix any typing errors. SMS and MMS are grouped together in a single application and are shown in a conversation view, inside speech bubbles. While Twitter and Facebook functionality is pre-loaded, it is quite basic on both counts, so you'll have to download the free apps from the WP7 Marketplace for extended functionality. Instant messaging and video chat apps are not present, despite the Titan's forward facing camera.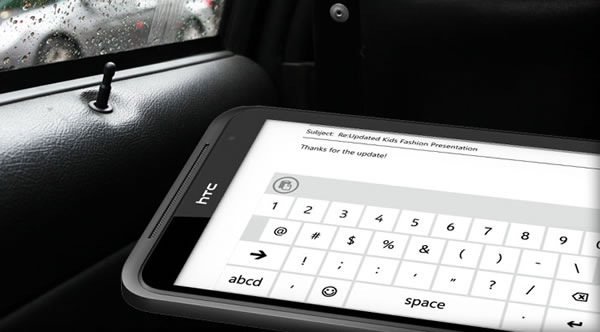 The Titan's email client caters for IMAP, POP, Microsoft Exchange, and Gmail accounts, including synchronization of contacts and calendar entries. As you'd expect from a Windows Phone, it also offers full Hotmail support and syncs Windows Live calendars as well. A new improvement here is that any of your email inboxes can be linked into combined inboxes, and you can configure multiple combined inboxes.
Apps / App Store
This is one area where Windows Phone 7 falls behind rival platforms, due to the comparatively small number of apps available on the WP7 Marketplace. Apps are constantly being added, though, and there's still a decent number to be getting on with. Another recent change to WP7 is that third party apps can now run in the background, which pairs well with the new task switcher to make the phone feel much 'smarter'.
Navigating the Marketplace is fairly straightforward. Apps can be sorted by new, top, featured, and free. There is also a search function and apps are sorted into various categories as well. Music has been bundled into the Marketplace and it often cluttered the search results when searching for apps, which is a shame. If you're into games though, it's not a bad place to shop as there's plenty on offer and you can even try before you buy. Also, logging into your Xbox Live account will drag your gamer tag and avatar across, and Microsoft even announced a planned app for controlling certain functions of your Xbox.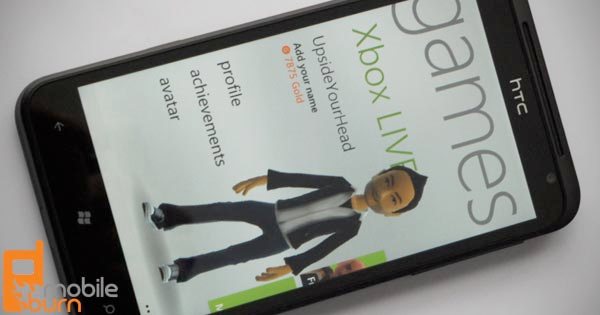 Our HTC Titan included the usual basic pre-loaded apps, plus a few little extras thrown in for fun such as HTC's Photo Enhancer, Locations app, and Connected Media app. There was the usual WP7 calendar and great Office Mobile document support, plus Bing Maps was pre-installed. Bing Maps doesn't offer the turn-by-turn navigation of Google Maps, but does at least offer written directions and nearby points of interest.
HTC has also pre-installed its HTC Hub application, which provides weather and stock information, news, and 'featured' HTC apps and Xbox Live games. Other pre-loaded apps include the usual calculator, alarms, and notes, as well as 'HTC Watch': an app for renting and buying movies and TV shows on your phone. It was strange that on our review unit this app would only offer us a selection of 8 movie trailers to watch and nothing more. Users can uninstall any applications that they don't like, even those from HTC, which is a plus.
Browser
The Titan's default Internet Explorer Mobile browser offers a decent web experience, loading full desktop pages quickly thanks to the 1.5Ghz processor and new hardware acceleration present in IE9 Mobile. It also employs pinch gestures and double taps to navigate and zoom, and web pages can be viewed landscape by flipping the phone on its side. While the large 4.7 inch display makes it easy to view whole pages at a time, zooming is still often required due to the comparatively low WVGA resolution of the display, which leaves text jaggy and unreadable at times, even when it would otherwise be large enough to read.
Tabbed browsing is supported, though access to tabs is via the '...' option at the bottom of the screen, and so it requires a few screen taps to function. The '...' softkey also offers access to recent pages, favorites, and gives users the option to share a page via email, SMS, social networks, or pin it to the home screen. The Titan misses on Adobe Flash support for web pages, so the web experience isn't as full as on HTC's Android devices, plus it doesn't re-flow text when you zoom, either.
One neat update to the browser was the address bar being located at the bottom of the display. This makes it much easier to reach when using the phone one handed, especially with the display being so large in this instance.