TechSpot is celebrating its 25th anniversary. TechSpot means tech analysis and advice
you can trust
.
When you buy through our links, we may earn a commission.
Learn more
.
Final Thoughts
The last great SSD that we tested carrying 100% Intel tech was the SSD 310 Series. This drive was later replaced by the not too exciting SSD 320 Series, which was still limited to the SATA 3Gb/s interface.
The SSD 510 Series came about last year using a Marvell controller, making it the first Intel SSD able to utilize the SATA 6Gb/s interface. However with the exceptional Crucial m4 on the picture (using the same Marvell chip), we didn't care much for the SSD 510 Series. Today's pricing puts the 128GB m4 at just $177, which works out to be $1.38 per gigabyte. On the other hand, the Intel equivalent costs $280 making it much more costly at $2.33 per gigabyte, and for all that extra money you won't receive any extra performance.
Our dislike for the Intel SSD 510 Series stemmed from the fact it's not just grossly more expensive than the Crucial m4, but also competing SandForce SF-2281 drives. The OCZ Vertex 3 120GB for example currently costs $190 or roughly $1.58 per gigabyte.
So why are the Intel SSD drives so much more expensive? It boils down to reliability and Intel has a near impeccable record in that regard as their drives go through a vigorous validation and testing procedure. Although on occasion Intel has run into a few small issues such as the 8MB Power Bug which plagued the SSD 320 Series, they have always swiftly squashed such bugs.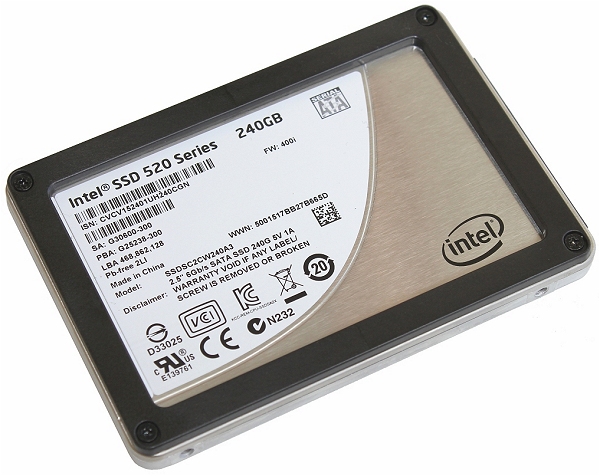 Of course, there's a tangible advantage to having such an in-depth testing procedure – especially if you value your data – but as development costs increase, it becomes a pricing issue since manufacturers already have small margins on consumer SSDs. As a result consumers looking to buy an Intel brand SSD are faced with quite a hefty price premium. In the case of the SSD 510 Series users were paying roughly 70% more per gigabyte and in our opinion that's simply too much.
The SSD 520 Series on the other hand doesn't appear to be quite as bad. There's still a premium involved but one that is much easier to swallow. At $230 the Intel SSD 520 Series 120GB is around 20% more expensive than the OCZ Vertex 3 120GB. Even so we feel if the drives prove to be more reliable many users will easily justify the additional cost. Intel certainly seems to have been able to squeeze the most performance out of the SandForce SF-2281 controller as we consistently saw strong performance in all tests.
For those seeking the best balance between price and performance we still believe the Crucial m4 series is the way to go. However, if it is maximum performance you seek then the SF-2281 based SSDs are hard to go by and the new Intel SSD 520 Series has to have the best support of any SandForce drive out there.
Pros: Excellent performance. The speed of SandForce's latest controller with the backing of Intel's testing and firmware validation.
Cons: A tad more expensive than other similar drives. SSDs in general are still limited in storage capacity given the premium you pay per gigabyte.