HTC One X Review
Page 3 :

Camera, Battery Life, Conclusion By
TechSpot is celebrating its 25th anniversary. TechSpot means tech analysis and advice
you can trust
.
When you buy through our links, we may earn a commission.
Learn more
.
Camera, Battery Life, Conclusion
Camera and Video Capture
Now on to one of my favorite parts of the One X, the 8 megapixel camera. Not only does the camera offer a truly magnificent user interface, with quick access to settings and controls of all sorts (even filters!), but it just takes great photos - both with and without flash. And it does so very quickly. In fact, you can shoot a burst of photos by simply holding down the on-screen shutter button.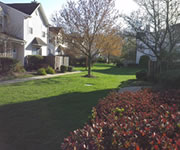 On top of that, you can record full-resolution 8 megapixel still photos while you are recording a 1080p full HD video just by tapping the shutter button. Both buttons are on the screen at the same time, so you never have to switch modes. It's such a convenient feature to have. I also approve of HTC's fast and wide-angle lens, which makes the camera much more practical for real life situations.
It doesn't hurt that a decent video editor, with themed transitions, is pre-loaded on the phone, though I occasionally had problems with focus-hunting while recording videos outdoors. No other smartphone has been as much fun to use for photography as the HTC One X, though.
Music
HTC's music player on the One X is very attractive and capable. It features integration with the 7digital music store, SoundHound's music identification service, and Tunein Radio's service for streaming live, ground-based radio stations.
The music app makes good use of album art, and is organized well, but it lacks support for Google's own cloud based music service, which is now part of the company's Google Play properties. There's nothing to stop you from downloading and using Google's music app on the One X, though, so your bases are pretty much covered.
Battery
HTC's One X comes equipped with a reasonably large 1800mAh battery that is permanently embedded inside its one-piece body. There's no option to swap out the battery, just as is the case with the Nokia Lumia 800.
HTC does not provide any talk time or standby time ratings for the One X, but I've found the phone to be a pretty solid performer in terms of real world battery use. Getting a full 24 hours out of the battery is easily within reach, but you still won't get two full days out of it unless you use it ever so sparingly and have it configured with few apps updating in the background.
Final Thoughts
The HTC One X is easily my favorite phone on the market today. Even Samsung's Google Galaxy Nexus pales in comparison. The sexy hardware design, the updated Sense 4 user interface, and the amazing camera team up with blazing performance to make the One X an unstoppable force of nature that I simply must have in my hand.
I am quite certain that there are going to be quad-core Samsung-built Android devices with equal speed and camera performance in the near future, but I doubt that Samsung has the grapes to put out an industrial design as bold as that of the HTC One X.
{pf id:516 size:review
ts}

Pros: Beautiful design, great display, speedy and easy to use camera, improved Sense UI, quad-core processing speed.

Cons: Non-swappable battery, no 4G data support, somewhat large.

{pf id:83984 size:review
others}