TechSpot is celebrating its 25th anniversary. TechSpot means tech analysis and advice
you can trust
.
When you buy through our links, we may earn a commission.
Learn more
.
Apps, Camera, Battery and Final Thoughts
Apps / App Store
While the Google Play Store offers access to over 400,000 applications, few of them have been designed with tablets in mind. So while you can certainly find the app you are looking for, you cannot safely assume that it will look great on your tablet's display. The built-in apps work well, though, and the full suite of Google apps and Samsung "Hub" applications will keep you going. Since the Galaxy Tab 2 7.0 includes GPS support, it can be used as a large GPS navigation device with Google's free Navigation app, which is part of Maps.

Browser
The Samsung Galaxy Tab 2 7.0 offers user a good browsing experience through its mostly-stock Android browser. Tabbed browsing makes managing multiple open pages at one time easy, and the pages all render quickly and accurately. The low'ish resolution of the display means that small text is not always entirely sharp, but overall the fast browsing speed and support for HTML video and Adobe Flash make it more than useful.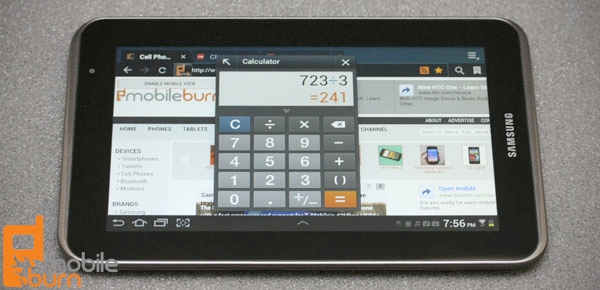 Camera
There are two cameras included on the Galaxy Tab 2 7.0, but neither is a real threat to your pocket point and shoot camera. Or even the high-end smartphone that might reside in your pocket. At least the camera app is laid out nicely, and offers user customizable controls, and it can record 720p HD video - even if it's not the best seen on a tablet today. But we all know that the camera is a third-tier function on a tablet, at best, so this isn't really a problem, especially when you consider that the Amazon Kindle Fire has no cameras to the Tab's two.

Music
The Google Play Music application that is loaded onto the Samsung Galaxy Tab 2 7.0 offers a slick user interface and the ability to play music that is stored "in the cloud," so you don't have to worry about loading up each of your devices with your music collection. While you can buy music from the Play Store easily enough, Samsung also offers its own Music Hub app which allows users to purchase songs from the 7Digital store as well. Either way, you've got plenty of access to music from the Tab.
Battery
The Samsung Galaxy Tab 2 7.0 ships with a 4,000mAh battery that can easily power the tablet through a full day of pretty solid use. If you are willing to run the Tab with the display's brightness set at less than 100 percent, then you can expect to get quite a bit more life out of it from a single charge.
Final Thoughts
Amazon, beware. The big boys are going to show you how to make an affordable Android tablet! This new Galaxy Tab 2 7.0 is an absolute steal for $249.99 - and I say that as a Kindle Fire owner. Android 4.0 Ice Cream Sandwich might not be as simple to use as Amazon's own user interface, but it also doesn't restrict you in any way, shape, or form. If you want a do-everything tablet for under $300, the Galaxy Tab 2 7.0 is it.
Pros: Great value, solid build quality, Android 4.0 from the start, microSD expansion slot.
Cons: Low-resolution screen, few tablet apps.