TechSpot is celebrating its 25th anniversary. TechSpot means tech analysis and advice
you can trust
.
When you buy through our links, we may earn a commission.
Learn more
.
Since late last year Ivy Bridge seems to be the architecture everyone is waiting for. Although Intel is only anticipating a 10-15% processing performance bump when compared to Sandy Bridge, the big news comes in the form of improved graphics and efficiency, thanks to the move to a 22nm design process using new 3D transistor technology we recently explained in detail here.
Today the company is unveiling its full new line of Core i7 and Core i5 processors, accompanying chipsets and Centrino wireless options. Ivy Bridge is a 'tick' release, but Intel is calling it a tick+ due to the more significant overhaul the graphics side of things is getting. The new chips are set to provide 20-50% better GPU performance over Sandy Bridge, the kind of jump we'd normally expect from a tock release.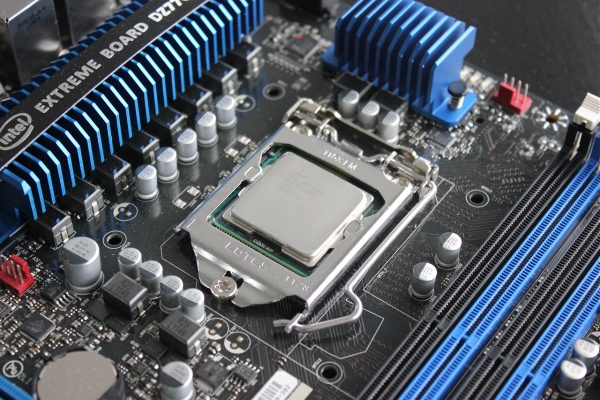 To be fair, Intel has gotten by with lackluster GPU performance from their integrated chipsets for years. When they moved the GPU on-die they continued to peddle the same subpar performance, and to this day they lag way behind, but that's not to say things haven't changed dramatically for the better. Features and performance have scaled to the point that integrated graphics are capable of playing high-definition content, handling more than a single screen, multiple inputs, offering wireless display technology, among others.
Intel is preparing another big graphics performance bump when the Haswell architecture hits the market next year. But in the meantime, for the same money consumers should be looking at faster performance and even better efficiency with the Ivy Bridge architecture.
For a while it appeared the move to the new manufacturing process would cause a delay of several months, but the company was able to reduce that to a few weeks. As you know, Ivy Bridge's companion chipset release remained on track. The new 7-series chipsets are backwards compatible with Sandy Bridge processors, so it's been possible to purchase a Z77 motherboard and actually use it for a few weeks now.
Having already discussed the new Tri-Gate transistors in great detail, the new 7-series chipsets, and some of the motherboards that use them, we are going to focus primarily on the Core i7-3770K processor in this review.
3rd Gen Intel Core Lineup
The Ivy Bridge lineup is comprised of several desktop and mobile Core i7 and Core i5 processors that will effectively replace most of the current offerings under those series. Core i3 variants will make it to market on the second half of the year.
The new Core i7 desktop processors include the Core i7-3770K, i7-3770, i7-3770T and i7-3770S – all selling for $278 except for the i7-3770K that sells for a slight premium at $313. If you ask us, it's a little bit like the unnecessary multiple flavors of Windows Vista/7, but that's the way Intel is going about their CPUs these days. The Core i7-3770K and i7-3770 are identical in almost every way, with a few key exceptions. The K version comes with an unlocked multiplier and is 100MHz faster out of the box. The Intel vPro/TXT/VT-d/SIPP technologies have also been removed from the K series.
The Core i7-3770S and i7-3770T are members of the low power series (second chart below) and as such the TDP has been reduced from 77w down to 65w and 45w, respectively. A determining factor in achieving this lower consumption is a lower CPU base frequency, reduced from 3.50GHz to just 3.10GHz for the i7-3770S and 2.50GHz for the i7-3770T.
All Ivy Bridge Core i7 desktop processors feature 4 cores with 8 concurrent threads when using Hyper-Threading. The Core i7 3770K operates at 3.50GHz with a Turbo Boost frequency of 3.90GHz, while the non-K version features the same Turbo Boost frequency with a base clock of 3.4GHz. They are designed to work with DDR3-1333 memory and feature an 8MB L3 cache.
Then there is the new Core i5 series which features the i5-3570K, i5-3550, i5-3470 and i5-3450 processors ($194 for the K version, $174 for the rest). There are also the Core i5-3570T, i5-3550S, i5-3470T, i5-3470S and Core i5-3450S low power models, we know, it gets very confusing, so let's talk about the standard processors first.
All standard Ivy Bridge Core i5 processors carry a 77W TDP and feature four cores and four concurrent threads. The only Core i5 processor to differ from this configuration is the i5-3470T which features two cores with Hyper-Threading for four threads.
The Core i5 range is clocked aggressively: the i5-3570K and i5-3570 operate at 3.40GHz with a Turbo Boost frequency of 3.80GHz. The i5-3550 operates at 3.30GHz with a Turbo Boost speed of 3.70GHz, the i5-3470 has a base clock of 3.20GHz and can reach 3.60GHz when using Turbo Boost.
Finally the Core i5-3450 has a base clock of 3.10GHz and a Turbo Boost frequency of 3.50GHz. All Core i5 processors feature a 6MB L3 cache with the exception of the i5-3470T which has been downgraded to 3MB.
All Core i5 processors use the Intel HD Graphics 2500 engine with the exception of the i5-3570K which uses the HD Graphics 4000 engine.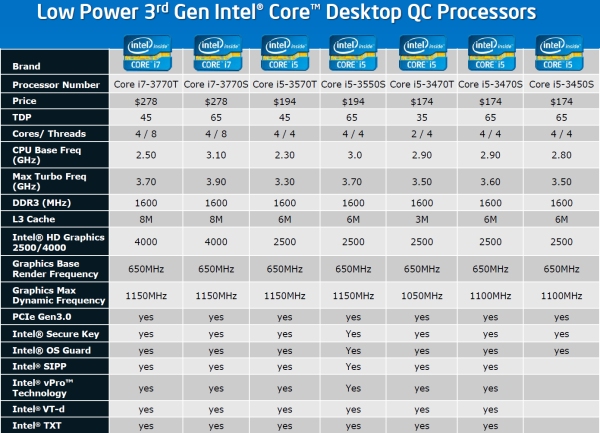 The low-power Core i5 range is equally confusing. The five models available at launch are different though many of them occupy the same price range. The Core i5 3470T is essentially a Core i3 processor with Turbo Boost added. This processor operates at 2.90GHz with a Turbo Boost speed of 3.50GHz. However like the Core i3 processors, the i5 3470T features only two cores with Hyper-Threading support and a smaller 3MB L3 cache, it is said to cost $174.
Then there is the Core i5-3570T and i5-3550S (both $194). The i5-3570T features a thermal design rating of 45w and works at 2.30GHz with a Turbo Boost frequency of 3.30GHz. The i5-3550S is actually faster, working at a base clock of 3.0GHz with a Turbo Boost frequency of 3.37GHz. As you would expect the i5 3550S has a higher TDP rating of 65w.
Finally we have the Core i5-3470S and i5-3450S processors (both $174) which feature a TDP rating of 65w. The Core i5-3470S has a base clock of 2.90GHz with a Turbo Boost frequency of 3.60GHz, while the i5-3450S works at 2.80GHz with a Turbo Boost of 3.50GHz. Like the Core i7-3770K and i5-3570K, the i5-3450S also misses out on Intel vPro/TXT/VT-d/SIPP technologies.