Samsung Galaxy S III Smartphone Review
Page 3 :

Camera, Battery Life, Conclusion By
TechSpot is celebrating its 25th anniversary. TechSpot means tech analysis and advice
you can trust
.
When you buy through our links, we may earn a commission.
Learn more
.
Camera, Battery Life, Conclusion
Camera
The camera was another area that the Galaxy S II set the benchmark for the rest of the Android field last year, and this year's Galaxy S III is no different. Though the resolution is the same, at 8 megapixels, and the video capture is still 1080p, Samsung has beefed up the camera with a number of new features.
The camera features a zero-lag shutter and very quick autofocus, a burst shot mode of up to 20 frames, and a Best Shot mode that automatically chooses the best frame from a series of eight. There is also a built-in ~HDR mode to handle tricky exposures. Samsung's camera interface has always been good, and it features customizable shortcuts for frequently accessed settings. The nod for the best camera interface still goes to the one found in HTC's Sense 4 devices, since it is possible to shoot a picture or start recording a video without having to switch modes, but Samsung's camera is very good in its own right.
As far as image quality is concerned, the Galaxy S III goes toe-to-toe with the HTC One X and One S, as it offers great detail and accurate colors. I noticed that the Galaxy S III also handles close-up macro shots better than HTC's devices, and its flash is very well controlled. The Galaxy S III's camera still doesn't quite reach the bar set by the Apple iPhone 4S, but it gets very close.
Video capture is equally detailed, with good color accuracy and frame rate. Captured audio is clear, though it does sound a bit tinny. The Galaxy S III features continuous autofocus during video recording, but it has a tendency to jump around a bit, producing jarring footage at times.
The 1.9 megapixel front-facing camera offers sharp and bright images for video calls, but it doesn't do anything out of the box or unexpected. It works well for what its purpose is - basic video calling - and that is good enough for me when it comes to front-facing cameras.
Samsung's intent to make sharing easier for Galaxy S III users extends to the camera with two new sharing modes. Buddy Shot uses facial recognition and contact tagging in photos to make it easy to send photos to specific contacts. The Share Shot mode will share all of the photos taken with other Galaxy S III in range and added to the sharing list. The idea here is that S III users will never miss a photo captured at a social event, since every photo captured by every S III will be shared among the group instantly. This is a novel concept, but unless you party with people that are exclusively Samsung fanatics, it's practical use seems limited.
Music
For music playback, the Galaxy S III features Samsung's standard music player and the Google Play Music app. Samsung's standard player features most everything that you look for these days, including playlist support and album art. It also has the unique "music squared" feature that tries to identify the mood of the music in your library and then let you play music that suits your current state of mind.
Samsung is including a standard pair of earbuds with the Galaxy S III. The earbuds feature an inline remote and microphone and are white regardless of whether you purchase the white or blue phone. Fashion-conscious users that want to match their headphones to their smartphone should opt for the Marble White Galaxy S III. The sound quality from the headphones is about what you would expect from a bundled set, and it is certainly not studio quality. Likewise, sound output from the Galaxy S III's external speaker is surprisingly clear and loud, but is also rather thin and lacks depth.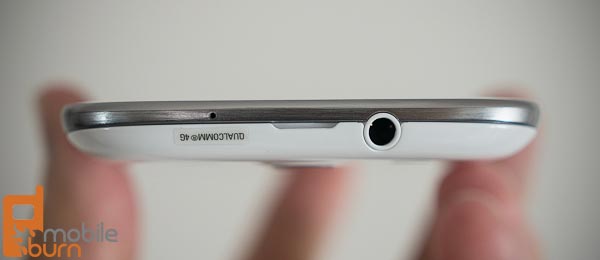 The Galaxy S III can capture 1080p HD video and it has no trouble playing it back either. One very cool trick up the Galaxy S III's sleeve is its Pop Up video player. This lets you pop a video into a separate window so that you can complete other tasks, such as replying to a text message, while the video continues to play. The playback window can be dragged around the screen to wherever you like. This feature is both cool and technically impressive, and I like it.
The Galaxy S III also includes Samsung's Media Hub, so you can rent or buy movies or TV shows to watch on the phone. A lot of the movies and TV shows are available in HD resolution, and you can output them to a larger display with an MHL HDMI adapter.
As far as media storage is concerned, the Galaxy S III is available from Sprint, T-Mobile, U.S. Cellular, and Verizon Wireless in both 16GB and 32GB models. AT&T customers will have to make do with only the 16GB model, and the 16GB models that I reviewed offered less than 12GB to the user for app and media storage, so it is a good thing the microSD card slot is available.
Battery
The Galaxy S III comes with a large, 2100mAh battery. It was enough to keep the phone going through most of the day, but it didn't quite get the Galaxy S III to the 24-hour mark for me. Fortunately, you can swap out the battery for a freshly charged pack when it runs out - a feature that is increasingly rare among smartphones these days. If you intend to primarily use the Galaxy S III on an LTE network, a spare battery is recommended.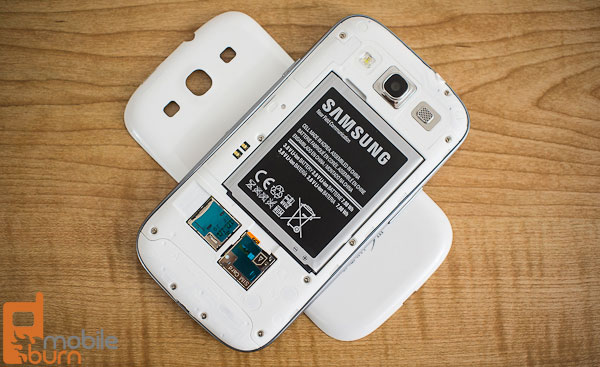 Final Thoughts
The Samsung Galaxy S III carries a lot of weight on its shoulders, and, fortunately, it is up to the task. The Galaxy S III's solid spec sheet combined with the useful software features that Samsung has added to Android 4.0 Ice Cream Sandwich make the GS3 a good choice for many smartphone shoppers.
Add in the fact that the phone will be available from all of the major carriers in the U.S. and features support for the fastest data networks around, and I can easily see how many customers will make the Galaxy S III their pick when it comes time to buy their next smartphone.
Some users may have trouble with the large physical size of the Galaxy S III, but many will probably enjoy the greater screen real-estate on tap and will find the size to be more than manageable. I do wish that Samsung would have opted to use some more premium materials in the phone's construction instead of its usual glossy plastics, but it's solidly put together in spite of that.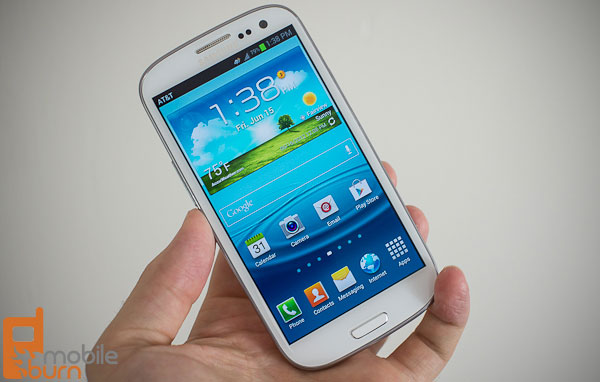 I couldn't find any faults with the phone's performance in virtually every task I threw at it, and Samsung's host of software features did add some functionality to the device, even if a few of them have questionable usability (I'm looking at you Buddy Shot and Share Shot).
As it stands now, the Samsung Galaxy S III is one of, if not the best Android smartphones on the market today and should not have any trouble holding its ground against whatever arrives in the coming months. Now the tougher question for most people will be, should they get the Marble White or Pebble Blue model?
Pros: Blistering performance, great camera, useful software features.
Cons: Glossy plastic construction, may be too big for some users.