TechSpot is celebrating its 25th anniversary. TechSpot means tech analysis and advice
you can trust
.
When you buy through our links, we may earn a commission.
Learn more
.
Apps, Browser, Battery Life, Final Thoughts
Calling / Data
Google's Nexus 7 comes with no built-in carrier network access. It relies on Wi-Fi (802.11b/g/n), Bluetooth, and USB for its connectivity. For a tablet with a $200 price point, that is entirely acceptable. Wi-Fi reception of the Nexus 7 appears to be quite strong, and I experienced no data issues at all with the tablet. Asus and Google also included ~NFC in the Nexus 7, which means that it can be used to read NFC tags and also supports the Android Beam system for passing data between two devices with little more than a bump.

Messaging
In spite of the fact that the Android 4.1 OS on the Nexus 7 looks smartphone-like, the apps that run on it look very much tablet-focused. The email and Gmail apps are a good example of this, since they offer nice multi-paned views that provide access to the user's inbox as well as a message at the same time. Instant messaging on the Nexus 7 is limited to Google Talk right out of the box, but the Google+ social networking app is also pre-installed, and it offers video-based "Hangouts" that make use of the forward facing camera and built-in microphones. Users that need more IM and social networking options will have to install additional apps.
Apps / App Store
Google's Play store, which used to be known as the Android Market, offers users access to well over 600,000 applications as well as untold thousands of books, movies, TV episodes, songs, and, finally, magazines. Play is one of the weapons that Google hopes will allow the Nexus 7 to displace Amazon's Kindle Fire, which is fully integrated with all of Amazon's own application and media services. Google even includes a free $25 credit for the Play Store to get consumers hooked. I expect it will work. In terms of pre-installed applications, there are few to be found apart from the standard suite of Google services like Maps/Navigation and the Play apps.
Browser
Do you hear that sound? That's the angels singing now that Chrome is the standard browser for Android 4.1. It's a great browser that offers a very solid experience. The interface is slick, the scrolling and panning smooth, and pages look great. It is an all-around upgrade over the old browser. As long as you don't need Adobe Flash support, that is. Flash, as Adobe warned, is no longer supported. Apart from that, the rest of the browser is an upgrade, including its HTML5 support that allows for embedded videos and other media.
Camera
When it comes to the photo-taking abilities of the Nexus 7, Google and Asus did one thing very right, and one thing very wrong. What they got right was not including a rear-facing camera on a tablet. This will prevent people from embarrassing themselves by trying to use a placemat-sized device as a camera. On the other hand, what the two companies failed to do is to include a camera application for the Nexus 7's forward-facing 1.2 megapixel camera. As such, that camera can only be used with video chatting applications like Google+ Hangouts and Skype. If there is already a camera in the design, why not allow people to take a picture of themselves from time to time? It would cost nothing extra.
Music
The Google Nexus 7 relies on Google Play Music for music, which is not a bad thing. The interface is attractive enough, and the app can be used to play cloud-based music either purchased from or uploaded to Google as well as music stored locally on the tablet's 8 or 16GB of internal storage. The Nexus 7 features a rear-mounted speaker that can be used for music playback, but it doesn't offer particularly good sound. Best to make use of a 3.5mm set of headphones or an external speaker, neither of which are included.

Battery
Asus has equipped the Google Nexus 7 with a 4325mAh battery, which is more than twice as large as the batteries found in most top-end smartphones today. Asus claims that the battery can power the tablet for up to 300 hours of standby, or 10 hours of web browser or e-book reading, or 9 hours of HD video watching. My experience with the Nexus 7 seems to bear that out, as I've found battery life to be quite good on a long flight and while sitting in bed or at the pool.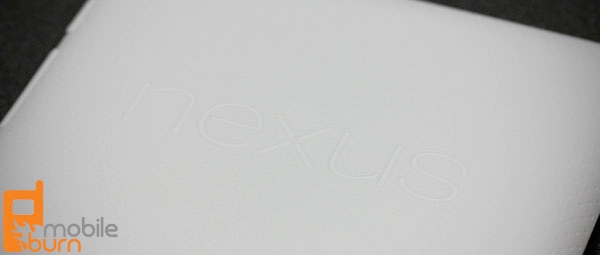 Final Thoughts
As strange as it might sound, my favorite Android tablet has long been an HP TouchPad running Android 4.0 Ice Cream Sandwich (CyanogenMod 9). Until now, at least. While I still had hoped for more from Google with its first Nexus tablet, I am at least content with what it provided. It's a solid piece of hardware that is available for very little cash, and it works both quickly and smoothly. If Apple's iPad is not your thing, then the Google Nexus 7 quite possibly is. It's quite a nice tablet.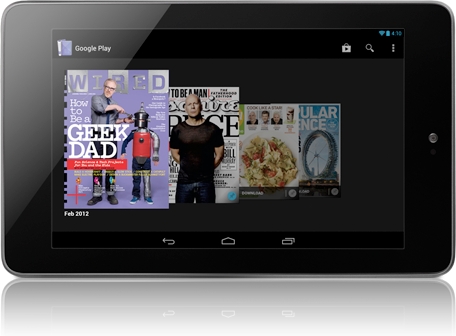 Pros: Low cost, great hardware build, fast and smooth, latest OS version.
Cons: No landscape home screen access, missing camera app, limited storage.