TechSpot is celebrating its 25th anniversary. TechSpot means tech analysis and advice
you can trust
.
When you buy through our links, we may earn a commission.
Learn more
.
Last month, Nvidia shook up the enthusiast GPU market by launching its most affordable Kepler offering yet. At $299, the GK104-based GeForce GTX 660 Ti was $100 (~30%) cheaper than our previous favorite enthusiast-level graphics card, the GTX 670, while being just 13% slower.
Likewise, the GTX 660 Ti was 11% faster and more power efficient than the competing Radeon HD 7870 when testing at 1920x1200 on most games, despite matching it on price.
Predictably, AMD neutralized that threat by slashing prices. The HD 7870's price dropped to $249, while the HD 7850 fell from $239 to $209 and the HD 7950 dipped from $349 to $319. This balanced things out, with products from both major GPU makers finding their rightful place in the market. As is often the case, Nvidia dominated the premium segment, while AMD had stronger footing in the mainstream.
Ever eager to keep AMD on its toes, Nvidia continues its push into the mid-range market with a Kepler-based card that is expected to retail for about $230 – right in-between AMD's Radeon HD 7850 and 7870. The GTX 660 is based on the new 28nm GK106 architecture and although this part differs from the GK104 in Nvidia's Ti card, the GK106 still has all the key innovations introduced by the GTX 680.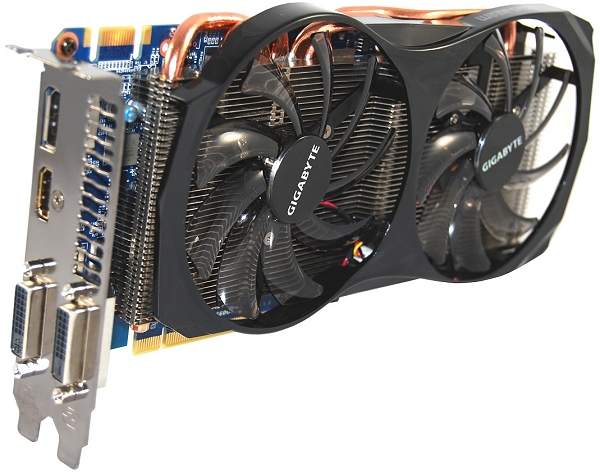 Compared to the GTX 660 Ti, the non-Ti GPU has a lighter core configuration that will undoubtedly have an effect on performance – the upshot being a lower price, of course. Kepler has yet to disappoint us, so we are optimistic that the GTX 660 will provide an attractive alternative to AMD's sub-$250 lineup. Naturally, we'll have to get our hands dirty before drawing any conclusions.
Gigabyte GTX 660 in Detail
As was the case with the GTX 660 Ti, there isn't an official Nvidia reference board for the GTX 660, leaving it up to manufacturing partners to create their own products. This means PCBs and lengths can vary significantly between cards.
We received Gigabyte's take on the GTX 660 (GV-N660OC-2GD). The board's PCB measures 7.28" (18.5cm) long, which is quite compact on its own, but the cooler pushes that to 9.44" (24.0cm), the same length as the HD 7870 reference design. At this length, Gigabyte's GTX 660 should fit in most ATX cases as it's much shorter than higher-end cards such as the HD 7950.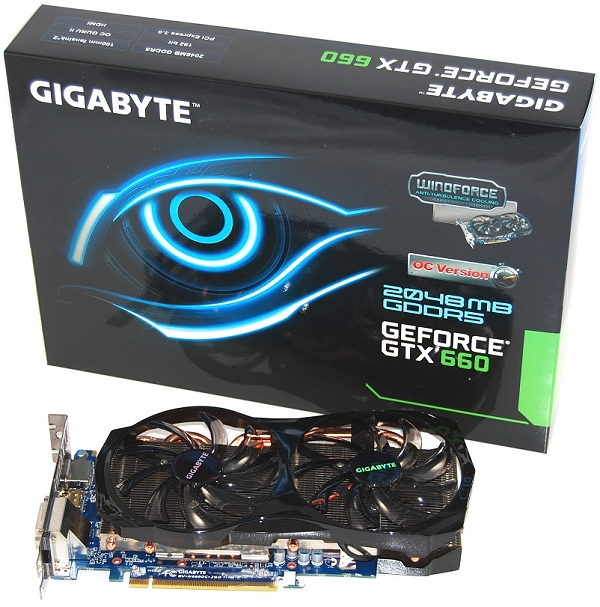 The GTX 660's GPU has 960 CUDA cores (384 less than the GTX 660 Ti), 5 SMX units and 2 SMX units. The TAU count has been reduced to 80 from the Ti's 112, while the ROPs remain the same at 24.
The memory subsystem remains the same as the GTX 660 Ti, with three 64-bit controllers for a 192-bit-wide bus. Combine that with 2048MB of GDDR5 memory clocked at 1502MHz (6008MHz DDR), and you end up with a bandwidth of 144.2GB/s, which isn't bad, though it is 33% less than the GTX 670, and that's where the performance difference lies.
Nvidia's specification for the base clock frequency is 980MHz, while the average boost clock speed is 1033MHz. Gigabyte has increased this to 1033MHz and 1098MHz, while the memory operates at the standard 6008MHz.
What really makes Gigabyte's iteration unique is its WindForce 2X cooler, which employs dual 75mm ultra quiet PWM fans connected to a custom shroud. Under these fans is a massive heatsink consisting of three main parts connected by 8mm copper heatpipes.

At the heart of this setup is the biggest block, which has a unique RAM heatsink to cool the GDDR5 modules and "Triangle Cool" technology that uses a series of fins and triangular clip modules to better direct airflow over the heatsink.
Gigabyte says its Triangle Cool technology can reduce temperatures by up to 10% over traditional designs, so we're keen to see just how cool this card runs.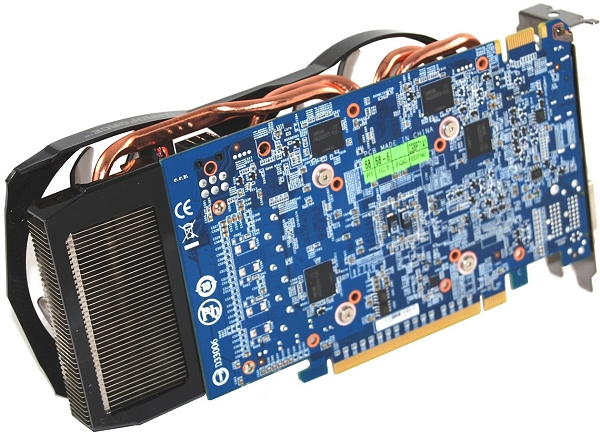 To feed the card enough juice, Nvidia's specification calls for a single 6-pin PCI Express power connector – identical to the HD 7850. Nvidia also says those wishing to use a single GTX 660 graphics card should have a 450 watt power supply or greater.
Naturally, the GTX 660 supports SLI (2-way SLI), so it has a single connector. The only other ports are on the I/O panel where you'll find a pair of dual-link DVI-I connectors, a single HDMI 1.4a port, and a DisplayPort 1.2 socket.