TechSpot is celebrating its 25th anniversary. TechSpot means tech analysis and advice
you can trust
.
When you buy through our links, we may earn a commission.
Learn more
.
Testing Notes & Atto Benchmark
Along with the array of flash drives that compose our roundup, we've included the Western Digital Velociraptor 1TB 3.5" 10,000RPM hard drive for comparison's sake. Other SSDs tested have controllers such as the OCZ Indilinx Everest 2, Samsung MDX, Samsung MCX, Marvell 88SS9174, SandForce SF-2281. Our testing suite consists of three synthetic benchmark programs and our own file copying and load time tests.
As you likely know, while manufacturers claim impressive peak I/O performance out of the box, this performance can diminish over time. Unlike a conventional hard drive, any write operation made to an SSD is a two-step process: a data block must be erased and then written to. Obviously if the drive is new and unused there will be nothing to erase and therefore the first step can be bypassed, but this only happens once unless the drive is trimmed.
Considering this, we'll test how much performance you can expect to lose from each SSD over time. We'll examine all drives in their clean unused state, and then run the HD Tach full benchmark several times to fill the entire drive. This simulates heavy usage and clearly indicates how performance will be affected after normal long-term use.
All drives in this review support the Windows 7 TRIM function, which is meant to counteract these negative effects.
Test System Specs
Intel Core i7-3960X (LGA2011)
x4 4GB DDR3-1600 G.Skill (CAS 8-8-8-20)
Asrock X79 Extreme11 (Intel X79)
OCZ ZX Series (1250w)
Western Digital Velociraptor 1TB (6Gb/s)
Crucial m4 256GB (6Gb/s)
Crucial m4 128GB (6Gb/s)
Crucial m4 64GB (6Gb/s)
Kingston HyperX 3K 240GB (6Gb/s)
Kingston HyperX 3K 90GB (6Gb/s)
Kingston SSDNow V+200 120GB (6Gb/s)
OCZ Vertex 4 256GB (6Gb/s)
OCZ Vertex 4 128GB (6Gb/s)
OCZ Vertex 4 64GB (6Gb/s)
Samsung SSD 840 Pro 512GB (6Gb/s)
Samsung SSD 840 120GB (6Gb/s)
Samsung SSD 830 512GB (6Gb/s)
Samsung SSD 830 64GB (6Gb/s)
Asus GeForce GTX 680 (2048MB)
Software
Microsoft Windows 7 Ultimate SP1 (64-bit)
Nvidia Forceware 310.33
The Atto Disk Benchmark read performance test shows that most of these SSDs are capable of achieving speeds in excess of 500MB/s. The only SSDs to fall short of that figure were the OCZ Vertex 4 64GB and Kingston SSDNow V+200 120GB. The Vertex 4 64GB maxed at 408MB/s while the 128GB version managed 504MB/s.
The SSDNow V+200 120GB did better reaching 456MB/s, though the SandForce-driven Kingston HyperX 3K drive was even faster hitting 492MB/s. The fastest drive in this test was the Samsung SSD 830 64GB which reached 545MB/s.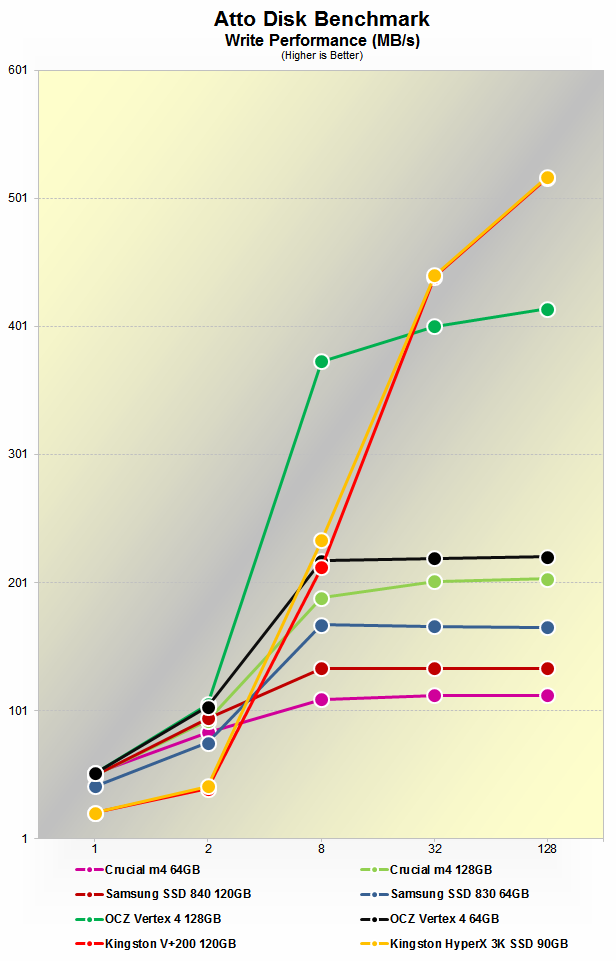 Whereas there was less than 100MB/s separating the fastest from the slowest SSD in the Atto read test, the write results are very different. The fastest drives in this test came from Kingston as the SandForce HyperX 3K and SSDNow V+200 both hit 520MB/s.
The next fastest SSD was the OCZ Vertex 4 128GB which maxed out at 415MB/s, while the 64GB model was considerably slower reaching just 221MB/s. However, the 64GB Vertex 4 wasn't the slowest SSD in this test and in fact it was still one of the faster drives.
The Crucial m4 128GB hit just 204MB/s, while the 64GB version was slower reaching just 113MB/s making it the slowest SSD tested. The Samsung SSDs were not much better with the SSD 830 64GB hitting 166MB/s and the new 840 120GB managing 134MB/s.