Sony Xperia Z Ultra Review
Page 5 :

Is This The Phablet to Get? By
TechSpot is celebrating its 25th anniversary. TechSpot means tech analysis and advice
you can trust
.
When you buy through our links, we may earn a commission.
Learn more
.
Is This The Phablet to Get?
Battery Life
In a somewhat strange move, alongside the colossal 6.4-inch display and powerful Qualcomm Snapdragon 800 chipset, Sony opted for a relatively small 3,000 mAh battery. The idea here I'm sure was to keep the device to its svelte 6.5mm thick body, but it doesn't bode well for battery life.
The good news is that the standby time is impressive, because the screen isn't powered on. The bad news is that the screen on time is mediocre, because, of course, the screen is sucking a significant portion of the juice available. This means that in regular usage, you'll likely find the Z Ultra barely lasting an entire day, and you'll probably have to monitor the battery life closely to ensure you don't need to scramble to find a charger.
Compared to other flagships that I've used recently, including the Lumia 925, HTC One and Galaxy S4, the Z Ultra had a significantly shorter battery life, perhaps even shorter than the Xperia Z I used towards the start of the year. The 11.6 Wh battery struggles when you're using the display for things like games, but also for social media which can be a gradual drain.
Sony has included a Stamina Mode which can increase the battery life by a reasonable amount, probably bringing it on par with this year's other high-end Android phones. However this comes through sacrificing background data usage, which is one of the advantages of having a smartphone; you will lose social media notifications and emails unless you set up exceptions, which then defeats the purpose of the mode in the first place.
Below I've compared the Z Ultra's battery life to other smartphones on the market in our battery life test. In this test, a 720p video is looped at 75% brightness in airplane mode until the battery dies. Generally speaking, a phone which scores more than eight hours in this test has a good all-round battery life.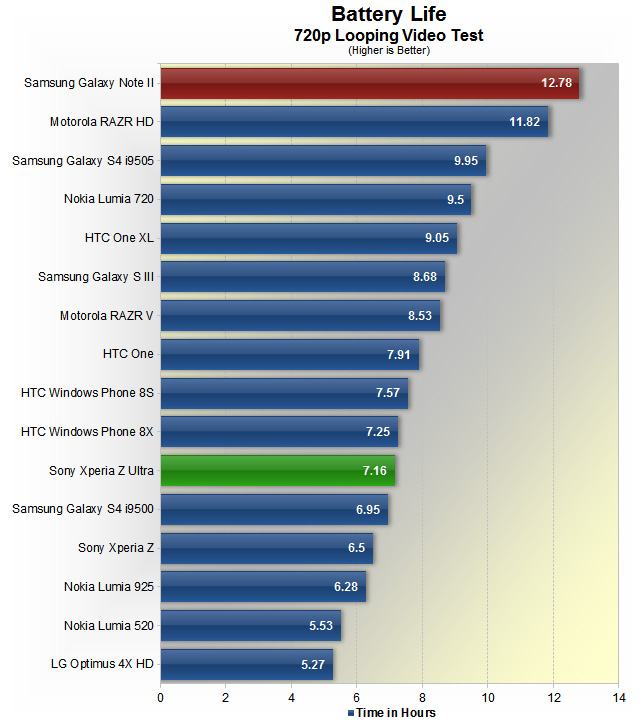 Putting It All Together
After enjoying my time with the Xperia Z, I have to say that I'm disappointed with the Xperia Z Ultra. The device is insanely fast and complemented by a massive, beautiful 1080p display, but Sony has failed to deliver the necessary software to take advantage of the phone's interesting hardware features.
For one, the touchscreen can be used with pencils and any metal object, which allows you to bring your own stylus to use with the device. However, the note-taking app is bewilderingly split in two, meaning you can't take text notes and annotate them from within the same application. Then there's the general operating system, which takes no advantage of the extra screen real estate, leaving you with essentially just a larger phone.
The battery life is also mediocre, failing to live up to the Galaxy Note II and flagship smartphones that have been released throughout this year. The Ultra definitely does have an awesome 6.4-inch display complemented by the Mobile Bravia Engine 2 and decent brightness, but that's not particularly useful when more than two hours of screen-on time is off limits.
Then there's the design, which leaves me torn. The Xperia Z Ultra is a stunning piece of hardware, combining top-end materials with an ultra-slim, premium composition. But at the same time it's impractically large, hard to use as a handset, and a general hindrance in a number of everyday tasks. The phone has been crafted for its large display, but it perhaps turned out a bit too large.
Ultimately I can't recommend this phone over Samsung's Galaxy Note range, especially with the Galaxy Note III on the horizon, because it lacks an overall polish that you need from a large, note-taking-cum-multimedia device. In some respects the Sony Xperia Z Ultra is wonderful, but it's the critical areas where it falls behind the mark.
Pros: Slim, beautiful and waterproof design constructed from premium materials. Snapdragon 800 is blazingly fast. Quality 1080p display with multi-stylus support.
Cons: Huge size is more a burden than a bonus. Under--developed software takes no advantage of screen real estate or stylus features. Disappointing battery life for its class.