TechSpot is celebrating its 25th anniversary. TechSpot means tech analysis and advice
you can trust
.
When you buy through our links, we may earn a commission.
Learn more
.
Test Results, Wrap up: Water vs. Air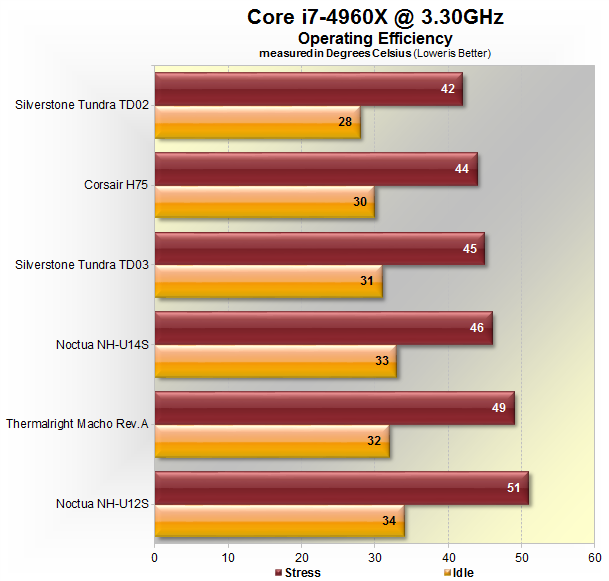 While most of its peers exceeded 50 degrees, Noctua's NH-U14S kept the Core i7-4960X at 46 degrees under full load. Nonetheless both water cooling units improved that figure by a few degrees with the larger Tundra TD02 holding a 2C advantage.
The Tundra TD02 generated 43dB of noise which is roughly on par with the Noctua NH-U12S, though the Hydro H75 managed to shave a dB or two off the best air coolers.
Overclocked to 4.3GHz, the Core i7-4960X's increased heat pushed the Noctua NH-U14S to 53 degrees under load, 15% hotter than the non-overclocked configuration. This time the Tundra TD02's large radiator came into play, reducing load temperatures to 50 degrees – 3 degrees better than the NH-U14S and 2 degrees better than the Hydro H75.
Water vs. Air
Conventional water cooling may be too expensive and unwieldy for most users, but closed loop units address both issues with varying degrees of success. At just $85, Corsair's Hydro H75 is only $10 more than Noctua's NH-U14S and delivers slightly better results. Not only does it run a little cooler and quieter, it also puts far less strain on the CPU socket and it's easier to install as there is much more room to work.
I've only been using the Hydro H75 for about a month but it seems like it's build to hold up fine in years of use. Outfits like Newegg have nothing but glowing user reviews about the Hydro H75's performance and reliability, and if nothing else, the kit is backed by a limited two-year parts and labor warranty that should help ensure you get your money's worth – something that may be harder with the pricier Tundra TD02.
With only two closed loop models in circulation, Silverstone doesn't have Corsair's reputation or selection, but the Tundra TD02 held its own nonetheless, beating the Hydro H75 by a few degrees. Silverstone's cooler has the better quality radiator and that contributed to the Tundra's 9% performance lead over the NH-U14S. However, at $120, the Tundra is ~60% more expensive than Noctua's flagship heatsink.
If you care about value, the NH-U14S or Hydro H75 make more sense. If money is less of a concern and you aren't worried about making the Tundra TD02 fit in your case, then we wouldn't discourage you from taking the plunge – kudos to Silverstone for at least competing on performance and quality. If you're working with a budget, the NH-U14S and Thermalright Macho Rev.A remain phenomenal air cooling choices.