Sony Xperia Z1 Compact Review
Page 3 :

Performance: Powerful Yet Compact By
TechSpot is celebrating its 25th anniversary. TechSpot means tech analysis and advice
you can trust
.
When you buy through our links, we may earn a commission.
Learn more
.
Performance: Powerful Yet Compact
Unlike most smaller-sized Android devices out there, Sony hasn't held back on the hardware in this flagship compact handset. We're looking at a Qualcomm Snapdragon 800 MSM8974-AA SoC with a 2.15 GHz quad-core Krait 400 CPU, Adreno 330 GPU clocked at 450 MHz, 32-bit dual-channel LPDDR3 memory controller with 12.8 GB/s of bandwidth, a Hexagon QDSP6V5A DSP clocked at 600 MHz, plus integrated connectivity options.
It's interesting to note that the MSM8974-AA's CPU has been downclocked 11 MHz from the maximum clock speed of 2.26 GHz to 2.15 GHz. This shouldn't affect performance greatly, and is likely due to thermal restraints; the Z1 Compact can get quite warm when the SoC is being fully utilized, so this slight downclock may stop the glass from fracturing in extreme circumstances, for example.
The connectivity options integrated into the Snapdragon 800 include Category 4 LTE (bands 1, 2, 3, 4, 5, 7, 8, 20), HSPA+ (at 850, 900, 1700, 1900 and 2100 MHz frequencies), quad-band GSM, Bluetooth 4.0, Wi-Fi 802.11 a/b/g/n/ac on both 2.4 GHz and 5 GHz bands, plus IZAT Gen8B GPS+GLONASS. A separate chip facilitates NFC interconnectivity.
Other major specifications include 2 GB of RAM and 16 GB of internal storage. Out of the box, 11.79 GB is available to use, indicating approximately 4 GB of storage is reserved for the device's firmware. Normally 12 GB of user storage isn't all that much if you want to use it for more than just apps, but the Xperia Z1 Compact does have a microSD card slot, allowing you to expand the storage by up to 64 GB.
General performance from the Xperia Z1 Compact is as good as any flagship Android smartphone that I've used in the past few months. The operating system with its light-on OEM skin is fast to navigate and fluid to use, and the powerful quad-core CPU is more than capable of manipulating web pages with ease. Chrome and Android have also evolved to the state where you can actually have 100 tabs opened in the browser and still use it without any slowdown.
Gaming on the Xperia Z1 Compact is an interesting proposition, because the Adreno 330 GPU only has to render to a 720p display, as opposed to the 1080p panels it usually is paired with; a total pixel count that's 55% lower means better performance in games. With that said, the Adreno 330 is typically more than fast enough for 1080p gaming, so it has no trouble maintaining a steady 60 frames per second at 720p.
Like the Xperia Z1 before it, the Xperia Z1 Compact cheats in one of the benchmarks we run on the device: Vellamo. By cheating, I mean there is specific code within the system software that detects when Vellamo is running, and forces the CPU to run at its maximum clock speed of 2.15 GHz regardless of the load on the system. This type of behaviour is dodgy and can affect the results we get from our benchmarks, which attempt to replicate real-world situations.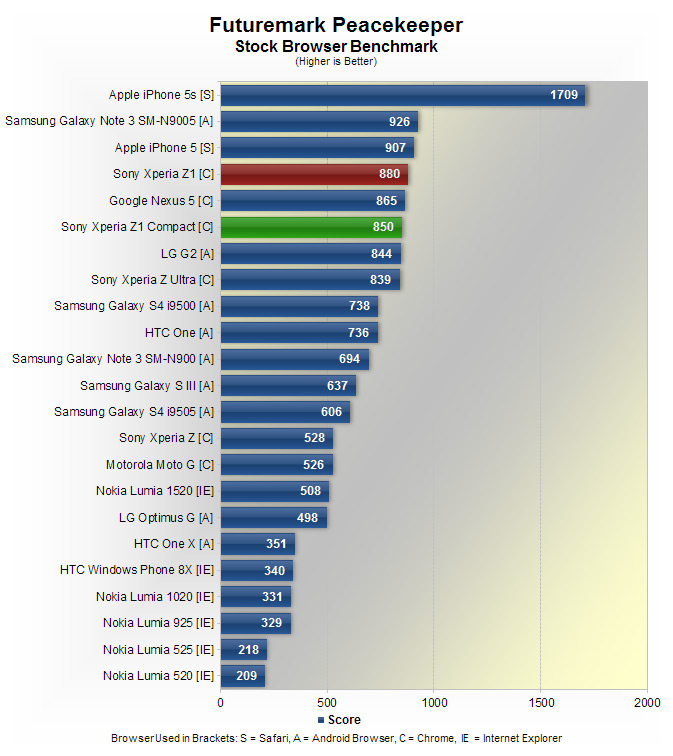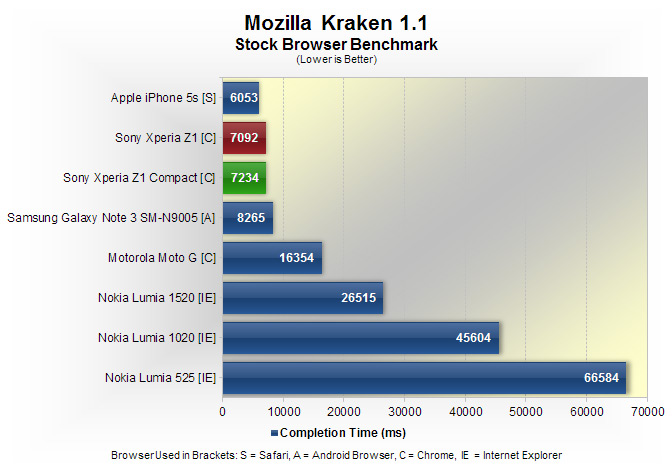 In our CPU benchmarks, two of which are run in the stock browser, the Xperia Z1 Compact falls within the bracket of Snapdragon 800 devices I've reviewed in the past. The 11 MHz downclocking doesn't seem to have had much of an effect on performance at all, which isn't surprising considering it's just 5% lower than other devices.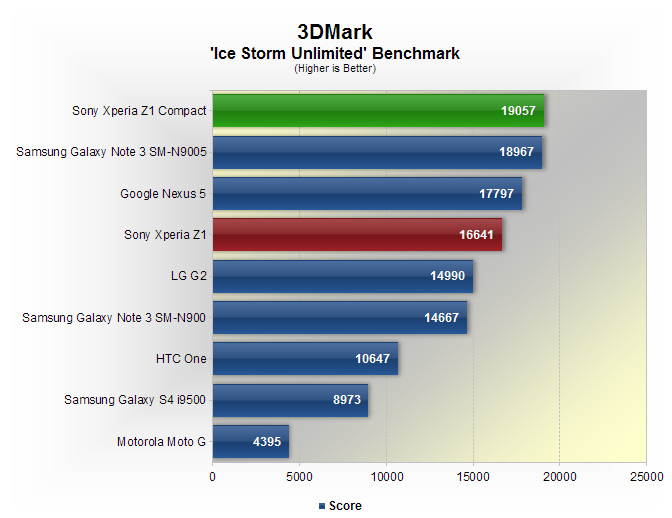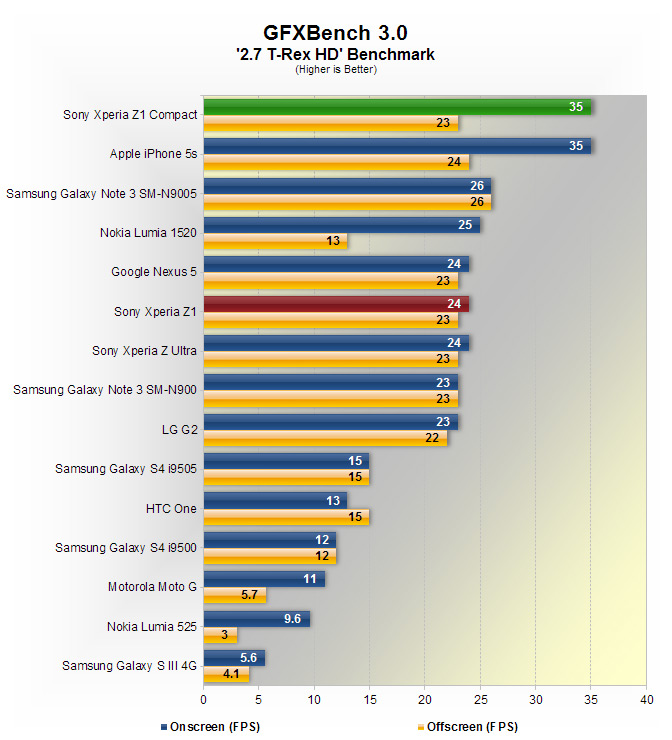 When examining GPU performance, in offscreen tests the Z1 Compact performs as expected compared to other devices with Adreno 330 GPUs. However when the resolution is taken into account, the Z1 Compact understandably outperforms 1080p devices like the Xperia Z1. In GFXBench's T-Rex HD benchmark, the Z1 Compact's onscreen performance is 45% higher with a 55% lower resolution.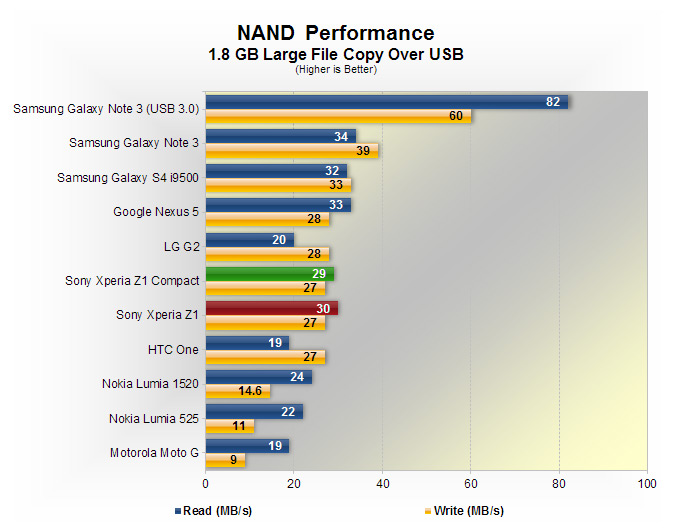 During my time with the Sony Xperia Z1 Compact I found no issues with LTE performance, NFC connectivity or Bluetooth. Wi-Fi 802.11n performance on the 2.4 GHz band was adequate as well, although testing on 5 GHz gave a few dropout issues. The device also features 802.11ac if you have a router that supports the latest Wi-Fi spec.