Motorola Moto E Smartphone Review
Page 2 :

Performance: A Capable Snapdragon 200 By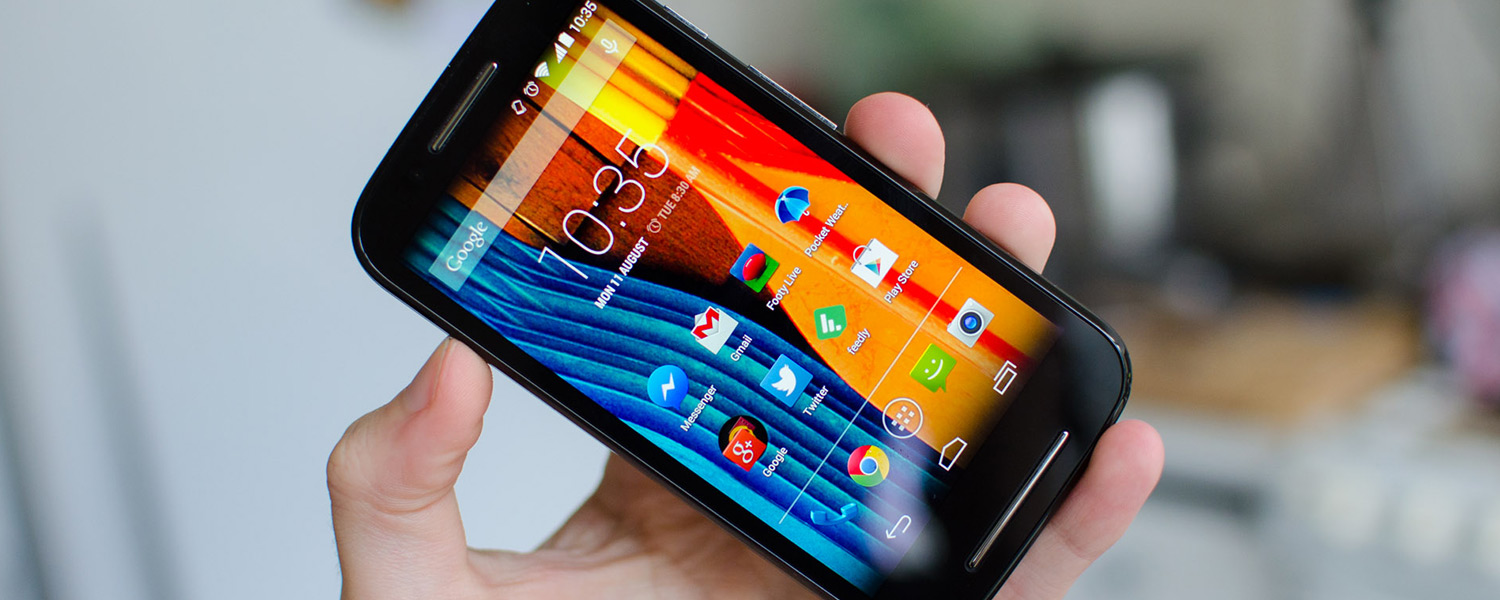 TechSpot is celebrating its 25th anniversary. TechSpot means tech analysis and advice
you can trust
.
When you buy through our links, we may earn a commission.
Learn more
.
Performance: A Capable Snapdragon 200
As the Moto E is an entry-level handset, it's no surprise to see the device packing a Qualcomm Snapdragon 200 SoC. This particular line of chips is the cheapest Qualcomm produces, and the 28nm MSM8610 found in this handset is a natural progression down from the mid-range Snapdragon 400 found in the Moto G.
The MSM8610 includes two ARM Cortex-A7 CPU cores clocked at up to 1.2 GHz, and an Adreno 302 GPU clocked at 400 MHz. Interestingly, CPU-Z indicates the Moto E features an Adreno 305 GPU, however both Motorola and Qualcomm's documentation indicates it's actually the Adreno 302, and whatever they say is most likely correct.
If you want a comparison between this chip and the Snapdragon 400 MSM8226 found in the Moto G, there are essentially two differences: the CPU core count has been reduced from four to two (the cores are of the same type and clocked at the same frequency), and the slightly slower Adreno 302 replaces the Adreno 305. Everything other aspect is, on paper, identical.
Also included as part of the Moto E's base hardware is 1 GB of LPDDR2 RAM, which I'm glad has been included instead of a paltry 512 MB. There's also 4 GB of internal NAND, expandable through the device's microSD card slot, and the usual connectivity options including Wi-Fi 802.11b/g/n, Bluetooth 4.0, and HSPA+ supporting download speeds up to 21 Mbps.
During my time with the Moto E, the performance from the entry-level device is quite acceptable. The general operating system experience is often smooth, not as smooth as a high end device where animations are rendered easily at 60 FPS, but perfectly serviceable. Occasionally you get spots of lag, although it only seems to happen shortly after switching apps or heading back to the homescreen.
This occasional lag shows one weakness of the Moto E, and that is multi-tasking. Performance in any one app can be quite good, but switching between apps exposes the slowness of the SoC in opening apps and loading data. It doesn't seem like RAM is the issue, with most apps being resumed rather than reloaded, rather raw processing speed letting it down. I shudder to think how the Moto E would perform with only 512 MB of RAM at its disposal.
With all that said, I haven't seen a single entry-level device that excels at switching between multiple apps, because it's something you'd purchase a higher-end device for. The Moto E is designed to provide a basic yet solid smartphone experience, and in that respect, I'm very satisfied with its general performance.
Below I've included the full suite of benchmarks for the Moto E, which indicate that in benchmarks which only use two or fewer CPU cores, you'll get identical performance to the Moto G with its Snapdragon 400 SoC. Largely, the Moto E displays entry-level performance as you'd expect.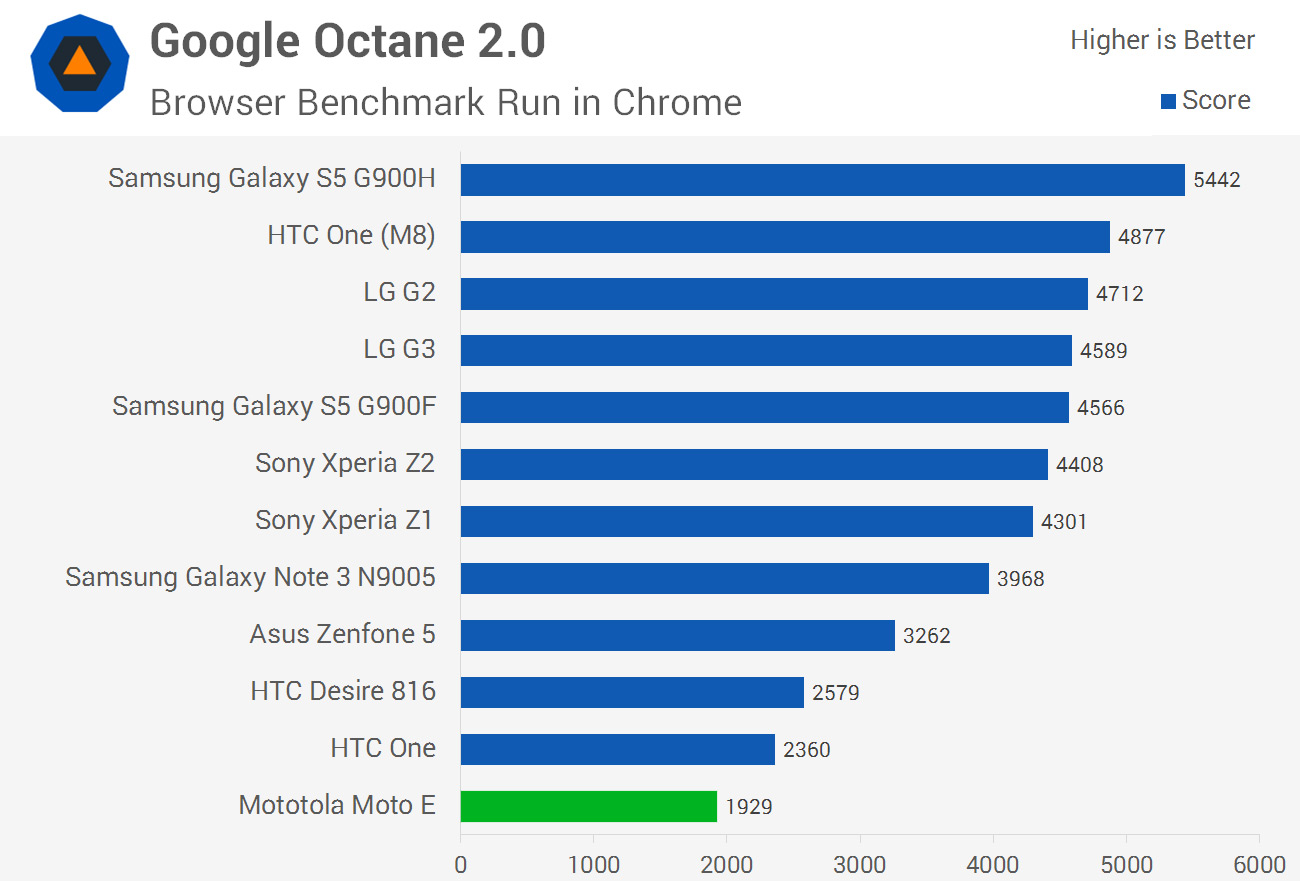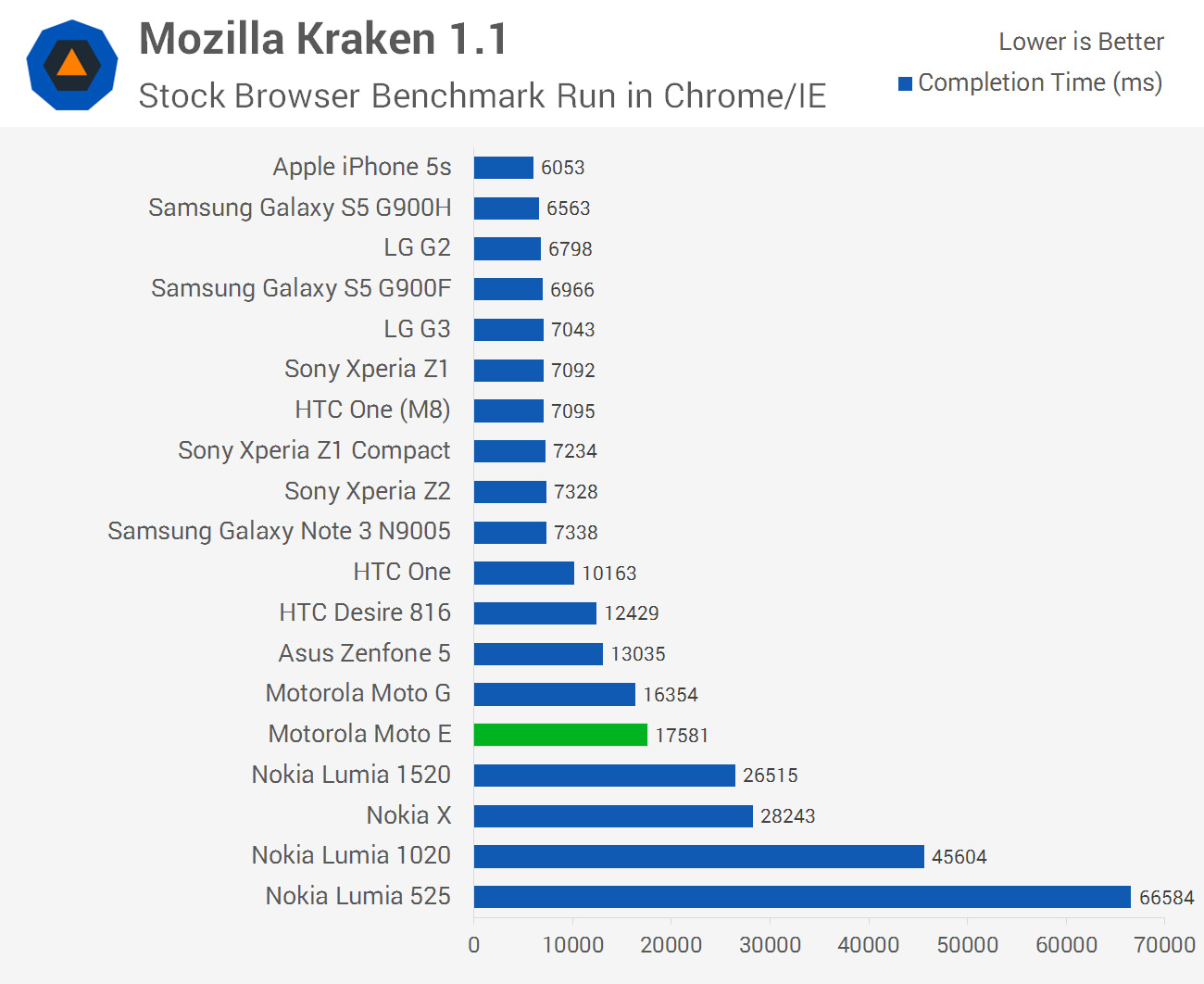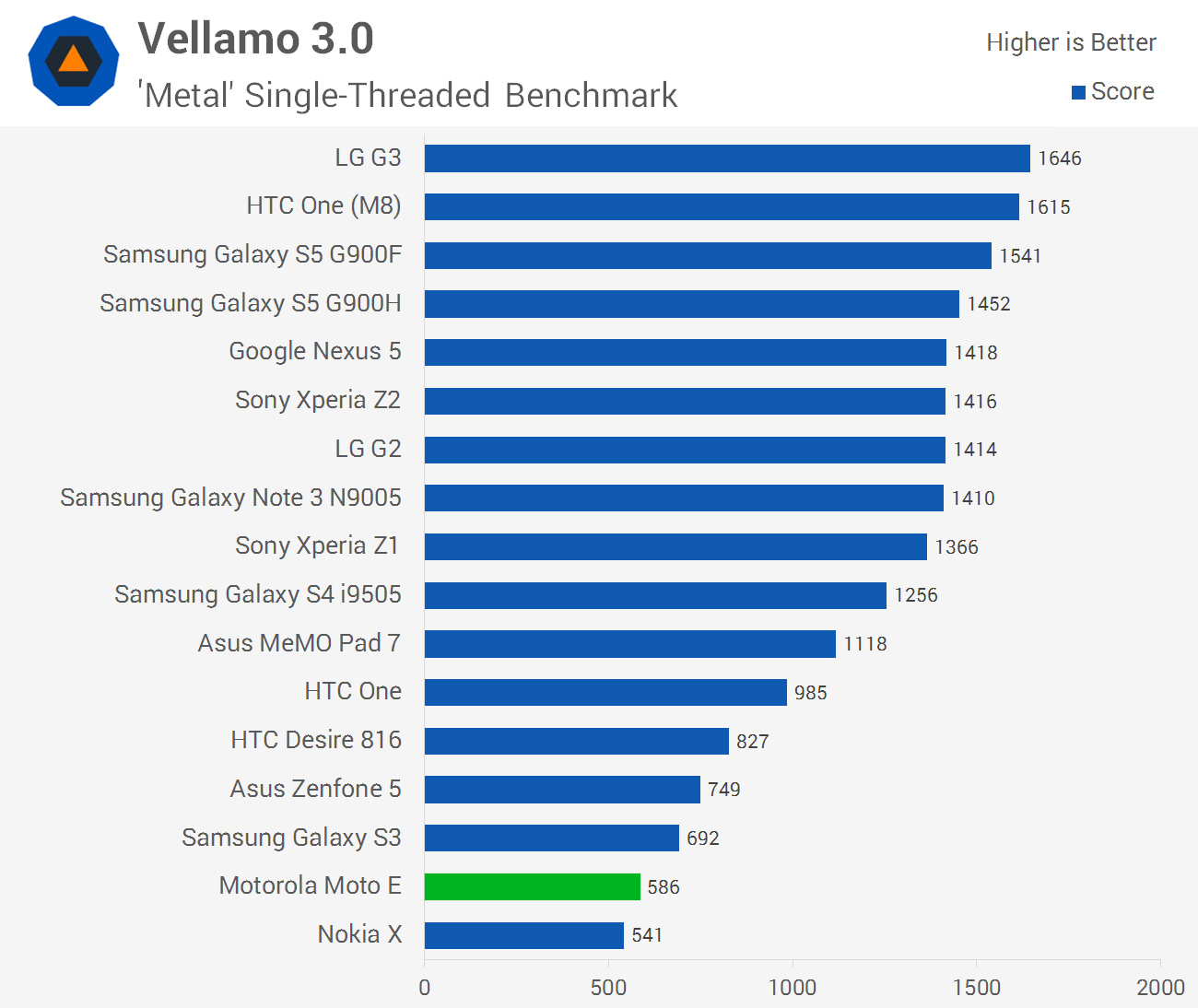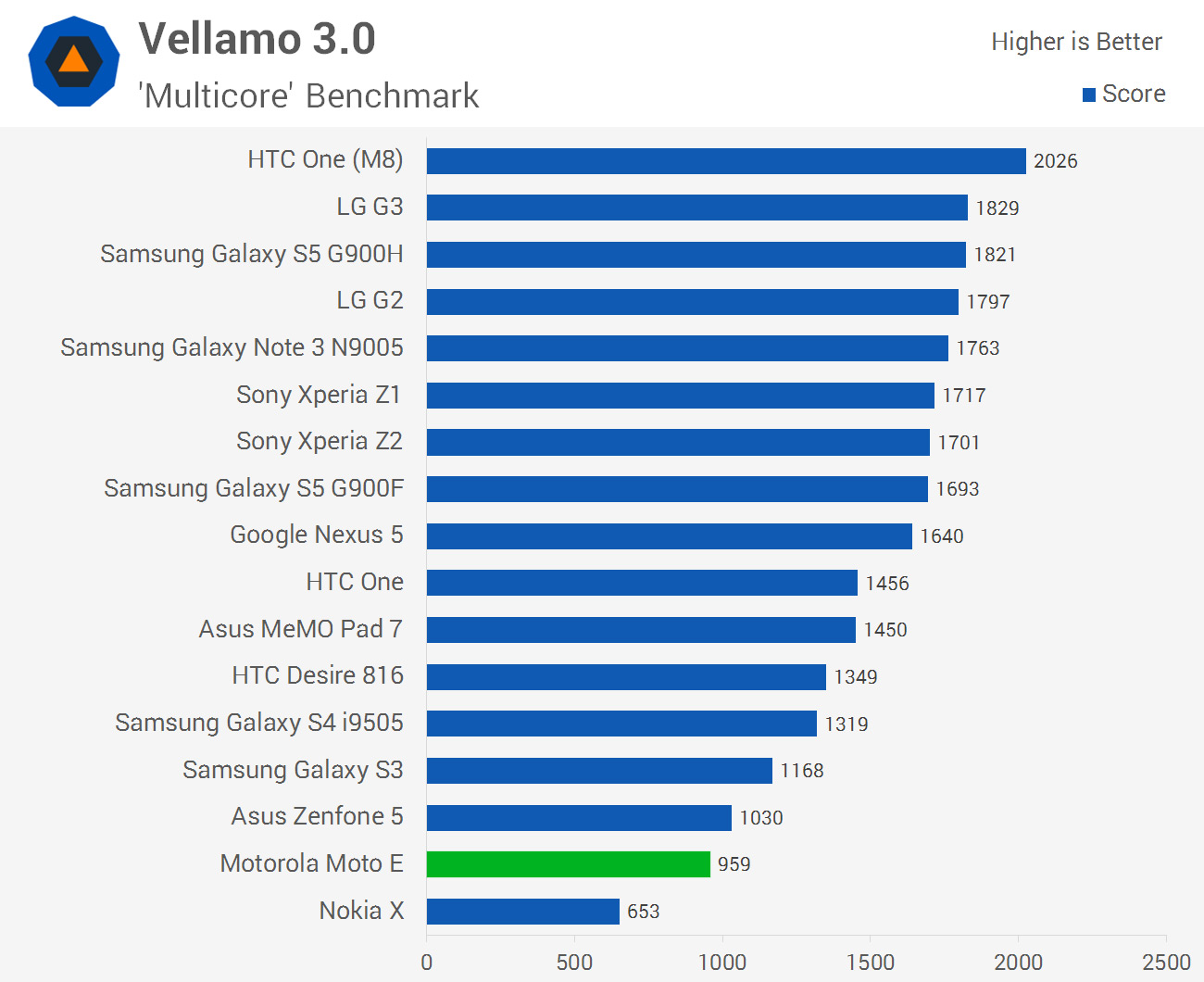 Next up are the GPU benchmarks, where again we see entry-level performance from the Adreno 302. As it only has to drive a qHD display, gaming performance can actually be decent, and you won't find many issues running 3D games that are supported on the smartphone. Note that not all major titles can be installed on the Moto E; Modern Combat 5 is one such example.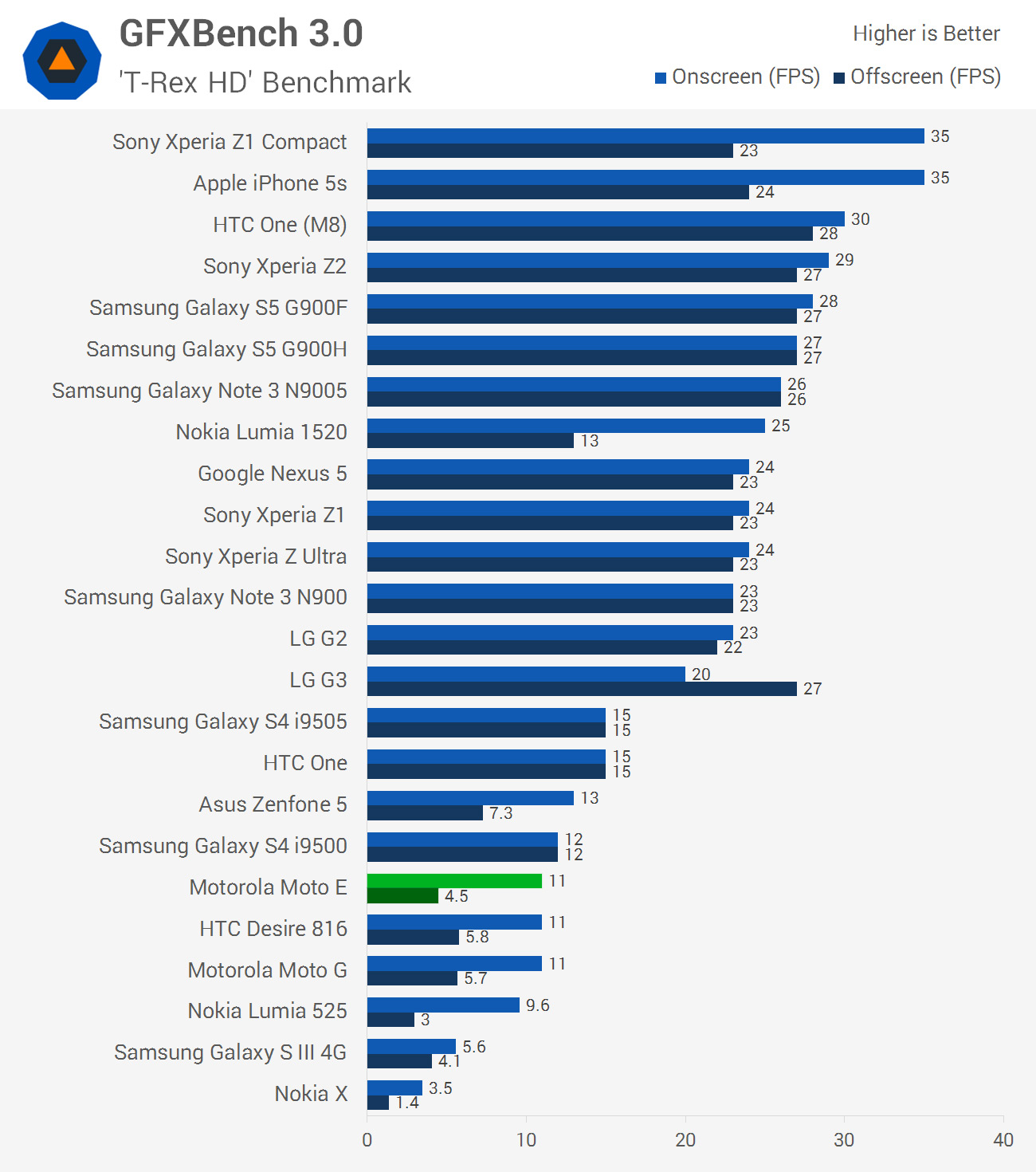 And finally we have the NAND performance results, which again show the Moto E is an entry-level device.
The chart I'm most excited to present - new to this review - is the one below, which ranks some of the devices I've recently reviewed in terms of performance and cost. I've calculated a weighted score that reflects the overall performance of the device, and then divided that by the outright cost of the device. The weighted score takes into account CPU, GPU and NAND performance, but not the other features of the smartphone.
Handsets that provide great performance for the price are ranked highly in this chart, and could be considered the best value. Conversely, devices ranked in the lower part of the chart could be too expensive. This ranking should hopefully give a better illustration of how devices compare if you consider both price and performance.
We can also deduce from the chart what price a device should be to achieve the best value. For example the LG G3 has a score per dollar one unit lower than other flagships at $560, however at $540 it sits roughly equal. Value differences are amplified at lower price points: setting the Asus Zenfone 5 at $210 gives it a value on par with flagship handsets, but bring it down to $170 like it retails for and suddenly it's five units better value.
On the Motorola Moto E specifically, it tops the charts. This is because although flagship smartphones outperform the Moto E by a factor of around 2-3, depending on the benchmark, they generally cost over four times as much. This makes the handset, at least on performance, undeniably good value.
One area of the Moto E that's not so good is the internal storage. 4 GB with 2.17 GB available to use out of the box is slim pickings for app installs, although being able to expand on the storage through a microSD card treats some of the pain.