TechSpot is celebrating its 25th anniversary. TechSpot means tech analysis and advice
you can trust
.
When you buy through our links, we may earn a commission.
Learn more
.
Performance & Conclusion
To ensure accurate thermal results, we installed the same hardware in each case in virtually the same way. Components included the Asrock Fatal1ty 990FX Professional, Phenom II X6 1100T, Prolimatech Megahalems in passive mode (i.e. no fan actively dispelling heat), Inno3D GeForce GTX 580 OC, half a dozen Western Digital Scorpio Blue 500GB hard drives, and OCZ's ZX 1000w power supply.
With the system at idle, the Silent Base 800 performed solidly, keeping the CPU at just 25 degrees or only 4 degrees higher than the best result we have ever been able to record. Meanwhile, the GPU idled at 36 degrees, which is again close to the best result we have received being a mere 3 degrees warmer than the Thermaltake Level 10 GT, which features a large fan directly over the graphics cards.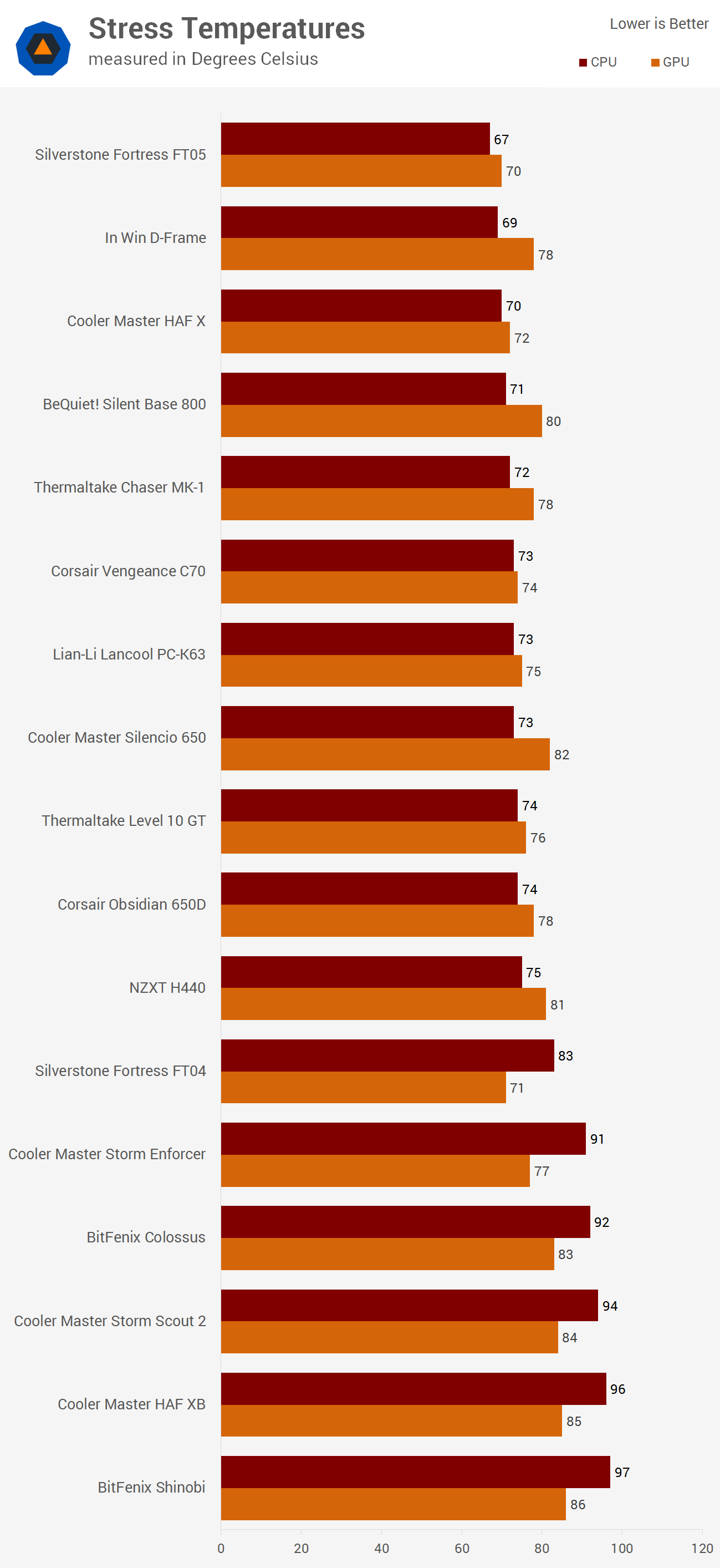 The Silent Base 800 delivers fairly strong performance under load, keeping the CPU at 71 degrees – 4 degrees warmer than our best result. The GPU's temperature got a bit toasty, however, with 80 degrees being toward the hotter end of things but still reasonable.
Volume
Normally we don't record operating volume but rather report on whether we felt the case was quiet, somewhat noisy or loud. Since the Silent Base 800 is all about being quiet we took an official dB measurement for our hardware configuration. At idle the case generated 31dB which was slightly quieter than the 32dB we observed when testing the Cooler Master Silencio 650. However, under load that reading increased to 37dB which was 2dB louder than the Silencio 650.
Final Thoughts
Be Quiet! got a lot right with its first case and there isn't much to dislike. For those after a fairly unassuming case that still has many of the bells and whistles of the more outlandish looking models, the Silent Base 800 fits the bill nicely.
It may not be groundbreaking, but the Silent Base 800 is still a much welcomed addition to the quality PC case market. It has solid cooling performance though it's not the best we have seen even when taking operating volume into account. While all of its features are of excellent quality, they aren't new, especially for the price.
At $140 the Silent Base 800 faces some serious competition from cases such as the Cooler Master Silencio 652S and Fractal Design R4, both of which are cheaper by roughly $20.
The Silencio 652S comes with the same amount of fans, delivers similar performance but offers better support for storage. Meanwhile the Fractal Design R4 comes with a fan controller at a cheaper price.
Still, while the Silent Base 800's price isn't as competitive as we would have liked, we have nothing bad to say about it. Perhaps it's a little bulky for a mid-tower, but if you want heavy noise reduction and pro-grade cable management then that should be expected.
Again, while not revolutionary, the case should be commended for its roomy interior, quality tool-less parts (particularly its rubberized hard drive mounts), flexible storage options, fully-adjustable side-mounted air vents, easy-to-clean dust filters and its thorough use of noise-dampening foam.
Shopping shortcuts:
The Silent Base 800 was a pleasure to work with. Although entirely subjective, we think the Silent Base 800 looks slick and should appeal to most enthusiasts – certainly those who are ready to spend $140 on quiet computer case with all the essentials. If that's you, then we highly recommend the Silent Base 800.
Pros: Cool, quiet and roomy, the Silent Base 800 offers just about everything we'd want in a mid-sized noise-dampening enthusiast box.
Cons: We wouldn't complain if the price came down $20 or so to put it in line with the competing CM Silencio 652S and Fractal Design R4.