TechSpot is celebrating its 25th anniversary. TechSpot means tech analysis and advice
you can trust
.
When you buy through our links, we may earn a commission.
Learn more
.
Thermaltake is one of the biggest names in computer cases and cooling and for good reason. For years they have continued to create impressive looking, affordable products and today that range is massive.
Taking into account the countless case designs, there is one recent model that stands head and shoulders above the rest. First shown as a prototype at CeBIT 2009, the Thermaltake Level 10 chassis immediately captured everybody's attention, if not for BMW Designworks' involvement, then for its radical looks and proposed design of individual compartments for the different components.
It took them some time after that to deliver, and last year we were happy to receive a unit for reviewing on TechSpot. It was abundantly clear that the Level 10 was not intended to be a mainstream product, far from it with a suggested retail price of $699. That kind of money will buy most gamers the guts for a decent gaming rig or alternatively a dual-GPU monster like the Radeon HD 6990 or GeForce GTX 590.
Speaking of unnecessary luxuries, for the price, we ultimately found the Thermaltake Level 10 was best described as a luxury sports car in that it's not very functional but certainly far more exciting than the average mainstream offerings. Additionally, its physical size, weight and design made it rather impractical. Notwithstanding, the Level 10 remains to this day of the most iconic computer cases ever created.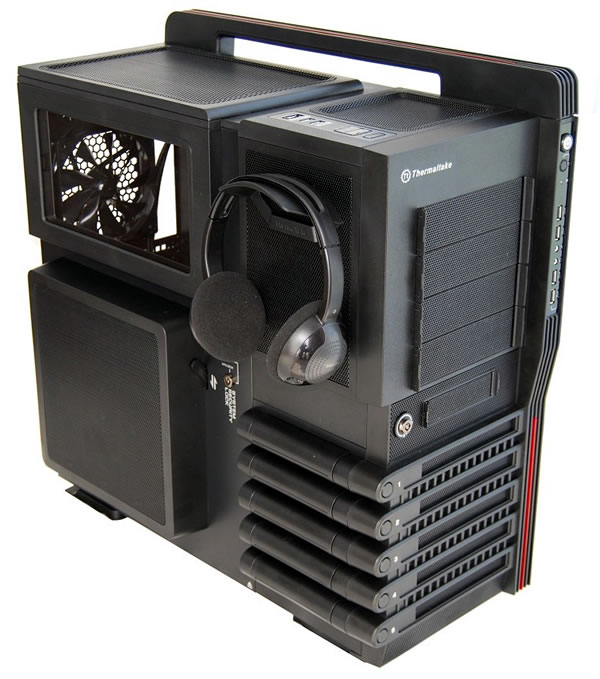 Indeed, the Level 10 was the most expensive Thermaltake case we had ever tested, certainly far more expensive than the Spedo Advance Package ($200) which was previously the most expensive case I had reviewed from them firsthand. So now taking some cues from the original Level 10, Thermaltake hopes to be able to capitalize on it by offering a more down to earth "GT" version. Not only is the Level 10 GT more affordable, it's also smaller and lighter, but has it lost all that made the original such a work of art?
First impressions are not great, the Level 10 GT looks like it was given free range in the confectionery isle, sitting next to the original Level 10 it looks like a little fat kid. Whereas the original had that highly unique compartmental look the GT looks like a size 10 trying to fit into a size 6, there are unattractive bulges everywhere.
To cap it off, the Level 10 GT has been made out of melted down Tupperware – the thing is 90% plastic on the outside. The problem is that at $270 it's still considered expensive, even for a full tower case.
For around the same money the Lian Li PC-P80 and Corsair Obsidian 800D can be had while the recently reviewed Silverstone Raven RV02-E costs just $180. Moreover, the much loved Cooler Master HAF X also costs less at $190. Maybe it's just the wrong first impression and there's more to it. Well we plan to try and find out...