Oppo R5 Smartphone Review
Page 3 :

Hardware Overview and CPU Performance By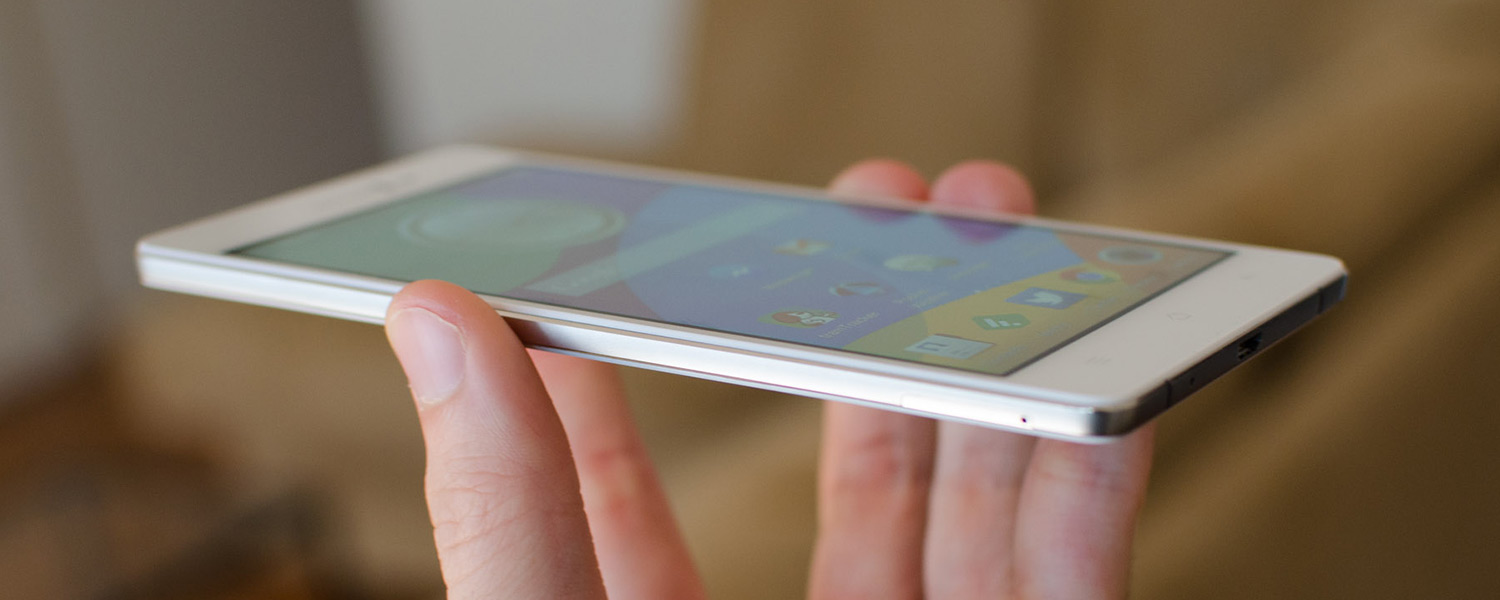 TechSpot is celebrating its 25th anniversary. TechSpot means tech analysis and advice
you can trust
.
When you buy through our links, we may earn a commission.
Learn more
.
Hardware Overview and CPU Performance
New to the Oppo R5, at least in terms of our test bed, is Qualcomm's Snapdragon 615 that powers this handset. Unlike with previous Snapdragon 600 series SoCs, the Snapdragon 615 is more of a mid-range chip than one designated for flagships, although we can expect to see it in devices like the R5 that straddle the line between high-end and mid-range.
On the CPU side, the Snapdragon 615 MSM8939 comes with two quad-core clusters of ARM Cortex-A53 cores, which use the ARMv8 architecture and are therefore 64-bit compatible. It's an interesting take on the big.LITTLE CPU implementation, with Qualcomm opting to clock one cluster at up to 1.7 GHz alongside another cluster at 1.0 GHz. The entire SoC is built on the aging 28nm LP process node.
Oppo has taken a conservative route with the Snapdragon 615 by underclocking the faster CPU cluster by 200 MHz, meaning we're left with a 1.5 GHz quad-core and an 1.0 GHz companion quad-core. Qualcomm admits that the lower clocked quad core is mostly unnecessary for modern tasks and more of a marketing tool than anything, so throughout most applications you can expect the higher-clocked A53 quad-core to do the work.
The GPU in the Snapdragon 615 is Qualcomm's new Adreno 405 built for 1080p displays, which succeeds the 720p-capable Adreno 305/306 used in the Snapdragon 400/410. In the Snapdragon 615 it's clocked at 550 MHz. There's also a single-channel 32-bit LPDDR3 memory controller clocked at 800 MHz, providing 6.4 GB/s of bandwidth. In the Oppo R5 there's 2 GB of RAM and 16 GB of internal NAND, which can't be expanded upon as there's unfortunately no microSD card slot.
It should also be noted that although the Snapdragon 615 is a 64-bit capable SoC that uses an ARMv8 instruction set, 64-bit support is not enabled in the Oppo R5. This means that the device runs in 32-bit mode unless Oppo decides to update it in the future.
The Snapdragon 615 supports up to Wi-Fi 802.11ac networks, but in the Oppo R5 it appears Wi-Fi support is limited to just 802.11b/g/n on the 2.4 GHz network. There's also support for Bluetooth 4.0, GPS, quad-band GSM and HSPA+, and up to four LTE bands. In the international model you get support for bands 1, 3, 7 and 40, suitable for use on most (but not all) LTE networks in Asia, Oceania, Europe, Africa and parts of America. The USA model supports bands 1, 4 and 7, which is good for use across the Americas at the expense of greater support in Europe and Asia.
Anyway, let's get on to the benchmarking of the Snapdragon 615 and the Oppo R5.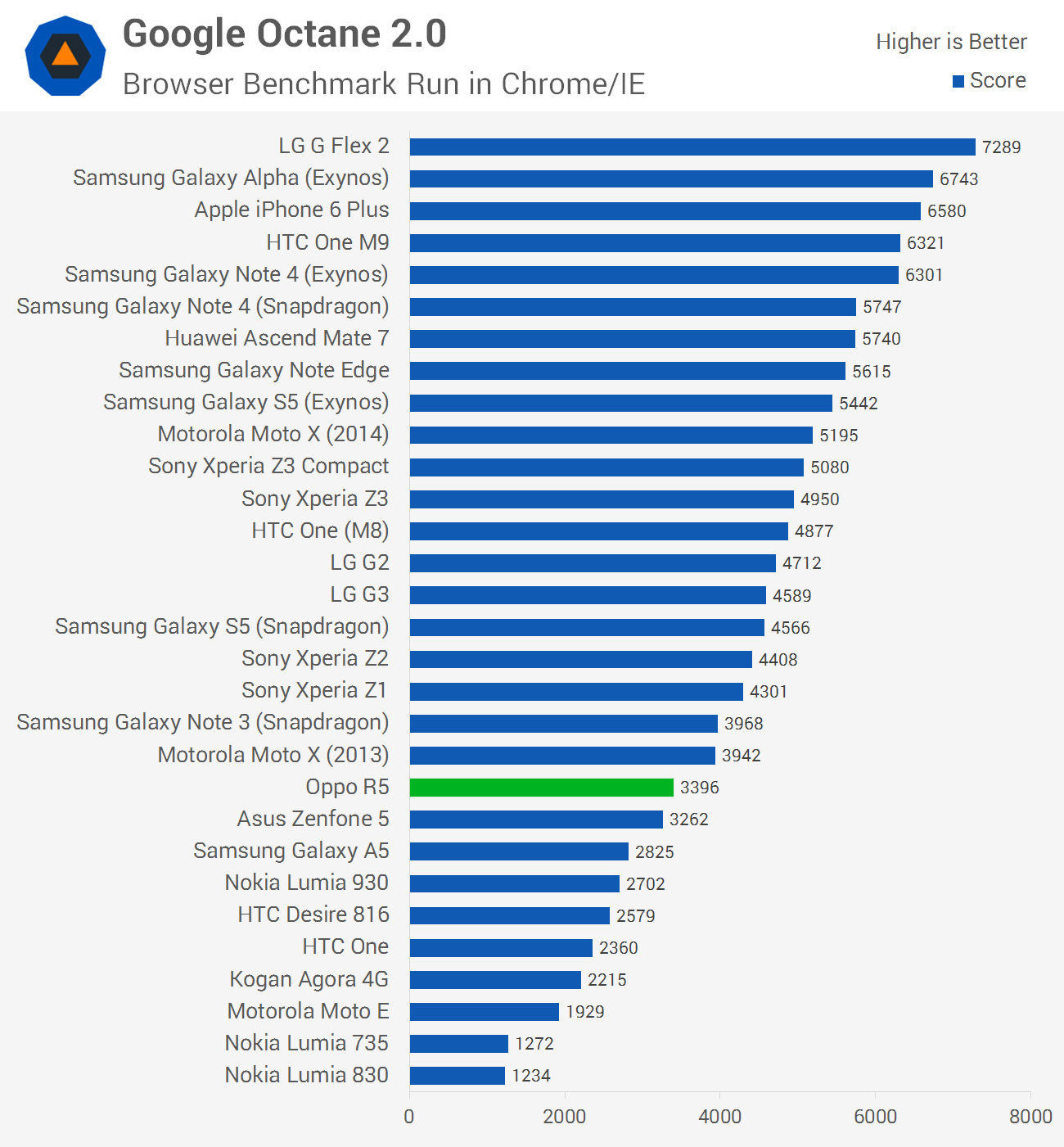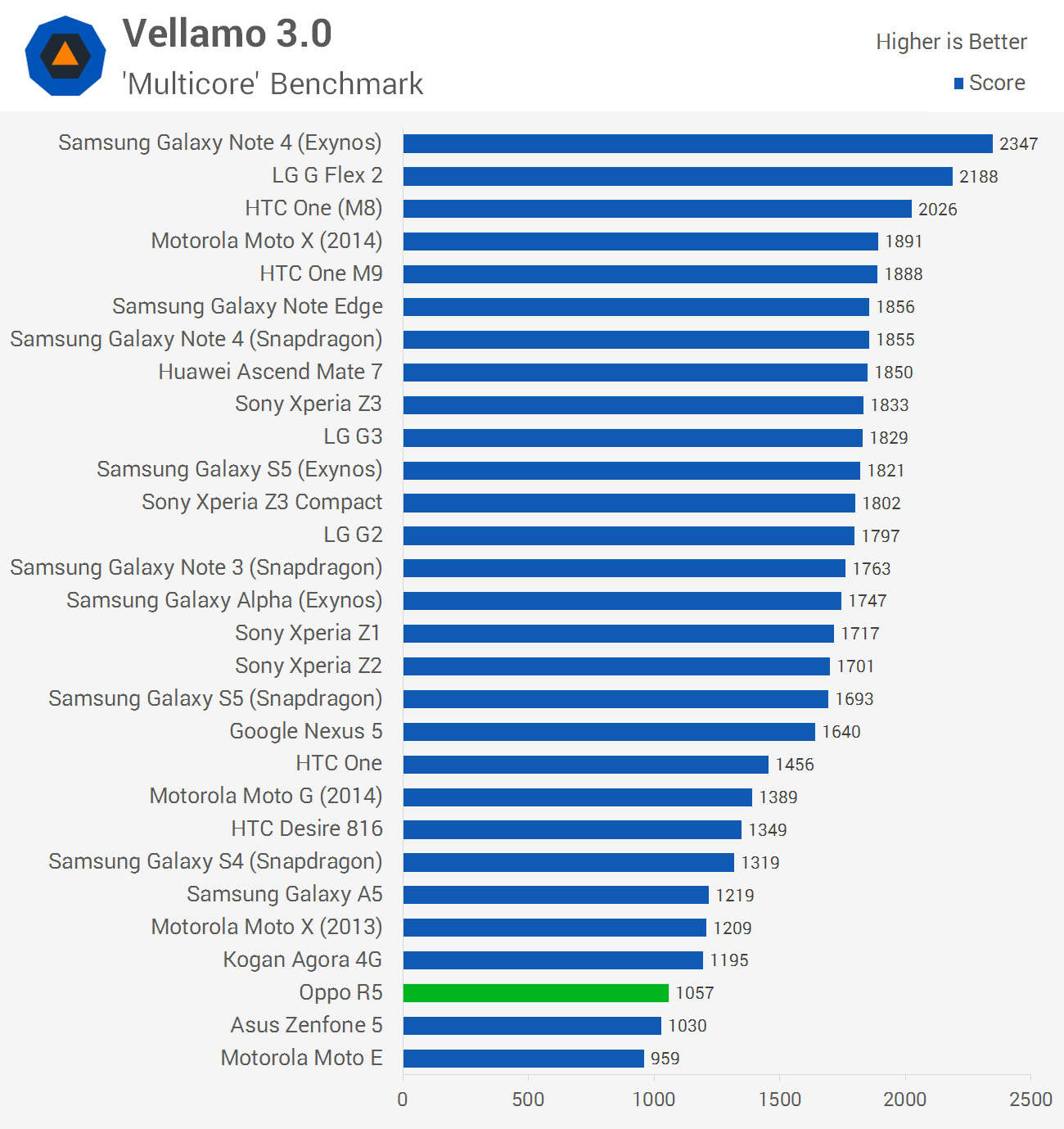 Despite having more CPU cores, in general the Snapdragon 615 is marginally slower than the previous generation Snapdragon 600, which was aimed at flagship devices rather than the upper mid-range. The 615 is also 17% slower than the popular Snapdragon 801 in CPU bound tasks, while it's a full 33% slower than the Snapdragon 810.
While it's slower than a lot of high-end chips, the Snapdragon 615 holds a decent lead over other mid-range chips. It's 10% faster than the Snapdragon 410, slightly higher than the difference in clock speeds between the fastest CPU clusters in each SoC. This advantage would be even higher had Oppo clocked the R5 at its maximum speeds. Compared to the older Snapdragon 400, it's around 25-35% faster.