One of the reasons behind Firefox's sustained popularity is the availability of a vast library of extensions. At a time when Microsoft ruled the roost with a crushing 90+% share of the browser market, Mozilla was able to build a loyal following by offering a way for third-party developers to extend its browser functionality and for users to customize it to their liking. Eventually new competitors arrived to reinvigorate the scene and today most of them offer their own extensions platform.

But expanding functionality through these add-ons can have some downsides of their own. For example, most of them are not cross-platform, so if you decide to try another browser your favorite extensions might not be available. There's also the possibility some of them will break with every major release of your browser, or even worse, poorly coded ones can significantly slow down your browser's performance.

Enter 'bookmarklets' -- small applets stored as an URL that are designed to add 1-click functionality to a browser or web page. They are JavaScript-enabled links you can pull into your bookmarks to interact with whatever page you find yourself on. Granted, they might not offer the level of functionality some of the more advanced browser extensions do, but they certainly come in handy and can sometimes be as simple as a single line of code.

From a simple "mail page to" script to a spelling checker to an HTML debugger, all you need to do to enable them is drag a link to your favorites – typically you bookmarks toolbar – and that's that. There is no installation involved and they'll work with any modern browser. Here are a few popular ones you might be interested in trying out:

Download YouTube Etc gives you links to download standard, HQ (high quality), and HD (high definition) versions of videos directly from YouTube in a number of formats, including FLV, MP4, MP3, and AVI. It works not only on YouTube pages, but also on any public website with an embedded video from this and a variety of other sources, such as Break.com, Metacafe.com, Vimeo.com and a few more.

Download YouTube Etc
(Drag this link to your bookmarks bar)
GmailThis! shows a Gmail pop-up pre-populated with a link to the site you are visiting, as well as any text you have highlighted on that page. Add additional text if you wish and then email or save as draft from within GmailThis!
GmailThis!
(Drag this link to your bookmarks bar)
MarkUp.io helps you capture your thoughts quickly and easily by letting you write notes and drawings on top of any web page. You can then share this with co-workers, colleagues, and friends.

MarkUp.io
(Drag this link to your bookmarks bar)
Instapaper, this one actually requires you to sign up for their service but it won't take more than 5 seconds and it's worth it. The basic premise is that we discover web content throughout the day, and sometimes, we don't have time to read long articles right when we find them. With a simple click on this bookmarklet you can save a text-only version for later so you don't just forget to skim through them. It gets more useful if you install it on all your computers.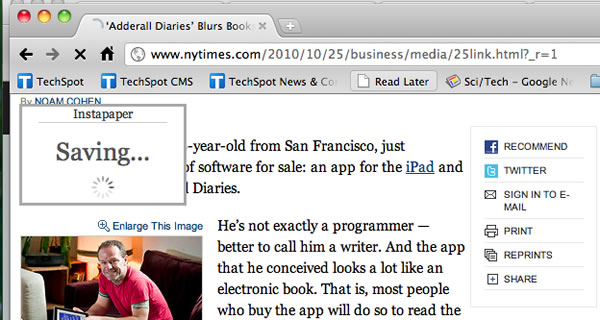 Read later
(Drag this link to your bookmarks bar)
Marklets actually gives you access to a massive index of bookmarklets within the bookmarklet itself. Simply click on it and a mini-interface with a search prompt will appear, in which you can type whatever you want to do (for example, "spelling") and a list of results related to that term will appear. The interesting part is that you can click on any of them and the bookmarklet will actually run, so you don't need to clutter your toolbar with anything you'll only use occasionally.

Marklets.com
(Drag this link to your bookmarks bar)
This is just a short list of bookmarklets that we've found useful, but your favorites will certainly vary depending on which services you rely the most. Have another one to share? Let's hear about it in the comments.