Posts: 15,095 +191
Staff member
Why it matters: Traditional television viewing fell below 50 percent in the US for the first time last month as streaming continues to reshape how we consume content. According to Nielsen's latest monthly report, cable television accounted for 29.6 percent of overall TV usage in July. Broadcast (over-the-air) viewership checked in at 20.0 percent, for a combined linear viewership of 49.6 percent.
Streaming, meanwhile, accounted for 38.7 percent of US viewership in July. The remaining 11.6 percent, which falls under the "Other" category and includes other device use like DVD playback and audio playback, brings the total of non-linear television viewing to 50.3 percent, putting it above traditional viewing for the first time.
Among streaming platforms, YouTube led all others with 9.2 percent of the pie. Netflix accounted for 8.5 percent of the streaming share, thanks in part to strong acquired content viewing. Suits (Netflix, Peacock) accounted for close to 18 billion viewing minutes in July 2023. A year earlier, Stranger Things also tallied nearly 18 billion viewing minutes.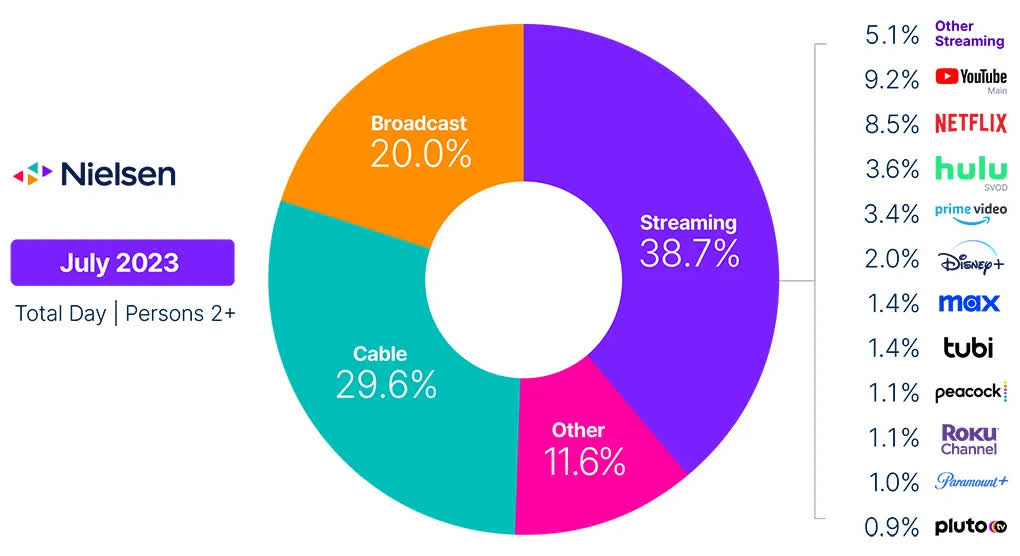 According to Nielsen, YouTube, Netflix and Amazon Prime Video all achieved record high shares in July.
With broadcast and cable losing market share, it is no surprise that we are seeing streaming becoming more expensive. Most major streaming platforms have increased subscription prices in recent months, and some have rolled out multiple hikes.
Earlier this week, the Financial Times reported that the monthly cost of subscribing to the top US streaming services will be $14 more this fall compared to a year ago. At that time, it will cost around $87 per month for a bundle of the top streaming services versus $73 last year.
Traditional television's saving grace could be sports content. According to Nielsen, sports on broadcast generated nearly 25 billion viewing minutes last month (and that is in July, a slow month for sports). Come September, we can expect broadcast sports viewing to more than triple as college football and the NFL kick off their 2023-2024 campaigns.
Image credit: Dave Weatherall
https://www.techspot.com/news/99796-linear-tv-viewing-falls-below-50-among-us.html