TechSpot Laptop Buying Guide
Page 4 :

Multimedia and Desktop Replacements By
TechSpot is celebrating its 25th anniversary. TechSpot means tech analysis and advice
you can trust
.
When you buy through our links, we may earn a commission.
Learn more
.
Multimedia and Desktop Replacements
Laptops in this category pack the most complete feature set. They won't match a high-end desktop in terms of performance, but they can deliver enough computing power for most productivity uses and some models are particularly well suited to consume or create media content. Desktop replacements usually offer large screens from 15 inches and up, as well as comfortable full-sized keyboards, often with a separate number pad.
The average desktop replacement weighs 6 pounds or more, sports a Core i7 quad-core chip, at least 6GB of RAM, around 750GB of HDD storage (256GB or 512GB if you opt for an SSD), and offers tons of connectivity. Battery life has never been one of their strong points due to the large displays and powerful hardware, but surprisingly newer models are getting up to 6 hours of runtime. You can thank Intel's Ivy Bridge for that.
Laptops in this category start at around $1,000 but fully-loaded models can easily fetch upwards of $2,000.

Apple MacBook Pro with Retina Display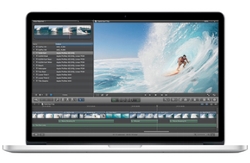 89 53 Reviews The all-new, 15.4-inch Retina Display packing MacBook Pro represents the next-generation of Apple's professional-grade notebooks. It's an impressive 0.71 inches thin --- almost as thin as the MacBook Air's 0.68 inches --- while weighing under four and a half pounds. The display is 15.4 inches across and sports a 220ppi 2880 x 1800 native resolution.
Besides the specs listed below, noteworthy features include dual Thunderbolt ports, dual microphones "to enable a new generation of voice applications", USB 3.0 support, HDMI-out (finally no need for adapters), and a thinner MagSafe port, as well as the usual SD card reader, webcam and backlit keyboard.
Additional views:
| | |
| --- | --- |
| Quick specs | Full specs | Starting price: $2,199 |
| Processor: Intel Core i7-3615QM 2.30GHz | Graphics: Nvidia GeForce GT 650M 1GB |
| Memory: 8GB 1600MHz DDR3L | Storage: 256GB SSD |
| Display size: 15.4" (2880 x 1800) LED backlit IPS display | Optical: none |
| Weight: 4.46 pounds (2.02 kg) | Battery: ~7 hours |
HP Envy 17 3D
80 15 Reviews The redesigned Envy 17 premium notebook from HP offers the latest Intel processors and AMD graphics, Beats Audio with a built-in knob for precision volume control, optional SSD storage, and a host of new features, like HP's wireless audio, a proximity activated keyboard backlight, and a sleek new all-metal chassis. The range-topping model also includes a 3D display for gaming and watching movies, as well as an 80GB mSATA solid-state drive for snappier system performance.
Additional views:
| | |
| --- | --- |
| Quick specs | Full specs | Starting price: $1,450 ($1,800 as configured) |
| Processor: Intel Core i7-3610QM 2.30GHz | Graphics: AMD Radeon HD 7850M 1GB |
| Memory: 8GB 1600MHz DDR3 (2 DIMMs) | Storage: 80GB mSATA, 750GB Hybrid HDD |
| Display size: 17.3" (1920 x 1080) 3D LED backlit display | Optical: Slot-loading Blu-ray player |
| Weight: 7.4 pounds (3.35 kg) | Battery: ~6 hours |
Samsung Series 7 Chronos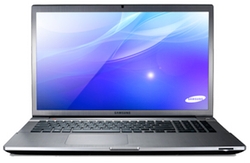 80 28 Reviews The 17-inch Samsung Series 7 "Chronos" offers a slim and lightweight design with an attractive aluminum chassis. There's plenty of power under the hood with Intel's latest CPUs and discrete Nvidia graphics. Among its notable features is what Samsung calls ExpressCache technology, which provides 8GB of flash memory on the motherboard for faster start-up as well as increased overall performance.
Additional views:
| | |
| --- | --- |
| Quick specs | Full specs | Starting price: $1,350 ($1,500 as configured) |
| Processor: Intel Core i7-3615QM 2.30GHz | Graphics: Nvidia GeForce GT 650M 2GB |
| Memory: 8GB 1600MHz DDR3 | Storage: 1TB HDD, 8GB ExpressCache |
| Display size: 17.3" (1920 x 1080) LED backlit display | Optical: Slot-loading DVD SuperMulti |
| Weight: 6.24 pounds (2.84 kg) | Battery: ~6 hours |